A conversation with Livia Firth
---
"We are wearing the stories of those who made our jewellery". A tête-à-tête with the founder of Eco-Age, the consulting company that unites influencers and global leaders in order to sensitize companies on ethics and sustainability in luxury and fashion.
What is needed to make the jewellery supply chain sustainable?
Sustainability doesn't make itself. Two years ago, we organized a round table in Paris attended by the New York Times and Chopard as well as Cibjo, the Responsible Jewellery Council and other leading figures in the jewellery industry  in order to understand how to get together and begin traceability and sustainability projects. It was a complicated challenge because the jewellery world is one of the least transparent and traceable. The first time I spoke with Caroline Scheufele, co-president of Chopard, with which we have been working for years as Eco-Age, I asked her: "Where does your gold come from?" and she instinctively replied: "From the bank". Then she immediately stopped and added, "My goodness, I see exactly what you mean. To be honest, I don't know where my gold comes from at all!". The truth is that, when we buy gold, most of us buy it in ingots from the banks.  And where that gold actually comes from, nobody knows. That's why time and determination is needed in order to begin a traceability and sustainability project.  From this point of view, what Italian Exhibition Group has done, together with Cibjo and the United Nations, is commendable.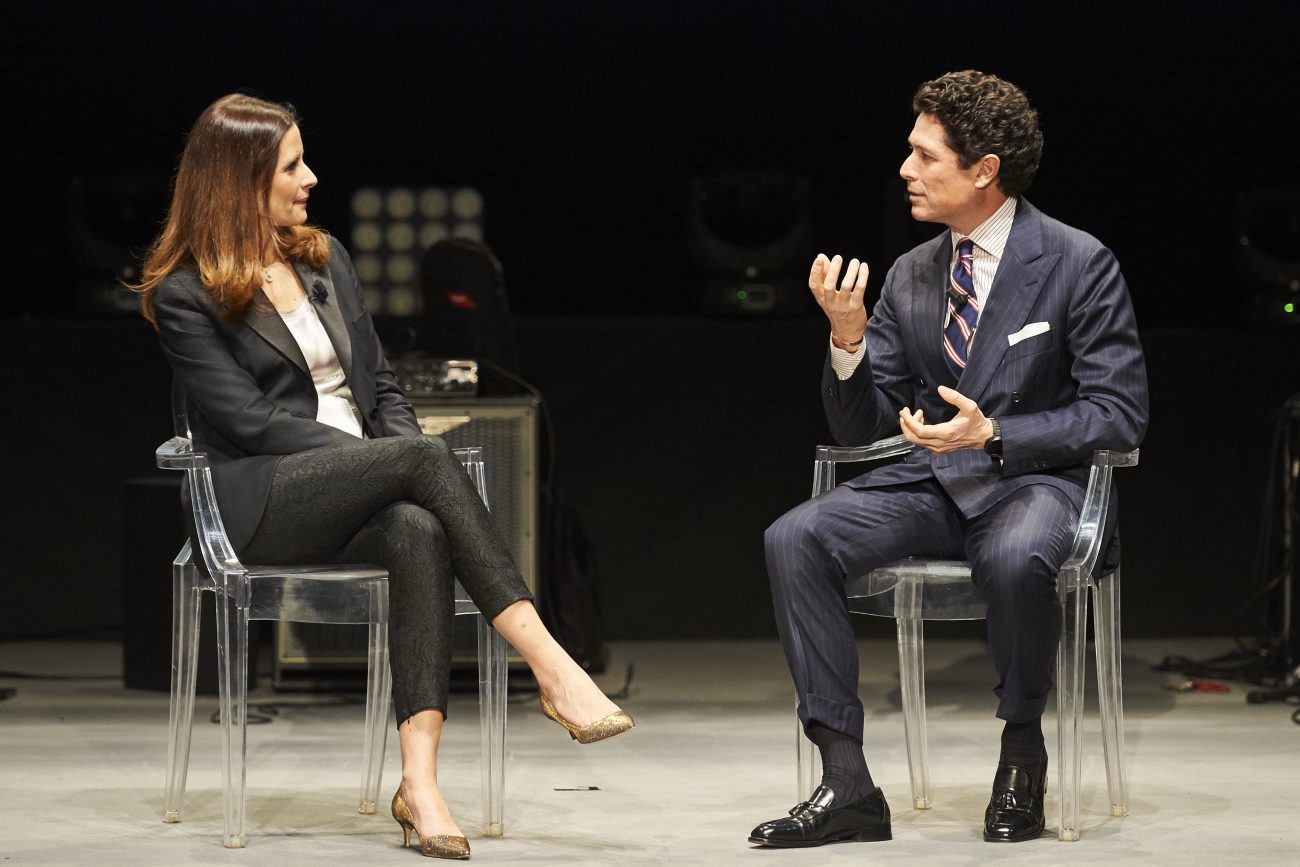 Livia Firth with Matteo Marzotto at VICENZAORO January 2017, Vicenza 20/01/2017
Credits : Daniele Montigiani/LaPresse
Is sustainability fashionable?
When I started the Green Carpet Challenge (an initiative founded by Livia Firth in 2010 which has already convinced hundreds of celebrities around the planet to only wear sustainable clothes and accessories on the red carpets) the aim was to demonstrate that sustainability was something fashionable. In truth, sustainability is actually something more - it is added value. When you buy a nice new dress or beautiful jewellery, knowing that there is a traceability story behind it makes it more interesting and desirable.
What is Eco-Age's philosophy?
One of the most beautiful things phrases I ever heard, and which really struck a note with me, was by Ali Hewson, the wife of Bono: "We are wearing the stories of those who make our clothes and jewellery". So, when I see photographs of our collaborators as they visit mines around the world - for example, in Columbia - and I see the faces of the miners who work in them, I ask myself, "Why are those faces forgotten, or not taken into consideration, in our jewellery production?" We are working to make brands understand that the consumers want these stories incorporated into their ethos, within the creation of a product. Especially in the jewellery world. Historically, when we buy jewellery, we do it as an act of love: an engagement ring, a wedding band, an anniversary necklace. Therefore, we want to make sure that there is love along the entire supply chain too. But the hands of the people who are at the very beginning of the chain are often never even thought of.  (M.G.)
[gallery type="slideshow" link="file" size="full" ids="17623,17624,17625,17626"]
Above, jewelry from the Fairmined Green Carpet Collection by Chopard, created in collaboration with Livia Firth
---