Claire Choisne's Challenge
Creative director of Boucheron, Claire Choisne is innovating haute joaillerie in a revolutionary manner with algorithms, sustainable materials and a touch of madness
---
Redefining the preciousness of jewelry. How do you interpret this concept?
Jewelry and high jewelry now have to be at the service of emotion and poetry and it is our duty to question or redefine what is precious. While using diamonds and precious stones is rather easy and proper, finding an unusual and alternative way to arouse emotion is more challenging. I believe jewelry is a like a love story between. You fall in love with each piece and I'm convinced that our clients are truly deeply attracted to this poetry which is why we are never afraid to push the boundaries with experimentation. For instance, with the last Carte Blanche, Ailleurs High Jewelry collection, I wanted to pay tribute to raw materials that are found in nature and combine them more with traditional jewelry materials such as diamonds and gold. The result was beautiful, because I used rattan, pebbles, wood or even meteorites...
In the Jack collection, you chose to use the Cofalit®.What kind of material is it and how can you use it with precious stones?
The Jack de Boucheron Ultime collection, for which we chose Cofalit®, is part of our innovative capsule collections. Since 2020, each September, the company launches an innovation capsule around one of its jewelry icons. In 2020, we reinvented our Quatre icon by creating a bracelet and a ring made in a unique combination of denim, diamonds and white gold. Last year, the Holographique capsule applied the same innovative technique of the High Jewelry Carte Blanche, Holographique collection to the company's icons, Quatre and Jack de Boucheron, with five unique creations featuring the holographic coating. Through these collections, we are affirming our vision of the meaning of precious, which is very close to my heart. This year, Jack de Boucheron Ultime features a combination of Jack de Boucheron design and Cofalit®, a material obtained from recycling an industrial byproduct. It consists of 3 pieces: a necklace, a bracelet and a single earring. Cofalit® comes from the recycling of asbestos-containing industrial waste. To date, there are only two industrial solutions for treating asbestos-containing industrial waste in Europe: landfill or vitrification carried out by the French company Inertam. This unique vitrification process consists of heating the industrial waste to its melting point in order to melt the asbestos fibers and thus eliminate their toxicity. Once cooled, the waste becomes Cofalit®, a material that looks like black ceramic similar to a mineral, which can be cut and polished like a stone to obtain the multi-faceted shape of the Jack motif. I love its look similar to a inhomogeneous hard stone, almost like onyx, with a color reminiscent of shiny black coal.
How can jewelry be innovated?
My approach is to be as free as possible both in the themes I choose and in what I dream. What inspires and fascinates me the most is being free to use the materials I want to achieve this dream. Sometimes, just reinventing simple techniques or giving ourselves the chance to experiment with unusual materials or techniques never used in haute joaillerie before, is enough. This is nothing more than a continuation of what our founder Frédéric Boucheron, a true pioneer of creation and technique since 1858, started. We now carry on this tradition of innovation and boldness while maintaining the freedom to create, thanks also to our CEO, Hélène Poulit-Duquesne, who loves innovation as much as I do and leaves me free to dare even by creating things that might seem crazy. I am very grateful for that.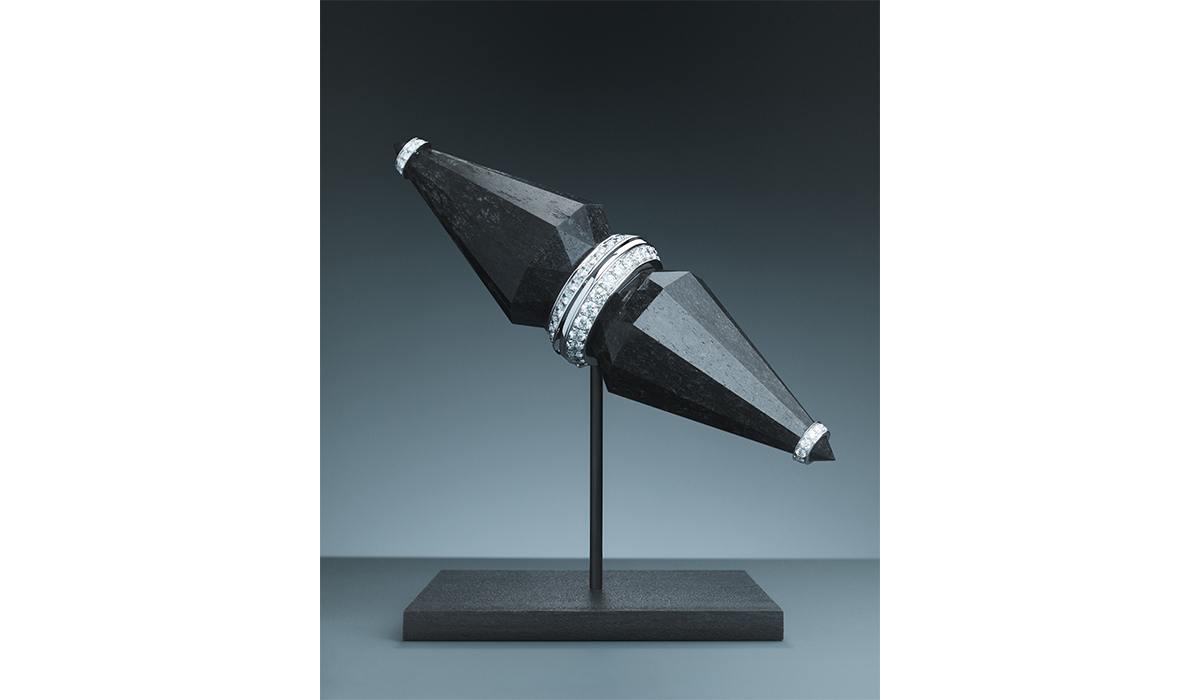 ---