Stefania Lazzaroni on the New Generation of Entrepreneurs
Stefania Lazzaroni, General Manager of Altagamma, talks about the Altagamma Young Enterprise Award, which offers new opportunities in the luxury entrepreneurial ecosystem
---
In 2021, Altagamma awarded two equally-placed jewelry brands with the Young Enterprise Award - Believing in the Future. What are the eligibility requirements?
The award identifies those talents that, in the future, could become high-end brands in terms of creativity and entrepreneurial ability and whose brand is no more than 15 years old. There are no other strict requirements, just a few indicators, including having a turnover of between 200 and 500,000 euros, a minimum level of distribution and an Italian matrix, in other words, devised, created and produced in Italy. This year, the jewelry sector awarded prizes to two companies that, although very different, represent the values of Altagamma: So-Le Studio, which has made sustainability and circularity its trademark with readyto- wear jewelry, and Sabba, which focuses on more sophisticated and fine jewelry.
Since the award was launched in 2015, how has the way of doing business changed and what is the relationship between a young brand and a large company based on?
On the one hand there is the company that gives technical recommendations, on the other, the young brand that offers a contemporary, dynamic, fresh and light vision that only a start-up can offer in a win-win relationship for both. The central theme is innovation, which, over the years, has had a tremendous impact on how business is done, so much so that we have included a specific category that crosses all fields, from fashion to new retail models.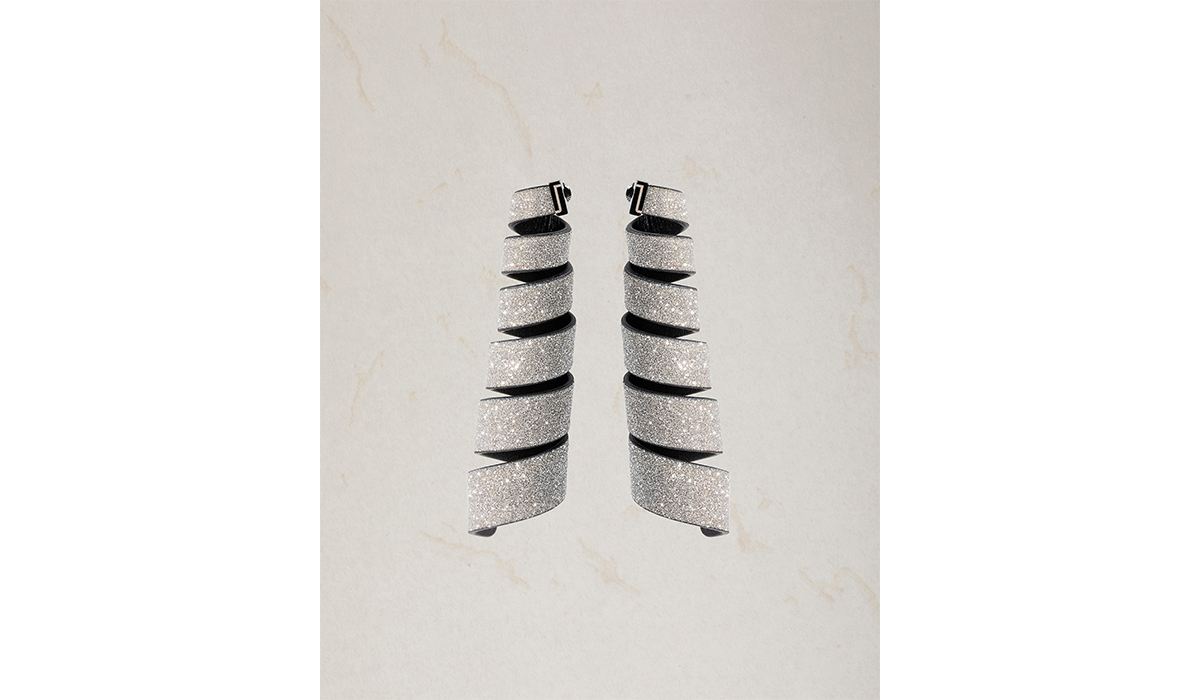 Tirabaci Crystal Silver earrings, So-Le Studio.
What should the future generation of Italian entrepreneurs be like?
The main quality is the desire to break down old paradigms, to be sensitive and curious about what is happening. In an increasingly global world, where the markets of reference are no longer Europe and America and where Asia is establishing the trends of high-spending purchases (1 purchase out of 2 comes from Asia), it is essential to have the cultural and cognitive tools to bridge the gap. We also need the ability to manage an ecosystem where fixed rules no longer exist and where we are all a bit pioneering. In a world where things no longer take 5 or 6 years to change but more like 6 months, the new generation entrepreneur must have a spirit that leads him to open up new paths. In the past, people aspired to work in a large company; nowadays, young people are asking universities for courses on the entrepreneurship of tomorrow, which is certainly more accessible than in the past.
A comment on the latest Altagamma Consensus on luxury personal goods consumption, which forecasts a 10% growth in jewelry as a safe haven and investment asset in 2022.
In the post-Covid era, jewelry, which has always been a reference point for Altagamma, has strengthened its role as a safe haven asset and, with physical experiences, such as travelling, being impossible, has satisfied the high-spending consumer's growing desire for beauty. Added to this is the desire to make room for modular jewelry and a more contemporary approach to buying, which has led to the birth of new brands, the strengthening of historic ones and an unhinging of the old assumption that jewelry would never be bought online. However, it should always be borne in mind that for high-end jewelry, the retail experience in a physical space will always be extremely important, amounting to almost 70%, which is not the case for other categories that have totally turned to online
---