The Grand Tour In 80 Jewels
"Around the World in Eighty Jewels": Giovanni Raspini's latest exhibition will debut on 5th May
---
The novel "Around the World in Eighty Days" was first published in 1872. Almost a century and a half later, the imagination still gallops around the globe every time this book or something inspired by it is mentioned. This is also true of the coming exhibition devised by Giovanni Raspini, who, like the great visionary and traveler that he is, has drawn inspiration from an immortal masterpiece of international literature, just like a modern-day Jules Verne, not only to create a collection of eighty unique pieces, but also "Around the World in Eighty Jewels", an exhibition that is, to say the least, sui generis, as exhibitions by the Tuscan silversmith designer always are. In 2019, he staged Nautilus (followed in 2020 by Jewels from a Wunderkammer), whose central feature in the magnificent frescoed hall of Palazzo Visconti in Milan, was an incredible copper sculpture by 92-year-old Giancarlo Fulgenzi, an artist who spent 70 years of his life forging unique items at the bench, most of which are now kept at the company's Tuscan headquarters.

So, while on that occasion the aesthetic and ideal outline was an abyss, inspired by the novel "Twenty Thousand Leagues Under the Sea", the next exhibition/event will be a tribute to the world of travel, a sort of trans-flight on board an imaginary hot-air balloon between the dream world and reality, stealing here and there iconic monuments and elements of nature from the five continents, mixed with personal memories of Raspini the Globetrotter.

« It took six months to make the pieces, which are handcrafted and handmade as all our creations are,» said the brand's founder as he began a backstage account of the show. «These kinds of projects are designed to express the maximum potential of plastic modelling that only silver and the lost wax technique allow. Silver also offers infinite light and shade possibilities, going from all-black to all-white. Even complex "textures" like crocodile skin and the animalier effect in general can be reproduced almost faithfully. The development is carried out by our three model-makers, led by Erika Corsi, head of the style office, who on this occasion, created an iconic sculpture of the concept, a hot-air balloon, together with sculptor Lucio Minigrilli. Our workshops are home to young talented craftsmen who love to recover old crafts and transform them into something different, more contemporary. The average age in the company is between 35 and 40...» These final words transmit a sense of pride in offering such a high level of expression to so many young people who covet a desire to create. And so, skillful hands produce a temple in Ceylon with monkeys clinging to its pinnacles, the unfurled sails of the Sydney Opera House, koalas and alligators wrapped around precious stones and micro-opals from Australia. Pieces with evocative names, such as the Savannah, Tuareg, Madagascar and Chameleon necklace, Egypt earrings, Leopard bracelet and so on, in a whirlwind of suggestions that reconstruct an exciting world tour that is much more precious than even Jules Verne could have imagined.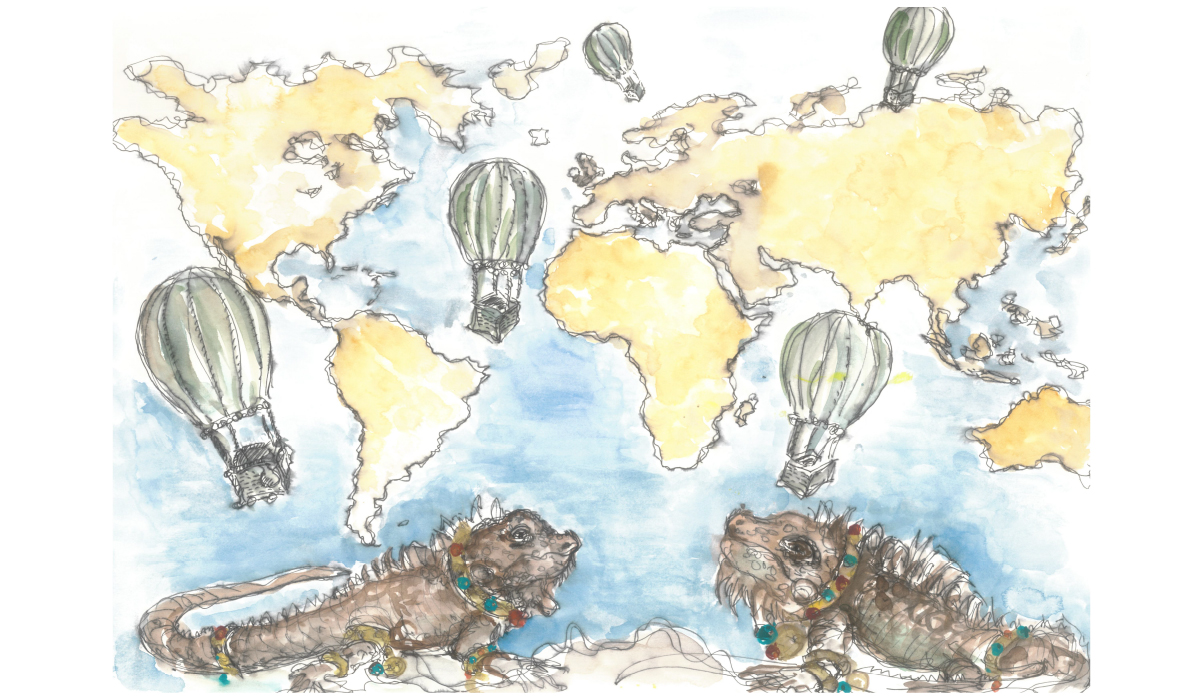 ---