The Next Generation is Made in Italy
---
There is a new stylistic scenario in the jewelry market: highly-talented designers and skillful interpreters of Italian tradition and innovation.
Lots of names, different academic paths and family backgrounds, decisions regarding style and ways of crafting jewelry. The common denominator is the country of origin: Italy. They move stealthily, they don't demand attention, they let themselves be found and love discretion. They are the new faces of a generation of jewelry designers we are proud of for their stubbornness in the pursuit of objectives which are not always so obvious. Some of the names are already familiar, they are the new generation of traditional jewelry families who have contributed to the history of Italian-made jewelry. Others are simply driven by the desire to explore new artistic horizons, to free themselves from the traditional, precious world and approach a more experimental dimension in which jewelry is expressed via innovative techniques and materials. They come from Milan Polytechnic, IED, GIA, IGI and from Central Saint Martins in London, each one with their own story, their own passion without a label, their own desire to get an idea across to others, a message, a value. And it doesn't really matter if it's always the carats who do the talking. Often it's enough to see sharp shapes, irreverent volume, a trendy côte,  impeccable design, or the perfection of an insect, the purity of a dream, the magic of an enchanted world, the desire to shake off an idea of perfection. From this rich, varied, versatile communicative panorama, we have selected a group of designers from fine jewelry, fashion jewelry and jewelry design who, with extreme elegance, uniqueness and skill, tell the story of the new face of Italian-made jewelry.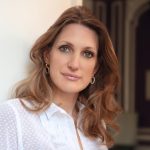 Spallanzani 1880 by Gaia Spallanzani — Towards the end of the 1970's Guido Spallanzani, grandson of the founder Carlo Spallanzani, gave his wife a gold, diamond-studded bracelet for Valentine's Day, it contained a coded message: 'TSTQCA' - Tu Sei Tutto Quello Che Amo (You Are Everything I Love) – from the 'Only You' collection. From that moment, the tradition of giving bracelets containing the names of one's children as a birthday present, became a real trend which spread like wildfire all over Italy from Milan. Today, specifically, in 2013, Gaia Spallanzani decided to take charge of the family's history of style and elegance and focus on the wealth of experience and on new interpretations of this must-have piece. So, the brand's iconic bracelet is now available in the shape of necklaces, earrings, pendants and rings, all made of gold, diamonds, sapphires, rubies, aquamarine and amethyst. The winning element of this jewelry is that the client can personalise it with an engraved messageewelry.
[ts_row] [ts_one_third]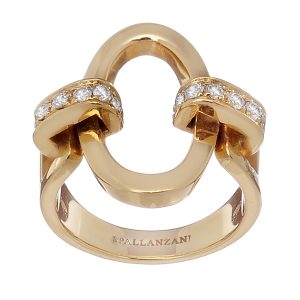 [/ts_one_third] [ts_one_third]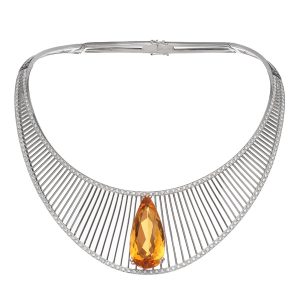 [/ts_one_third] [ts_one_third]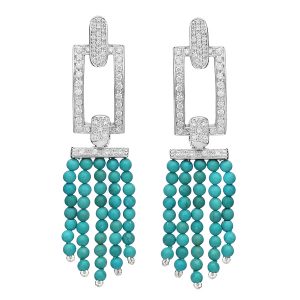 [/ts_one_third] [/ts_row]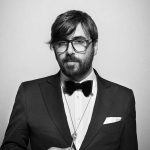 Federico Primiceri by Federico Primiceri — When one grows up admiring the jewelry masterpieces one's father creates at his goldsmith's workbench, it's unusual to then embark on a completely different path in life. Indeed, Federico Primiceri is the first to admit that his love for this enchanting world is primarily triggered by his pedigree DNA, a genetic heritage made up of art, sensitivity, aesthetics, creative intelligence, passion and the desire to create dreams. In fact inspiration comes from a fairytale world where Federico finds the beauty of life, a universe teeming with faeries dressed in gold and diamonds fluttering amongst emerald flowers with their innate brand of elegance. This is most likely why the necklace from the 'Fantasy Travel' collection is without doubt the most iconic and recognisable example of a unique design style, refined in its contemporaneity and craftsmanship, for the quality of the materials, the passion and devotion to the art of jewelry. We are in a world where diamonds, rubies, emeralds, fancy sapphires, tsavorites, white and golden South Sea pearls co-exist, often combined with semi-precious stones such as topaz and amethysts, woven together in a fantastical web which reflects the creative mood of the designer.
[ts_row] [ts_one_third]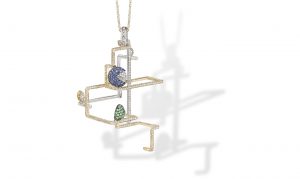 [/ts_one_third] [ts_one_third]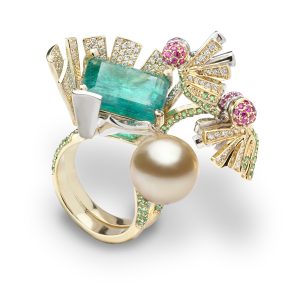 [/ts_one_third] [ts_one_third]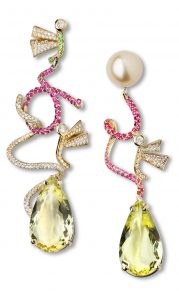 [/ts_one_third] [/ts_row]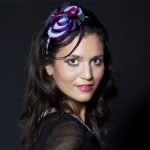 Giulia Boccafogli by Giulia Boccafogli — Giulia's most iconic piece? The Jabot 'Nero Ingordo' necklace from the Forma Seconda collection and 'The Crow' necklace from Bodega Bay. The main material for her creations? Leather of course, but generally speaking, her tireless pursuit of the purity of materials. Her inspiration? Intensely personal but rationalised in order to be properly communicated. Giulia Boccafogli, architect, quietly entered the jewelry world in 2012, not so much with seasonal collections as with more 'emotional' collections, triggered by strongly-felt inspiration in which the concept of a virtual journey, perceived as a real, physical change, puts down roots. Colours, sounds, culture, film, music, the history of costume. Several players interact within Giulia's material world together with a strong design component and the pursuit of shape and structure, they work together so as to communicate the real aim of the project. A project which lies somewhere between fashion and design, but reflects a desire for craftsmanship and an intense passion for ornamentation.
[ts_row] [ts_one_third]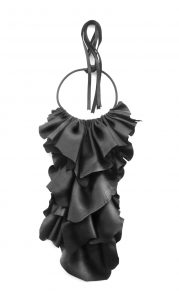 [/ts_one_third] [ts_one_third]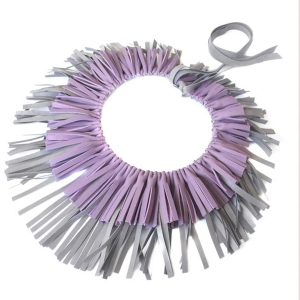 [/ts_one_third] [ts_one_third]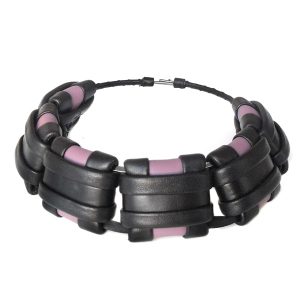 [/ts_one_third] [/ts_row]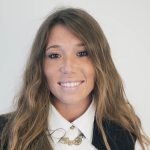 Flaminia Barosini by Flaminia Barosini — There is bronze, there is leather and there is enamel. There is nature, an endless source of inspiration and food for thought, and there is the desire for a piece of jewelry with character and vitality. Flaminia Barosini, born in 1987, officially made her debut in 2014, even though brief flashes of her talent were glimpsed in 2007, when she started a jewelry design course at IED and, later, she revealed more of her gift for jewelry when she left the famous  Central Saint Martins in 2012. Femininity and craftsmanship are a duo from which Flaminia never separates herself. This winning combination leads to the creation of a multitude of rings in particular, from the iconic 'Baffo', a woven ring which embraces three fingers and comes from the first Second Skin collection, to the more recent rings from the latest 'Synapsis' collection which cover the entire finger. Her work is often personalised and every creation takes on unique meaning based on the extremely individual  vision of the person who is buying it.
[ts_row] [ts_one_third]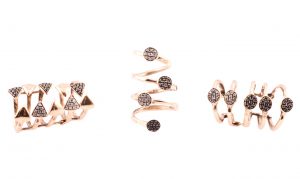 [/ts_one_third] [ts_one_third]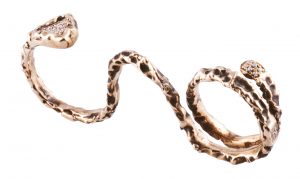 [/ts_one_third] [ts_one_third]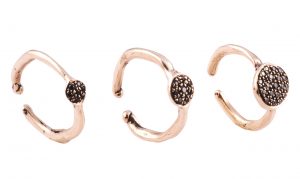 [/ts_one_third] [/ts_row]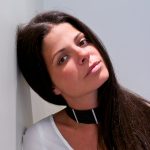 Marta Paolillo by Marta Paolillo — Every day Marta Paolillo's hands are adorned by ten gold and diamond rings, one on each finger, made of gold and diamonds. She can't help it, it may be because Marta grew up surrounded by diamonds and precious stones, in a family for whom jewelry is an everyday object. But saying that she's a jewelry designer doesn't quite cover it, it's more a question of her being representative of a new generation of fine jewelry of whom Italian production should be proud. Marta Paolillo immediately managed to identify her signature symbol from amongst her genetic heritage – the snake. For the past few years now she has been expertly rafting jewelry, thanks to her openness towards materials such as titanium and shagreen. Completely under the spell of snakes for their excellent predatory skills, creatures who confuse and contrast with our emotional, warm-blooded nature, all her pieces feature an element, sometimes graphic, which echoes this world. For Marta this means jewelry which wraps itself around wrists, caresses fingers, embraces necks, sensuous rings, bracelets, earrings and necklaces, soft and eclectic, just like her muse.
[ts_row] [ts_one_third]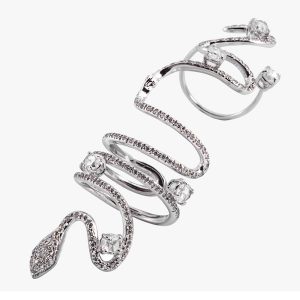 [/ts_one_third] [ts_one_third]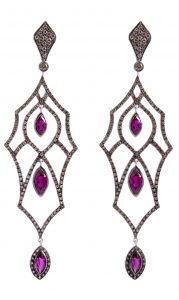 [/ts_one_third] [ts_one_third]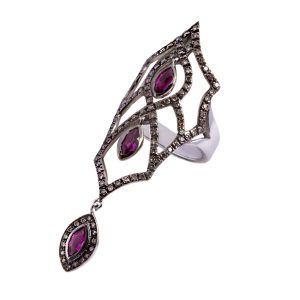 [/ts_one_third] [/ts_row]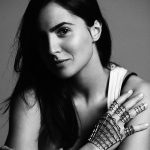 MVP by Maria Vittoria Paolillo — The aesthetic  Maria Vittoria Paolillo deliberately looked for in order to distinguish herself and emancipate herself from the image of her famous family was young, irreverent, slightly playful and often provocative. Although the mood is clearly very different, her origins helped to create fertile ground for Maria Vittoria who, since childhood has been fascinated by the way her grandfather talks about the jewelry world. She began studying gemology and her desire to create a strong brand with personality was officially launched in 2013. Her collections are always extremely forward-looking , and the materials are always silver and bronze but adorned with diamonds, pearls or enamels. Clean, precise lines are a must, she prefers geometric shapes and symmetry. A futuristic journey which is best expressed via ring sets worn on all five fingers, this 'cage' ring is an important achievement for Maria Vittoria. This piece defines her style and communicates a feeling of creative freedom which never loses sight of the value of traditional craftsmanship found in the meticulous attention to detail and tireless pursuit of the finest raw materials.
[ts_row] [ts_one_third]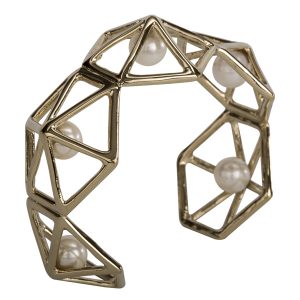 [/ts_one_third] [ts_one_third]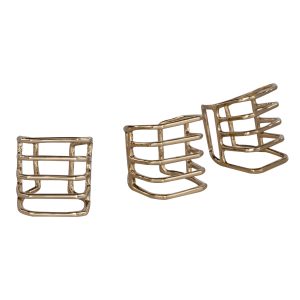 [/ts_one_third] [ts_one_third]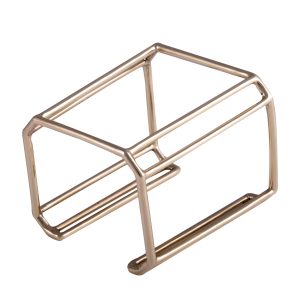 [/ts_one_third] [/ts_row]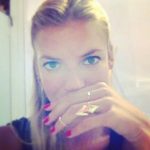 Anna Maga Visconti by Anna Maga Visconti — She attended IGI, completed a degree in Jewelry Design at IED, trained with the creative team at Giorgio Galli & Timex Group and created jewelry for Maison Versace. It was here that she got the idea of making her own way in jewelry design and identify a stylistic method that could have added value, independently of the artistic prestige of design. Anna found this in inspiration provided by the landscape and within the principles of Eastern philosophy, in the study of natural elements whose magical, holistic properties facilitate a feeling of well-being and balance between mind and body. This led to choosing stones according to their magical power, which store energy and help us utilize it. And so, her jewelry combines hyper-energy materials such as gold, salt and coral, in fact both the  Morcego ring and Alma necklace are considered to be particularly representative of this message. Above all, Alma creates a traît-d'union with the other pieces because she comes up with a contemporary reworking of the idea of the scapular, very common in the Brazilian culture as a promise of devotion in exchange for protection. Anna has reinterpreted it as a necklace to be worn on one's back.
[ts_row] [ts_one_third]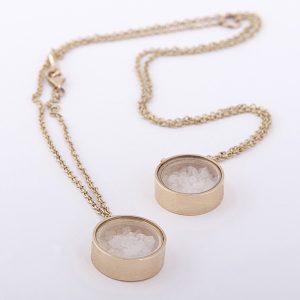 [/ts_one_third] [ts_one_third]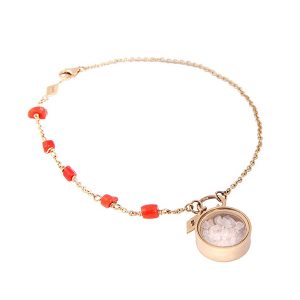 [/ts_one_third] [ts_one_third]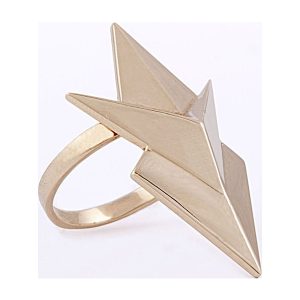 [/ts_one_third] [/ts_row]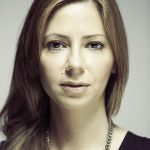 Giuliana Mancinelli Bonafaccia by Giuliana Mancinelli Bonafaccia — These collections are composed of lots of details which, translated into geometry, provide a starting point from which Giuliana Mancinelli Bonafaccia constructs and develops her jewelry. Her jewelry has a strong fashion connotation, within a stylistic balance which favours colour, volume, well-defined decorative elements and skilfully-designed shapes. Multicoloured perspex cuffs, fringed pendents, plastron rings and necklaces stand out. Favoured materials include Swarovski crystals, rose gold and green electroplated brass, palladium, black rutenio and clear perspex, which undergoes a colouring process to make it look like a precious stone with similar radiance and transparency effects. One distinctly fashion-oriented piece of jewelry which stands out for its geometric shape, lines and use of colour is part of the latest collection, called 'Immigrant Song', in fact, its details are almost sartorial in their precision and the volumes are perfectly balanced.
[ts_row] [ts_one_third]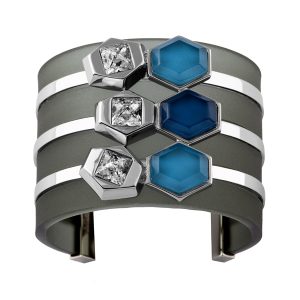 [/ts_one_third] [ts_one_third]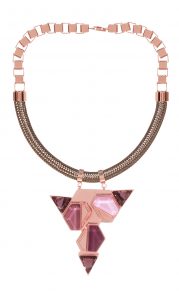 [/ts_one_third] [ts_one_third]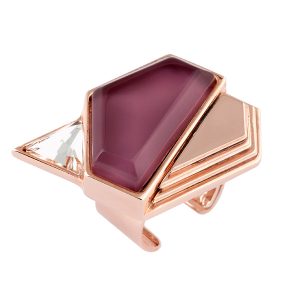 [/ts_one_third] [/ts_row]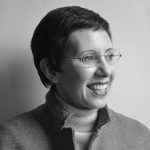 Leek Handmade Jewellery by Francesca Porro — It all started with Francesca Porro's love of hand weaving. A passion which, following her completion of a degree in Philosophy in 2001, led to her embarking on a career in carpet restoration under the guidance of an Iranian master restorer. Once she had mastered the secrets of classic Persian and Turkish weaving, a few years later Francesca decided to 'exploit' those secrets learned from her first love of  tout court weaving, and launch her Leek Handmade Jewellery project in 2013. The collection is entirely composed of industrial synthetic twine, produced in Italy, this material is minimal and pared-down. A multitude of knots form necklaces, bracelets and knots, there is a strong contrast between different textures, weaves, shapes and sizes. These incredibly lightweight pieces of jewelry are entirely made by hand, by means of a reworked crochet technique and traditional knotting. Although the pieces are large-scale and have a bold colour /material impact, they are still extremely wearable. From amongst all the pieces, the Medusa medallion with its labyrinth of twisted twine, is certainly the most iconic, while the designer herself prefers to wear the Seinodi necklace. She says it's an easy way to carry her passion around with her.
[ts_row] [ts_one_third]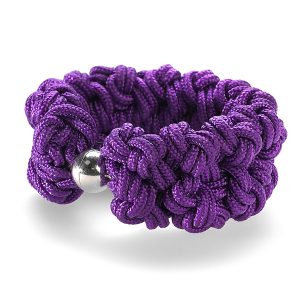 [/ts_one_third] [ts_one_third]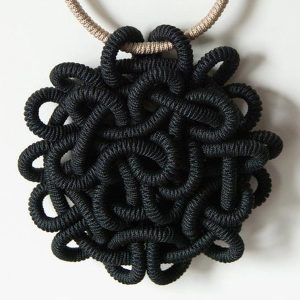 [/ts_one_third] [ts_one_third]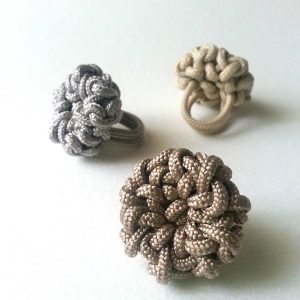 [/ts_one_third] [/ts_row]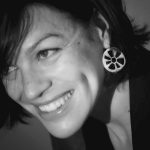 PI. Jewellery by Veronica Calcagno — Voluminous, linear, clean lines, geometric, material-oriented, imperfect, no frills. Veronica Calcagno's jewelry doesn't really need explaining, it reflects the sunny nature and vibrant Energy of the designer herself who, with her eclectic approach to the world of jewelry design, creates tiny ready-to-wear sculptures. As a lover of classical studies, Veronica decided to pursue her passionate interest in Greek mythology and symbolism by taking it to a creative level. She studied gemology at the GIA in Vicenza and started working in a goldsmith's workshop to gain experience. Today, Veronica is an intuitive, talented interpreter from the new generation of jewelry designers. She combines art and technique and works with intensity on the surface of gold and silver, and strengthens the balance between shape, proportion and volume. Everything is entirely made by hand within a reprocessing of concepts, symbols, metaphors and values which find their maximum stylistic expression within the Cristallo Cubico, Seed, Gwenn, Parapendio, Cajù, Karshvar and Balance collections.
[ts_row] [ts_one_third]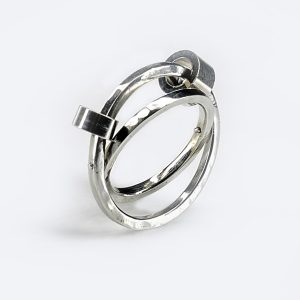 [/ts_one_third] [ts_one_third]                                      
[/ts_one_third] [ts_one_third]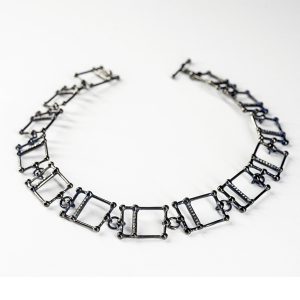 [/ts_one_third] [/ts_row]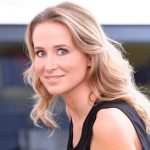 Vanessa Pederzani by Vanessa Pederzani — A knowledgeable, astute voice from the third generation of the Pederzani family, an historical name within Milanese high jewelry. Vanessa only began flexing her artistic muscles within the world of contemporary jewelry in October 2013. It should also be noted that at the tender age of six she was already melting gold in the workshop alongside her father and grandfather, initially for fun and later with a passion that has been handed down through the generations and culminates in a playful, irreverent collection despite the fact that it is made entirely of gold and diamonds: the Romantic Affair collection. A super-precious imaginary corset covers the whole phalanx, for Vanessa it is her most iconic touch. This jewelry is designed to be worn day or night, just what a Dark Lady might wear, but they are all small pieces, delicate miniatures, never loud, always extremely feminine and sensual, despite the abundance of bats and scorpions to represent corsets and bows. However, a certain style must be adhered to: only gold and white and black diamonds, only precious stones, and sometimes a little humour is provided bt coloured electroplating which provides an original twist and lifts the rigorousness of the canons of preciousness.
[ts_row] [ts_one_third]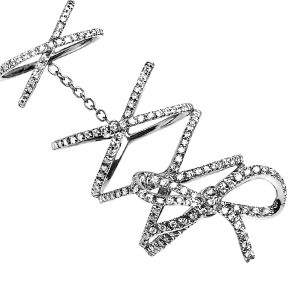 [/ts_one_third] [ts_one_third]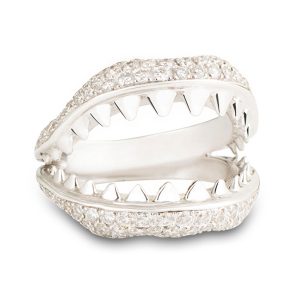 [/ts_one_third] [ts_one_third]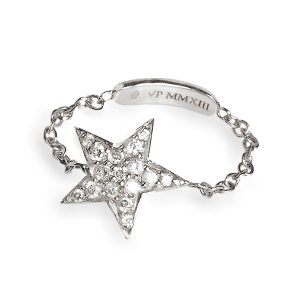 [/ts_one_third] [/ts_row]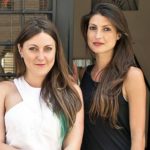 Co.Ro. by Costanza De Cecco and Giulia Giannini — Young, Roman and architects. These three essential ingredients are required in order to fully understand the work of this talented duo of architects, who have just entered the world of jewelry design with their passionate work and intense artistic study. The brand itself, Co.Ro., is indicative of the style and idea Giulia and Costanza intend to pursue: prêt-à-porter architecture, ready-to-wear architecture. Yes, because all it takes is one question about which is the most iconic piece of the collection and we are whisked away to the banks of the River Tiber and that 90-metre tall 1950's building which inspired their best-selling cuff and echoes its lines and proportions, 'Gasometro' bracelet. A world of geometry and architecture, reprocessed and interpreted using bronze, silver, natural freshwater pearls and semi-precious stones as well as different coloured gold electroplating – yellow, pink and black. Co.Ro's design is clean and captivating, it always carries a message or a hint of something, a memory, the real challenge is to create exciting, evocative micro-sculptures.
[ts_row] [ts_one_third]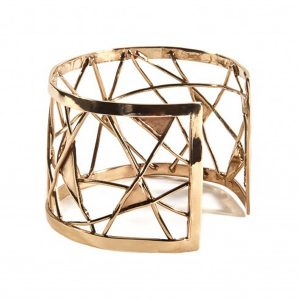 [/ts_one_third] [ts_one_third]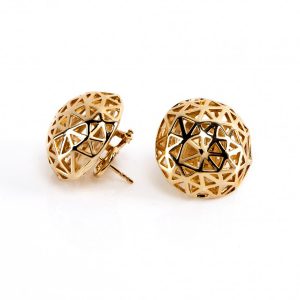 [/ts_one_third] [ts_one_third]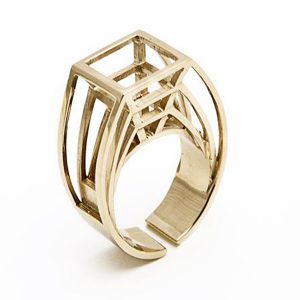 [/ts_one_third] [/ts_row]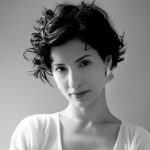 SAROJ by Valentina Bruzzi — The Saroj brand was launched by Valentina Bruzzi in 2013, with the aim of sharing that vision of elegance, simplicity and innovation to be found in her imagination and in her creations. Driven by a constant desire to develop and grow, Valentina decided to hone her technical and design skills by choosing innovative technology and always seeking out anything connected to experimentation. Her new laser-cut jewelry collection and the 3D-printed nylon pieces totally represent Valentina's style. In her first approach she avoided using silver and stones. The bare essentials win in this micro world and involves paring down, removing all that is superfluous, it is therefore synonymous with design where nothing is left to chance. A must-have piece of jewelry? The 'Origami' midi ring and the 'Elisabeth' collar-necklace, extremely fine but beautifully distinct, the absolute crowning glory of the collection.
[ts_row] [ts_one_third]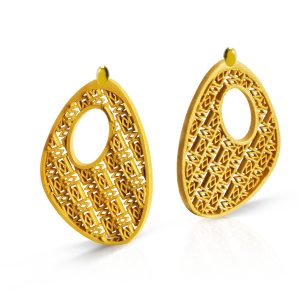 [/ts_one_third] [ts_one_third]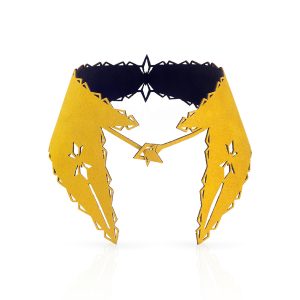 [/ts_one_third] [ts_one_third]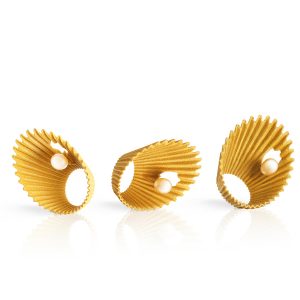 [/ts_one_third] [/ts_row]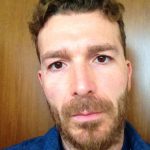 Opposite Jewels by Antonello Malfa — Antonello Malfa's artisanal expression of jewelry comes from water, from osmosis between the liquid shapes and the material. To be precise, from a shell picked up on the shoreline of the beach in 2001. But since that day and up to the present, Antonello's path in life has gone in different directions. Today he has decided to give his collection are a very specific name. He called it Opposite, thus referring to a definite concept, the desire to go against traditional jewelry-making and speak up for idealism via the crafting of tiny sculptures to adorn hands, mainly. For Antonello, the very essence of jewelry comes from the solidification in space and time of precious resin coagulated in the radiance of gems and metal. This resin is modelled and combined with gold dust to create a totally new material called 'orite', and then juxtaposed with stones with a strong personality such as lapis lazuli, malachite, obsidian, adularia, tourmaline and topaz. The shapes are very organic, slightly imperfect, almost metaphysical, the large volumes can generally be seen in the rings which despite being boldly over-sized are incredibly lightweight.
[ts_row] [ts_one_third]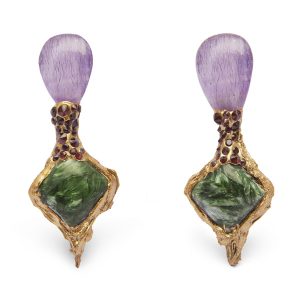 [/ts_one_third] [ts_one_third]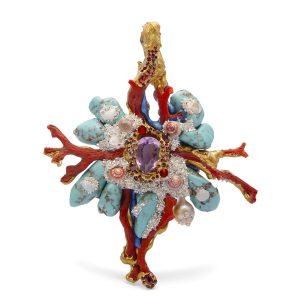 [/ts_one_third] [ts_one_third]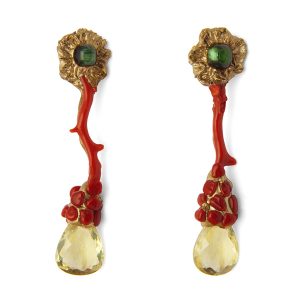 [/ts_one_third] [/ts_row]
Words Federica Frosini
---