Future talents pass this way.
---
Highly skilled coupled with great passion and immense talent. From London's Central Saint Martins to International Talent Support in Trieste,  three authoritative voices explain and share what it takes for a  young jewelery designer to enter the jewelry world with the right moves. 
by Federica Frosini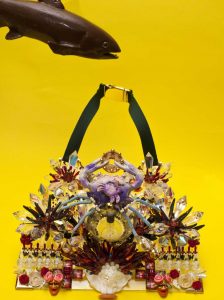 The design by Noriko Nakazato (Japan), finalist in the ITS 2014 Artwork Section.
An interview with many voices taking in the opinions of an all-British academic front, from Senior Lecturer Giles Last and Course Leader Caroline Broadhead- of the BA (Hons) Jewellery Design from the prestigious Central Saint Martins in London – to the all-Italian Barbara Franchin the mind and soul and director and founder of the scouting platform ITS, International Talent Support, based in Trieste.
In London they may teach how to stimulate and make money from creativity, how to perfect talent, and the way the jewelry production system is structured.  However, in Trieste, these talented young people, already with an academic background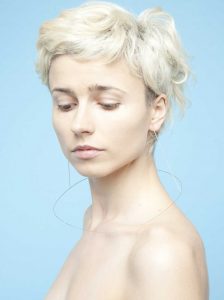 "Never Lose Earrings" by Ekaterina Polikarpova, from the BA (Hons) Jewellery Design 2013 Course.
behind them, are carefully selected by an international jury and placed in a context which rewards a project for creativity,  high-quality workmanship and value of an idea. A platform indistinguishable from a real springboard, thanks to which these young designers can already find visibility and a first working environment in which to take their first steps. We asked those who pull the strings of both worlds what they expect from the next generation of jewelry designers, what it takes to 'rise from the ranks' and, above all, if the pursuit of a course in jewelry design can actually make a difference in the professional process of a designer.
'Research is a never-ending process'. Interview with Barbara Franchin Director and Founder of ITS, International Talent Support.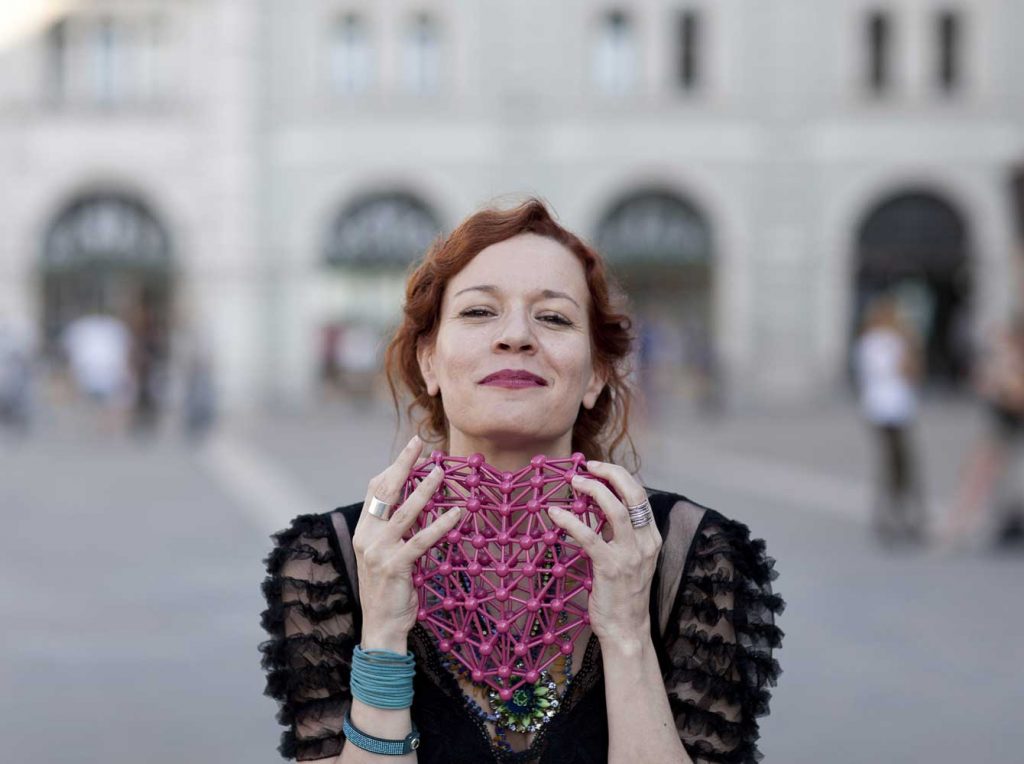 A portrait of Barbara Franchin, ITS Director and Founder
ITS, International Talent Support. How did the idea for this platform come about and how is it structured?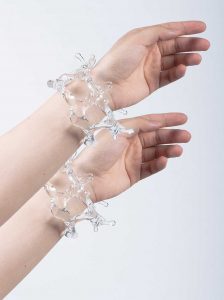 Bracelets by Beau Han Xu (China), finalist in the ITS 2014 Jewelry Section.
The starting point was my love of everything which doesn't represent a preconceived order of things. This is creativity in my opinion: to present an unexplored point of view. When I started out there wasn't a real structure offering support and visibility to young people. ITS scouts the best talent all over the world, it is divided up into different areas - fashion, accessories, purely artistic artwork projects, jewellery as well as a special design project – organised along the lines of a competition. Finalists are given the chance to meet the most important people in their field, show them their projects and access work experience and job opportunities.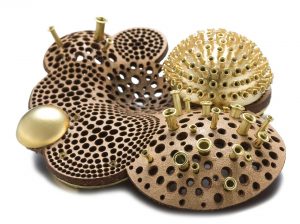 The design by Joo Hye Kim
Can you describe your selection process? 
In actual fact, our selection process is never-ending. We are constantly monitoring new talent and we are in contact with over 1000 schools around the world. Competitions start between December and January. The deadline for applications is at the end of March and in April the jury meets in Trieste to select the winners. The finals take place mid-July with over 450 international guests in attendance.
ITS and jewellery. When did you embrace the world of jewellery? 
Contemporary jewellery contains some of the most amazing talent. Young people from specialised schools and courses, or independent designers working on their own small-scale production. We felt the need to give contemporary jewellery its own space, thanks to our partner Swarovski with whom we share the same spirit of research and support.
In what way are young people interested in jewellery?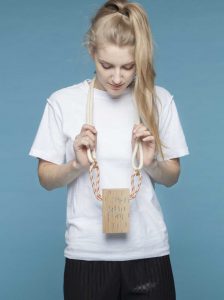 Robyn Smith, Sports Day collection, from the BA (Hons) Jewellery Design 2013.
There are so many possibilities to be explored. People no longer refer to the sole use of noble materials. Contemporary jewellery has broken down all barriers and created space for inventiveness: any material is possible, as well as any colour or combination. I see a strong desire to explore, in pursuit of the real meaning of "jewellery".
What are your selection criteria?
We select projects. We select neither schools nor countries. What we care about is whether projects are highly individual or not. They have to express an important personality, represented in a project which is conceptually strong or interesting in terms of materials. They should combine creativity with technical production skills, with the ability to narrate the project and design it whilst displaying sensitivity towards materials.
Where do applications come from? Have you picked up on a new 'trend' compared to previous years?
It varies a lot: Israel, Japan, Slovenia, Switzerland, France, Norway, China, Belgium. Each year we publish an ITS Trends Report and amongst the various trends we identified, one of the strongest we saw we called "Instagram-o-rama" in other words, a push towards strategies with a strong visual impact, design which focuses on the surround, the visual strength of a single viewpoint, on predominantly graphic elements.
After Jewellery Design School, which are the 'right' steps to take?
One needs to ask oneself if what one is doing is an absolute passion. If the answer is yes, one needs to be prepared to give up everything. Therefore one needs to do all one can to improve skills, acquire experience working for other brands, not be in any hurry to launch one's own brand, at least until one is fully aware and in control of every single aspect linked to the production and trade of one's own jewellery. While never losing sight of one's creativity.
[ts_row] [ts_one_half]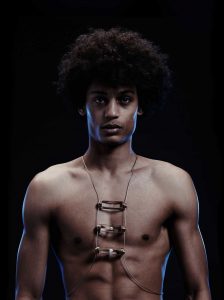 The design by Sarah Ysabel Dyne Narici (Italy), finalist at ITS 2013 and ex-student on the BA Jewellery Design 2013 Course.
[/ts_one_half] [ts_one_half]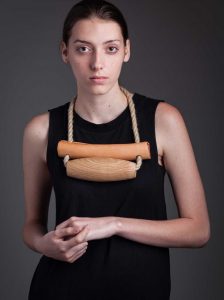 "Wood leather necklace" by Sophie Taylor, (Hons) Jewellery Design 2013.
[/ts_one_half] [/ts_row]
How do you help and promote young people? Has anyone made a name for themselves?
ITS awards, apart from the financial component, are above all opportunities for work experience and positions in some of the most important companies within the industry, which offer the opportunity of learning the production and commercial techniques of a prominent brand. We remain in touch with the finalists for the whole of their careers and today many of them work for high-profile brands. Ali Forbes, from ITS in 2009, works for Swarovski in London, Marie Cabour, a finalist last year, works at Dior and Sarah Ysabel Dyne Narici designs for McQueen.

Necklace with enamel and pearls by Lola Lou, from the BA (Hons) Jewellery Design 2013 Degree Show.
Have you noticed any developments regarding the style of projects presented over the years?
A strong push towards the use of unconventional materials, which questions the concept of what is or isn't precious. Is creative expression via the use of cardboard and textile waste as valuable as precious stones? I would say that it is worth more, a lot more. As far as the conceptual issue is concerned, of course, ITS, being geared towards pure creativity, presents cutting-edge work, but I don't believe that it is a model which beats another one.
 Inventiveness and sensitivity towards a stylistic identity. Double interview with Giles Last and Caroline Brodhead, Senior Lecturer and Course Leader of BA (Hons) Jewellery Design respectively- Central Saint Martins University of the Arts.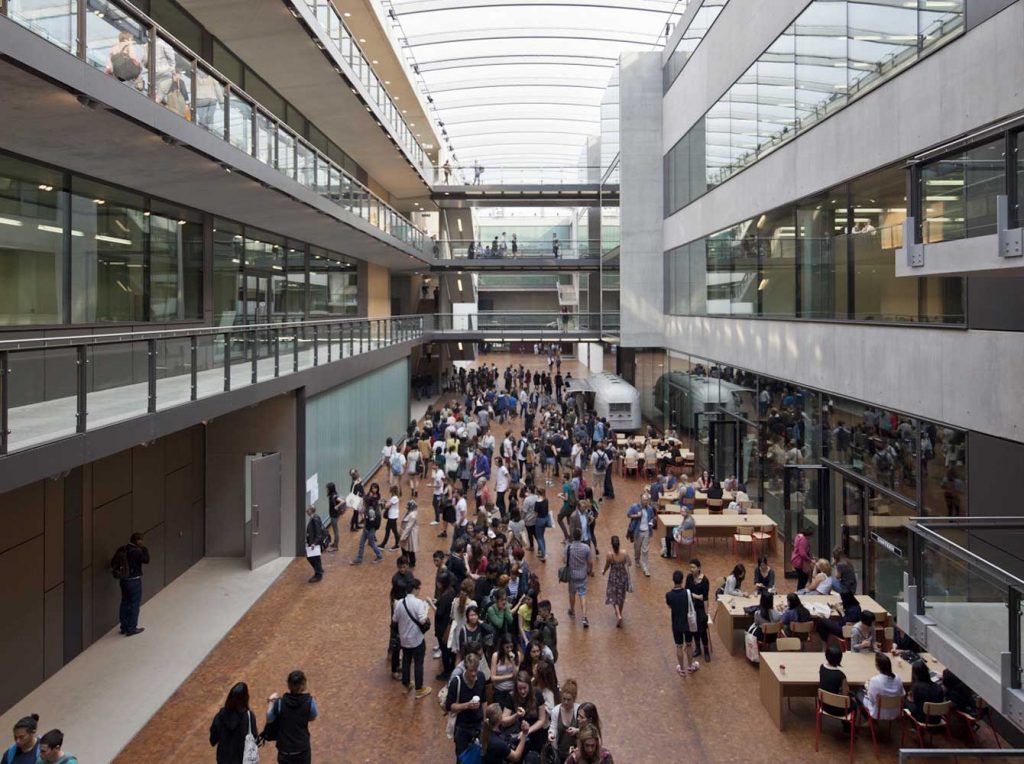 Central St Martins: BA (Hons) Jewellery Design King's Cross, Londra, UK. www.arts.ac.uk
How is the BA Jewellery Design course structured and what is its aim?
The course lasts three years and aims to teach students how to approach the jewellery world in terms of research, technique, design and communication. We ask students to experiment with new ideas and to accept challenges posed by the materials.
Central Saint Martins is one of the most prestigious Jewellery Design schools. What are your strong points?
We are situated in central London. The college has 4000 creative people and the surrounding context really is incredibly inspiring. All our tutors possess extensive professional experience in the sector and know how to stimulate young people's creative ideas, beginning with their own experience.
In what way are young people interested in jewellery?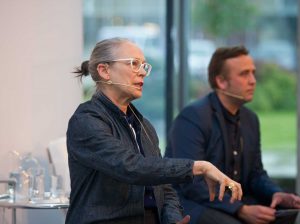 Giles Last and Caroline Brodhead, BA (Hons) Jewelry Design - Central Saint Martins University of the Arts.
Jewellery in itself has an incredibly rich background history and this is why it is already an important source of inspiration. Even though some students look towards sectors or environments such as sport, insects, cosmetics or camouflage, to name a few, when an idea for jewellery combines with such transverse worlds, really well, that's when it gets really interesting.
When one leaves Jewellery Design School, what are the right 'steps' to take?
In general, our advice is to firstly get experience before embarking on a career as an independent designer. This is because having technical skills just doesn't cut it, skills learnt on the job are also required. Some students could also decide to go in a different direction and become jewellery buyers, stylists or prop makers.
Once the course is finished, do you still offer support to your students? How do you do so?
The BA Jewellery Design course has a Facebook page where we post any job opportunities that come up. We also have  a special office which puts students directly in touch with companies.
Why is a jewellery course so important? Could a young designer go forward without a specialised school?
Of course! One can still have success without training, but a course offers a great deal of opportunities due to the work experience and specific skills students acquire. One should not underestimate the value of the relations students forge with each other, with tutors and with our external clients.
Do students follow any trends?
There are trend forecasters in jewellery too, but we expect students to use their own imagination and sensitivity in order to achieve a stylistic identity. This makes work both interesting and thrilling.
Has anyone made a name for themselves?
Three people from last year are doing really. Percy Lau, winner of the ITS accessory category, has opened his own studio in Hong Kong. Sarah Ysabel Dyne Narici works as an accessory designer for Alexander McQueen and Bea Bongiasca has launched her own brand in Milan.
What do you expect from your students?
I like to think of time spent at CSM as a 'container' in which students discover themselves and learn, creatively, to apply their interests, their passions and their obsessions to jewellery.
---