---
Meet Kholoud Kurdi, a young designer known today as 'Jewel of Arabia'. From being a manager at the Dubai Diamond exchange to the host of awards For her role in the Design of fine jewelry. Kholoud Kurdi is known for her innovative flair and creativity.
When talking about
fine jewelry
, the Middle East is always on the list. Their flamboyant lifestyle and fascination for bling have garnered global attention. "The Dubai Market has a very accepting approach to new ideas. Traditionally, a gold market, international exposure have led Dubai to open up, making it one of the biggest diamond, colored stones, pearl and gold exchanges in the world today." These are the thoughts of a young designer,
Kholoud Kurdi
, the owner and chief designer of
Toujours Jewellery
in
Dubai
known for her innovative and experimental flair in jewelry design.
"I had previously worked in the Dubai diamond exchange for four years and served as the development manager for the gulf region, where I worked closely with stones in terms of tenders and sales; however, I have always wanted to be a designer and wanted to create interesting and timeless precious pieces that people would appreciate and cherish for generations," she adds. An accredited jewelry professional from the Gemological Institute of America, her works of art and her brand have captivated many hearts and have been awarded many titles including the title 'Jewel of Arabia' for her glittering contribution to the industry. Her regular participation in charity auctions and encouragement to young designers through jewelry competitions shows that she also believes in giving back to the industry.
[ts_row] [ts_one_third]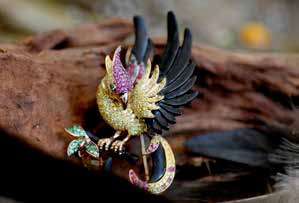 [/ts_one_third] [ts_one_third]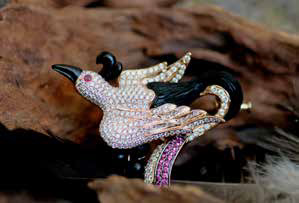 [/ts_one_third] [ts_one_third]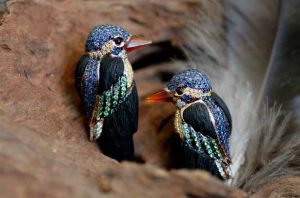 [/ts_one_third] [/ts_row]
Kholoud's passion speaks through her work and her brand TOUJOURS Jewelry, which literally means 'Eternity' in Arabic, also a version of her own name. Every jewelry piece created by her tells a story and a unique design illustrating the beautiful Arab and Middle Eastern culture, like Arabic calligraphy, ancient Islamic motifs as well as the highlight of her latest collection: scented oud or agarwood. Also known as 'The Glamorous Scent', it makes use of realistic forms of birds, butterflies and flowers accented by pieces of the dark and aromatic agarwood. Used commonly in perfumes, this expensive and rare wood reflects a major cultural element of the Arab world, symbolizing wealth, status, generosity and beauty.
When combined with jewelry, the result not only appeals to the visual and tactile senses, but it also elicits the olfactory sense, making this jewelry unique, priceless and irresistible. Upon walking into her boutique at The Dubai Mall, one can spot magnificent flamingoes, humming birds and peacocks ready to fly off the shelves. Studded with an array of colorful gemstones and diamonds, the dark agarwood adds a peculiar quality to the pieces. Displaying intricate details, the wood has been painstakingly carved into wings, along with detailed striations turning them into miniature replicas of real bird feathers. Such attention to detail sets apart Kholoud's work from her counterparts. With big expansion plans to open in London soon, the hardworking designer is already working on her next collection and reveals that carved gemstones will play a major role in it
Text Preeta Agarval
---