---
Slippery and crawly by nature, real snakes still captivate the attention of many designers and jewelry lovers across the globe.
New in the race of themes,
faunas
have inspired many
jewelry designers
and have literally overtaken every other prevalent theme. One can spot a variety of studded animals, insects, feathered friends and even creepy reptiles in most
jewelry collections
and that, too, in every color, size and pose. However, one
reptile
in particular has been around for centuries and still captivates the attention of many designers and
jewelry lovers across the globe
. Slippery and crawly by nature, real
snakes
may not be a
woman's favorite
pet, but when dipped in gold and studded with diamonds, they are sure to woo them quite effortlessly.
From the oldest story ever written around Mesopotamian mythology, where the serpent ate its own tail representing the renewal of life, to the Garden of Eden, where the serpent played a major role in the fall of Adam and Eve and was punished to crawl on his belly forever; connotations surrounding serpents can be found across history and mythology. Having played important roles in the religious and cultural life of ancient Egypt, Rome, Greece, Africa, India and even the Americas, the serpent today represents multiple beliefs, symbolizing protection, eternal love, rebirth, wisdom, revenge and even desire.
[ts_row] [ts_one_third]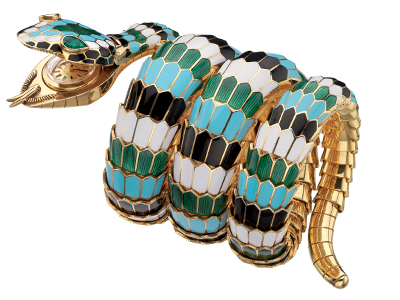 Bracelet by Bulgari
[/ts_one_third] [ts_one_third]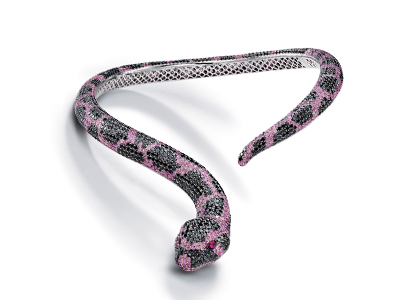 Necklace by Roberto Coin
[/ts_one_third] [ts_one_third]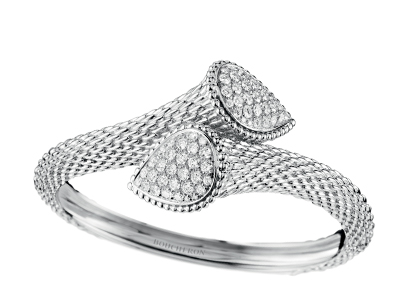 Ring bu Boucheron
[/ts_one_third] [/ts_row]
The influence of the
serpent
can be seen across the
luxury
sector from garments to jewelry and from accessories to even
home decor
. Europe by far takes the lead as renowned fashion houses and couture designers have repeatedly charmed the world with their interpretations of this coiled creature. The most noted references to snake jewelry is how
Cleopatra
adorned herself with gilded snakes from head to toe. Even, it became a worldwide trend when
Prince Albert
proposed to
Queen Victoria
 with an emerald-headed snake ring, symbolizing his eternal love for her. Followed by various naturalistic reinterpretations during the
Art Nouveau
period, the serpent today is being explored in a more contemporary fashion while exploiting technology to its advantage.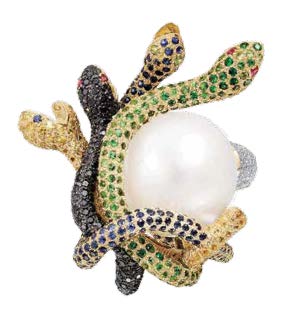 Farah Khan's 'Snake Around A Pearl' ring and a model rocking the Bulgari "Serpenti Forever" shoulder bag with light gold-plated brass "Serpenti" head closure in black and white enamel with malachite eyes.
If folktales were to be deemed truthful, rare species of snakes are believed to carry snake stones in their head and are very protective of them as they were thought to contain magical powers. The same characteristic has often been expressed in fine jewelry with either a gemstone-studded snake head or a snake coiled possessively around a precious gemstone. In the Stephen Webster's 'It Started With Eve' Couture Ring, the pavé- set diamond white snake is coiled around a 5ct Forevermark Diamond. Similarly, four snakes are seen protecting a large white pearl in the ring designed by Farah Khan.
The long and slim body of the snake makes for a fascinating design element when wrapped around objects or body parts. Thus, in most jewelry pieces, the snake is seen coiled around a finger, an arm or even the neck. The Buccellati ruby snake necklace perfectly exemplifies how designers use the linear body of the snake in jewelry.
Text Peetra Agarwal
---