---
Collections like orchestrations. Where each element, from the choice of gemstones and colours to the minutiae of design and manufacturing technique, contributes, like a musical score, to a balanced outcome.
Interview Rachel Taylor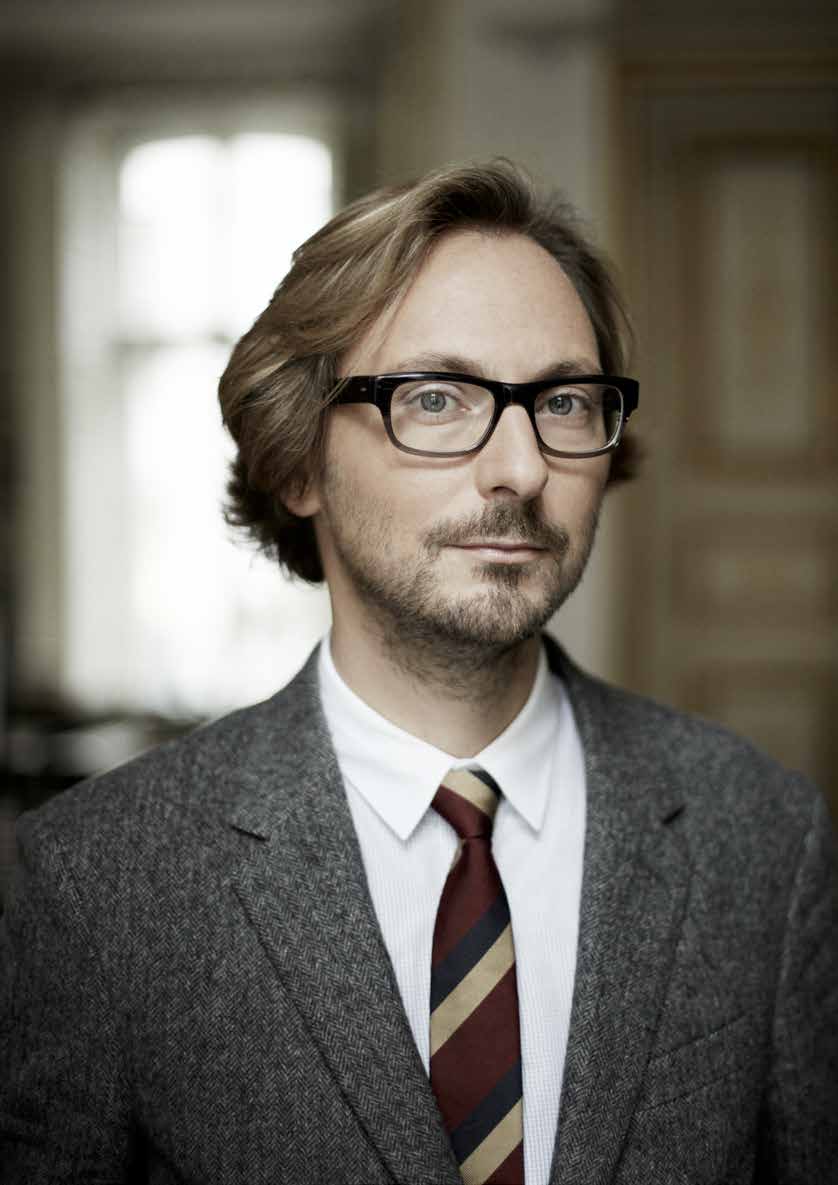 Describing the jewellery collections under his control as "narrative, figurative, abstract; like symphonies or sonatas", Nicolas Bos has perfected the flowing figurative speech you would expect of a creative director of one of the world's most whimsical brands.
But there is steel somewhere beneath the friendly smile too, as Bos has navigated himself to the most unusual position of acting simultaneously as Van Cleef & Arpels' chief executive. When we meet in the brand's Place Vendôme boutique, which has been recently expanded with a 280sqm twostorey extension masterminded by architects Patrick Jouin and Sanjit Manju, Bos looks rested and relaxed despite being midway through Paris Couture Week and the taxing schedule that must accompany it.
"The good thing with good things is that you never get bored of them," he laughs good naturedly, as he talks animatedly and in great depth about the Émeraude en Majesté collection on display in a cosy showroom beneath us.
At just 45, Bos might be a youthful choice for not one but two top luxury jobs, but he is a Richemont veteran. He started his career with the luxury goods group that owns Van Cleef & Arpels back in 1992 at the Fondation Cartier for the Contemporary Arts before securing the Perfect symphony role of international director of marketing at Van Cleef & Arpels eight years later.
Over the past 16 years that he has spent with Van Cleef & Arpels, Bos has steadily added all the right strings to his bow – retail strategy, store design, international growth, creative development – to allow him to do what he does now. And what he is doing right now is emeralds.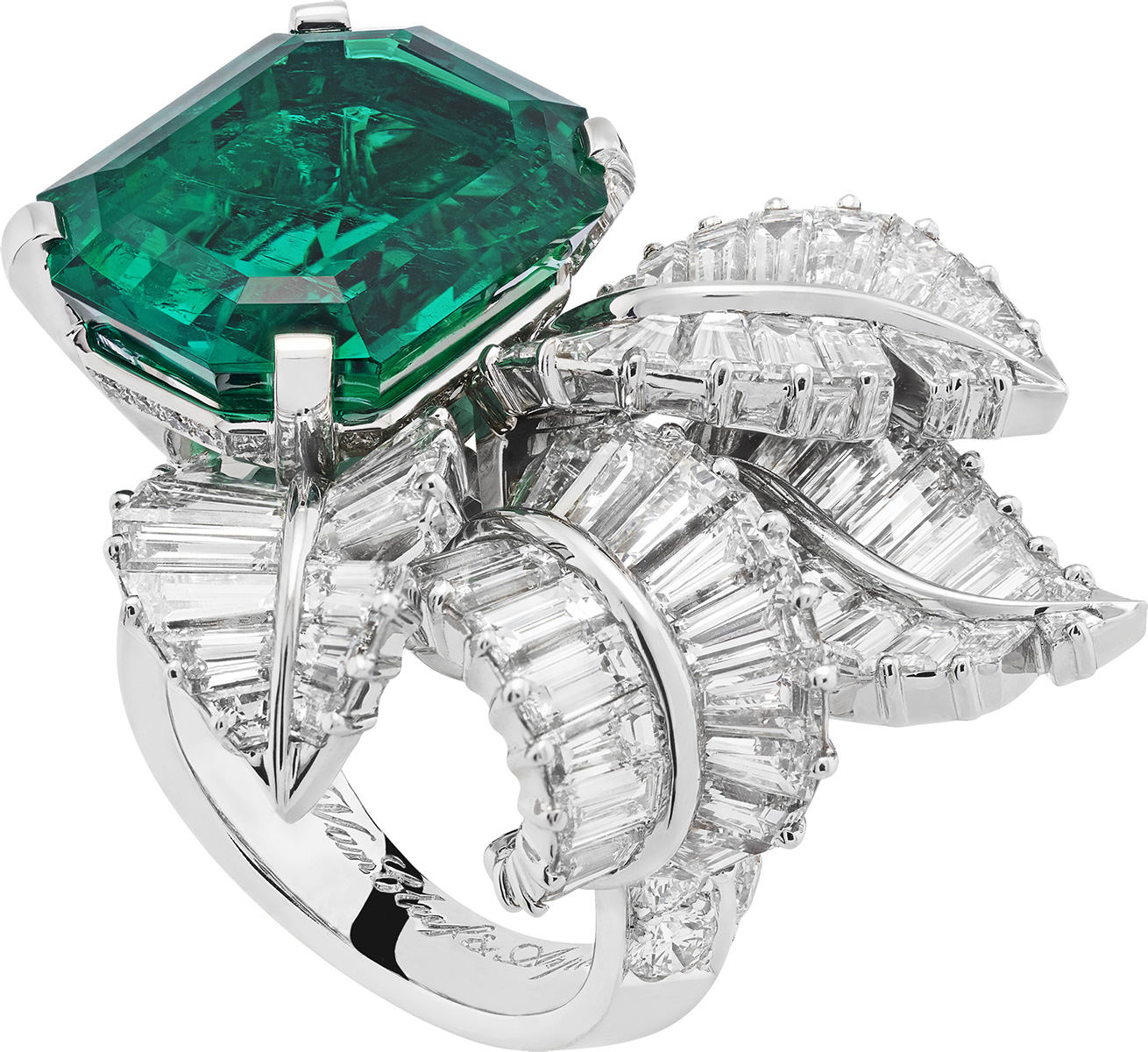 Canopée ring from the Émeraude en Majesté collection.
Bos and his team have just lifted the lid on the Émeraude en Majesté collection that is dedicated entirely to this single verdant gemstone, and for Bos, this limited scope actually delivered a wider creative challenge than some of the brand's other more narrative collections.
"For a number of years we have wanted to do something that was just about one stone – to be creative within a set of rules," says Bos, adding that when the discussion of which stone to choose came up, the choice was relatively simple. "For sapphire, if you want to be exact, you have to go through all the colours, so you miss the chance to be monochrome. It's the same with diamonds. So you're left with rubies and emeralds."
While Bos says that a collection of jewellery dedicated to rubies is not completely out of the question in the future, he settled on emeralds due to the technical challenge of sourcing the gems. "Rubies are much more expensive and smaller in size," explains Bos, who has a warmth and openness that makes him appear younger than his years. "You don't really get upwards of eight to 10 carats, so you don't get that visual impact."
Some of the emeralds in the Émeraude en Majesté collection are enormous – even the backs of necklaces are adorned with large emeralds of up to 19mm in diameter, to allow the designs to be spun round, creating two different looks. While Van Cleef & Arpels only works with natural, unheated gemstones, for Bos beauty is not always to be found exclusively in the what are considered to be the very best stones. "A good emerald is not necessarily a Muzo emerald in the sense that a good ruby is not just a Burmese pigeon blood ruby," he says. "To me, a great African emerald is much more interesting than an average Colombian. You also get Russian emeralds that are somewhere between aquamarines and emeralds – they are super rare and not expensive. I love them, but collectors might not as they are so light."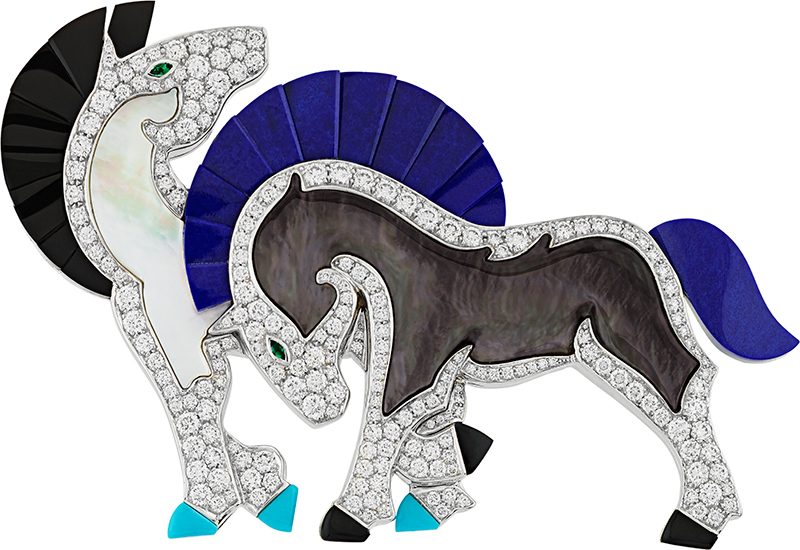 Brooch from the Arche de Noe collection
---