Bewitching jewellery for Maleficent: the imaginary and the real.
---
Maleficent is a fresh take of the Sleeping Beauty fairytale. Angelina Jolie, who stars in the leading role, is set to be the most glamorous evil sorceress of all Disney witches.
by Katerina Perez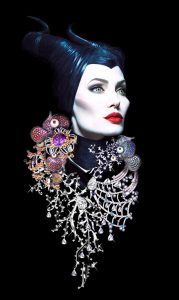 The actress' beauty coupled with Maleficent's sly nature makes for a character that is as beguiling as it is terrifying. Being wonderfully wicked, she is certainly powerful enough to have bewitched many of us, including the Italian jewellery designer and winner of the Gold Talents  Gianluca Gabbani. Inspired by the most beautiful villainess ever created, he had an unrelenting desire to dress her in show-stopping jewels to emphasize her powerful nature. After days of sketching, a glamorous ring, bracelet and a headpiece were born. Shaped as crows frozen mid-flight with their wings stretched out, they represented Maleficent's devoted companion – the crow called Diablo.
"Maleficent is a fascinating figure," says Gabbani. "I would prefer to see her wearing jewels that resemble her character. She is a true queen, even if she is an evil one."
For his design, Gabbani has chosen contrasting colour palettes of black and white tones that have been mixed with a poisonous looking green and a bright violet. Emerald cabochons on the spine and in the raven's claws match Malificent's eyes, whilst violet amethysts and black diamonds are a perfect match with her attire. Gabbani justifies his desire to create luscious jewels for the devious villain rather than the sweet princess Aurora by saying that villains are not necessarily less attractive than good doers. "I am not a bad guy," comments Gabbani. "But good characters can sometimes be boring".
When Maleficent develops love for Aurora and regains her kindness, one can call her anything but boring. She returns to her kingdom without hatred in her heart, the brambles retreat, her throne flourishes and everything regains colour. Having been betrayed Maleficent was forced to turn to her dark side, but after reviving Aurora with a motherly kiss and conquering the King, we see her becoming her true self again. Gianluca Gabbiani depicts the essence of Maleficient in another striking design - a luscious diamond necklace.
"I created this necklace to represent the rebirth of life in the magical kingdom where many fairies and creatures with wings reside. You see the web here but it is no longer a trap, it is not a symbol of danger. It is more like a thread for gathering morning dew droplets in a sparkling necklace. The brambles in my designs are not aggressive, they represent a desire to protect and preserve this true love, which was born from hate between Aurora and Maleficent." And what do the two pear-shaped diamonds in the middle stand for? Gabbani placed them in the heart of the necklace to symbolize Aurora's virtues - the pure and the perfect.
Leaving the imaginary aside, there are in fact several fine and fashion jewellery companies that offer their versions of Maleficent-inspired adornment pieces. The official Disney partner for Maleficent jewellery line is Crow's Nest. Its founder and creative director Daniel Belevitch put together seven limited-edition pieces which were influenced not just by Maleficent's character, but also by the decorative elements of the movie, including thorns, horns, feathers and fire. Every piece from the collection is a fashion-statement finished in black rhodium or yellow gold. Black diamonds embellish 5 jewels: a feather full-finger ring, a thorn two-finger ring, a thorn bangle, a horn cuff and a dragon ear-cuff. Red and yellow sapphires pave gold flames on another full-finger ring. And the last piece in the collection is the sculptured dragon that embraces an alluring black opal.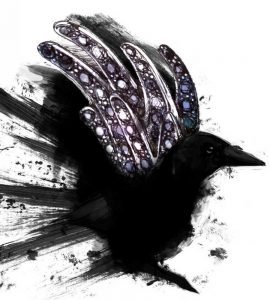 "Working with Disney is like a dream come true, an honour for me to have been given this opportunity so early in the brand's history," said Crow's Nest founder and Director Daniel Belevitch. "The Maleficent collection has enabled me to create a collection that is dramatic and beyond anything I could have ever imagined. It's fierce."
Crow's Nest Fine Jewellery Disney has collaborated on something much more spectacular. The film behemoth has enlisted Crow's Nest Fine Jewellery to encapsulate all that is enthralling and beautiful about Sleeping Beauty's fairytale nemesis in a series of wearable pieces. Designer Daniel Belevitch has created a seven-piece collection of contemporary and statement rings, bracelets and earcuffs, taking inspiration from and interpreting the key elements of the film. Each piece is set in rhodium with black diamonds, featuring a pear-shaped onyx, which contrasts with the green tsavorite that has become his signature for core pieces. Ranging in price from £2,500 to £13,500, the finished offering is as exquisite and beautiful as the film's protagonist - but like her it is also complex. "Maleficent's a dark character but with a beauty as well," Daniel Belevitch said. "I think she's misunderstood and we can learn something about ourselves from her. I hope my interpretation of the character, that I tried to capture within the jewellery, reflects how other people feel too, dark but beautiful."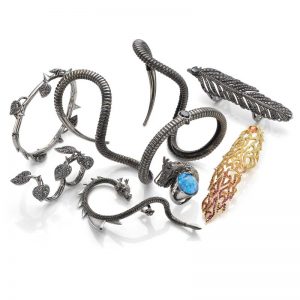 ---