Elisabetta Cipriano: Jewelry according to me.
---
An art dealer of Italian origin, London-based Elisabetta Cipriani collaborates with artists from around the world with whom she creates sculptural jewelry to wear.  
by Marco Cresci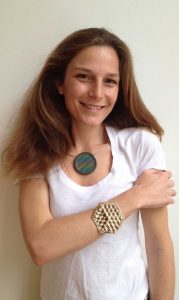 Elisabetta Cipriani
For her it is more important to have a story to share instead of a precious material to work with. Stories that embellish the design of contemporary jewelery; Unique handmade pieces exhibited in her London gallery.   What characteristics must a jewel have in order to capture your attention?  A jewel whish is pleasing to me is one conceived as a work of art, a sculpture. Made by hand. I like jewels that have stories to tell.  Do you remember the first jewel you fell in love with and why?  Of course.  It was the first important gift that my mother had given me at 21 years. It was a pinky ring; a beautiful snake in yellow gold with a diamond instead of a head. She was given the same ring by my grandfather at the age of 16 and it would have been my duty to pass it down to my daughter to continue the tradition but unfortunately I lost it after a few years.  I was very deeply linked to the ring and not being able to pass it on to future generations is a real shame.  According to you, can art, jewelry and fashion live without one another?  Absolutely not. A jewel is the most intimate part of whoever made it. It is an emotion, an expression, an eternal object that never goes out of fashion. You should first get the jewel and then the clothes. The jewel is a true extension of our bodies.  According to you, what is the most important thing about a jewel, its shape, material or what it communicates?  There are jewels made using poor metals that are wonderful. For example, Alexander Calder hand-created stunning silver brooches, necklaces and earrings using copper or silver wires which he gave to his friends. Despite these jewels being made with poor materials, they are being sold at auction today for a value ranging from using copper or silver wires US$400,000 to 1,000,000.  in my opinion, the true value of a jewel is the form and what it can communicate. Although I like working with gold and precious stones, the material used to produce jewels is not a fundamental element for me.  Which jewel from your personal collection or created collection is considered a kind of talisman?  There isn't one in particular, all the jewelry that I have created together with artists are very important to me. By designing I create a special relationship with the artist that is transmitted in the very jewel.
---