---
The beauty of David Morris jewelry preserves a long history, deeply rooted in the past to inspire the future.
ake the dazzling beauty of Colombian emeralds, white or colored diamonds, black or pink pearls. Imagine them as small flowers and branches designed by the hand of nature. Not forgetting the scent of spring and the blossom of a cherry garden. Now combine them all. Welcome to the wonderful imagery of Cherry Blossom, the latest collection created by the David Morris brand, presented this spring, at the opening of a new space, within Harrods.
The style of the new jewelry created by the inspiration at Morris leads us into a refined world where wealth is opulent yet whispered in an elegant key. and earrings emulate the aesthetic exuberance of a garden in bloom, boasting craftsmanship that overwhelms, though the fact is unsurprising given the rich history behind the collections of the English Maison dedicated to providing exclusive products. A history dating back to the early sixties.
[gallery link="file" size="medium" ids="15092,15093,15094"]
It was 1962 when David Morris decided to start his business, and founded the eponymous jewelry brand. At that time, David's son Jeremy would spend his days playing in his father's historic boutique in Bond Street in London. "I grew up surrounded by jewels," says the designer explaining the origin of his passion. He can hardly be blamed! Who wouldn't fall in love with such precious creations, created by combining rare stones in eyecatching designs? For Jeremy it was natural to follow in his father's footsteps and transform his legacy in a contemporary project which looks toward the future without losing sight of the past, as he himself states: "I want to take our business forward, making sure that it grows without losing its initial values. We will never become a brand that has twenty or thirty stores and mass production. Our goal is to continue to create and produce high quality products. We still produce many unique pieces."
The uniqueness of a historic brand, with a long standing tradition, must forever keep up with an ever changing market, which is why David Morris has recently seen a number of important changes: from the creation of jewelry with less exorbitant price tags in order to attract new customers (several collections have a cost ranging from 10 thousand to 100 thousand pounds) and the creation of a well-developed yet carefully selected distribution.
[gallery link="file" columns="2" size="medium" ids="15096,15097"]
"Since being at the helm, I've embarked on collaborations with several select stores around the world and opened other boutiques on the international stage." Explains Morris who, also in terms of design, infuses the new collections with an all new style, combining tradition and personal inspiration: "My father loved classic French-style jewelry, but after studying at the Central School of Art and Design (now Central St. Martins), he moved towards avant-garde and abstract jewelry. I have a fondness for French design and I'm particularly inspired by Parisian jewelry masters who have a strong tradition and a real passion for the craft."
In addition to the fame associated with skilled craftsmanship and the use of exceptionally rare stones, David Morris owes its reputation to its link with the world of stars and cinema. In 1972 it designed and created the Miss World crown, used to this day for the event. While in 1999, it began a collaboration with the big screen by 'illuminating' the outfits of the Bond girls in the famous 007 films. "My parents", he continues with a touch of pride, "are friends of Roger Moore and knew Maurice Pinder who gave the titles to the 007 films. It was thanks to Maurice that the jeweler David Morris featured in films such as Diamonds are Forever, The Man with the Golden Gun, The World is Not Enough and Tomorrow Never Dies.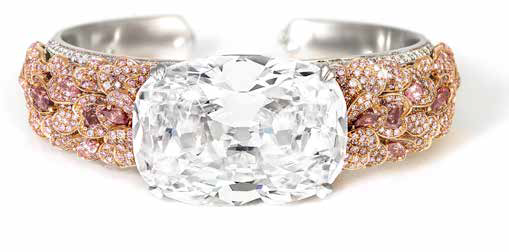 We were the first jewelers to work with the producers of James Bond". Even if today important figures such as Adele, Kate Winslet and Leigh Zimmerman continue to choose his jewelry for important occasions and the red carpet, Jeremy still has a dream to fulfill: to see his creations worn by Cate Blanchett, because "she oozes glamor and elegance and everyone notices her when she enters a room. " Just as it happens with a David Morris jewel.
---