---
The Co.Ro. brand was founded by two young Roman designers: Giulia Giannini and Costanza De Cecco. Every piece of their jewelry is inspired by design, with feminine beauty in mind.
Which elememts distinguish your latest collection?
'Spatiality' and 'emptiness' are the themes which link all our collections, in the latest one we focused on turning perspective on its head and on the pursuit of impossible connections between dimensions. The undisputed queens of these capsules are pearls, trapped within prismal lattice-work and constantly in contact with the skin of the person wearing the piece.
When you're creating do you like to break the rules or do you prefer to follow a traditional framework?
When we design bespoke jewelry or pieces for other brands, we follow a framework for architectural  composition: we analyze the theme, we break it down and try to make it our own before we make the first sketches. The pieces in our jewelry line on the other hand, often take on a definite shape before we even start sketching, we can see whether an idea is strong enough to become an exceptional piece of jewelry, just by talking about it.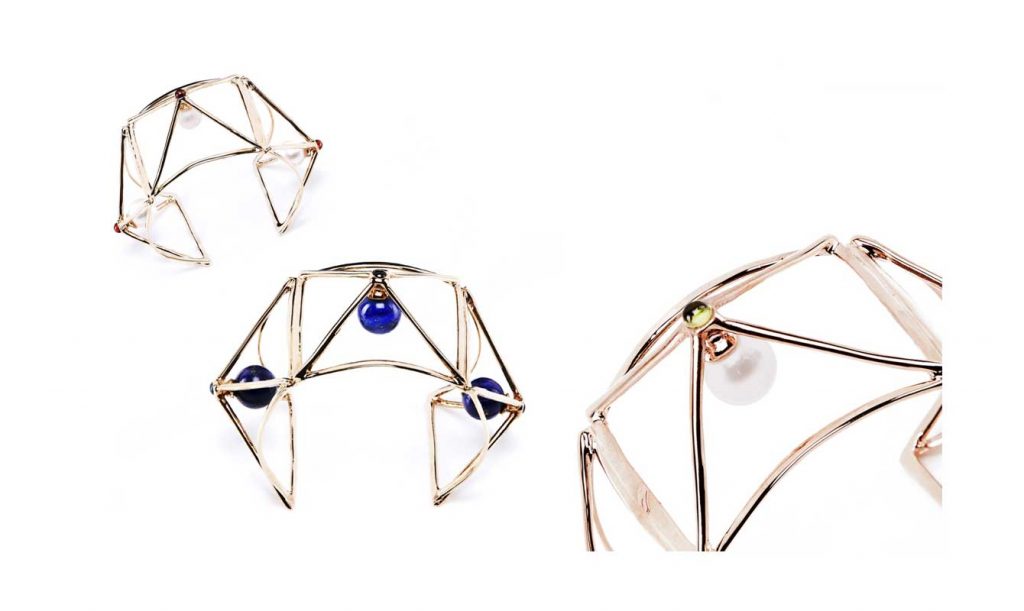 There are two of you, do you have the same tastes or do you clash when you're working ona  collection?
We are two very different people, in terms of films, music, literature and art we have diametrically- opposed tastes, but we have never argued over any of our pieces. We always take each other's opinion into consideration, we are fully aware that our different visions are a valuable resource and our enthusiasm for being inventive together forms a very strong bond between us.
Do you feel in some way in sync with 'architectural jewelry' - essential lines which harmonize with the body?
Absolutely, I can think of some sketches for our last collection where prismal lattice-work seamlessly combines with the body. Like armour, made of air trapped between lines.
What are the fundamental elements of your daily look?
G: Earrings: I think they have the power to make a woman look beautiful. more than any other kind of jewelry, I wear a different pair every day.
C: Our hexagonal hairclips; I always wear my hair loose and at work I tie it up with pencils and pens, so we decided to make a capsule of hair accessories, functional yet stylish • MC
---