---
A particular style,  new conception of jewelry design. A chat with Frédérique Dessemond, designer and founder of Gynette NY.
[su_highlight background="#042653" color="#ffffff"]RETAIL[/su_highlight] Born in Marseille, Frederique grew up in Cité Radieuse, a district in the heart of the city designed
by Le Corbusier
, renowned for his taste for minimalism and rigorous geometric lines.
The creator has remained particularly influenced and says that "growing up and being immersed in such a particular setting has greatly inspired my design and sensitivity." After studying art history at Sorbonne, Frédérique settled in New York in 1999 and opened her first boutique in 2002. I remember the first time I entered your boutique in the Village, I was fascinated by the pure essential style of your jewels, and the very unconventional way they were presented for the time: inside a glass-top bar counter with transactions carried out standing up rather than while seated as was standard in all other jewelers.
The first designs by Frédérique were mini baguettes on a chain: a simple metal plate sold by the meter where the designer would make two holes to secure it.
This first industrial style piece of jewelry is the essence of all Ginette NY  collections: clean lines, balanced between wearability and design, represent the fundamental stimulus for timeless jewelry, simple yet striking for their aesthetical simplicity.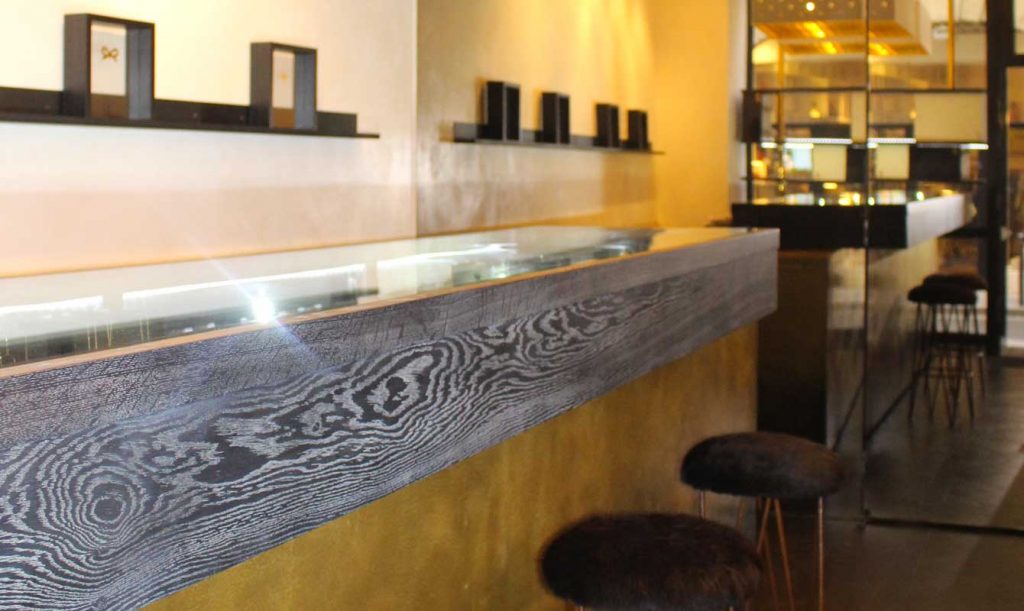 Gynette NY
And that's where the influence of Le Corbusier comes into play again, such as in the "Modulor" concept and her interpretation of volumes, Ginette NY jewelry offers the perfect proportions, and come in versions Jumbo (maxi), Mini (average) and Baby for a child audience.
The brand name Ginette NY has a retro feel, "Ginette is a name that belongs to popular culture, a bit old fashioned like the name Odette. However, associated with modernity through the use of 'NY', creating the  right interpretation for the collections: a vintage flavor yet inspired by what is happening in the street."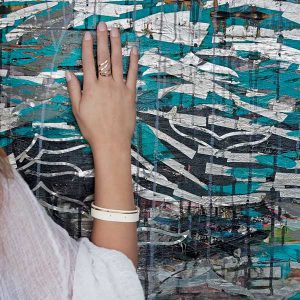 I ask Frédérique how it feels to have created a new style in the panorama of international jewelry and how she views the development of the collections. "It's true, some years ago fine jewelry and costume jewelry were the only options. This new trend of mine has allowed and opened the way for a new approach and interpretation of jewelry: suited to the modern woman. I've always stayed faithful to this idea, always adding a pinch of innovation, such as in the latest creations, using ceramics or indulging with  lightness, without forgetting the dreamer within, with references to  sensual dance and the artist Hajiba Fahmy. For me, the authenticity of the brand is a priority: being able to remain faithful to one's artistic repertoire by proposing collections of quality."
The designer is constantly working on the brand's iconic jewels, giving them a "second life" by integrating a highly delicate pave of exceptional quality: more a high-end approach, not to mention the launch of new pieces which must include a range every season.
Today Ginette NY boasts a presence on five continents with an exclusive distribution. Several months ago, in addition to the monobrand store in New York, it inaugurated its first European boutique in Paris in Rue des Saints Peres, on the Left Bank.
The Paris boutique is a faithful retelling of that of New York, with a  counter and bar stools: a small treasure trove of 40 square meters with special attention to detail, oversized mirrors, playful use of subject lines, often unexpected, and once more a perfect marriage between modern and vintage.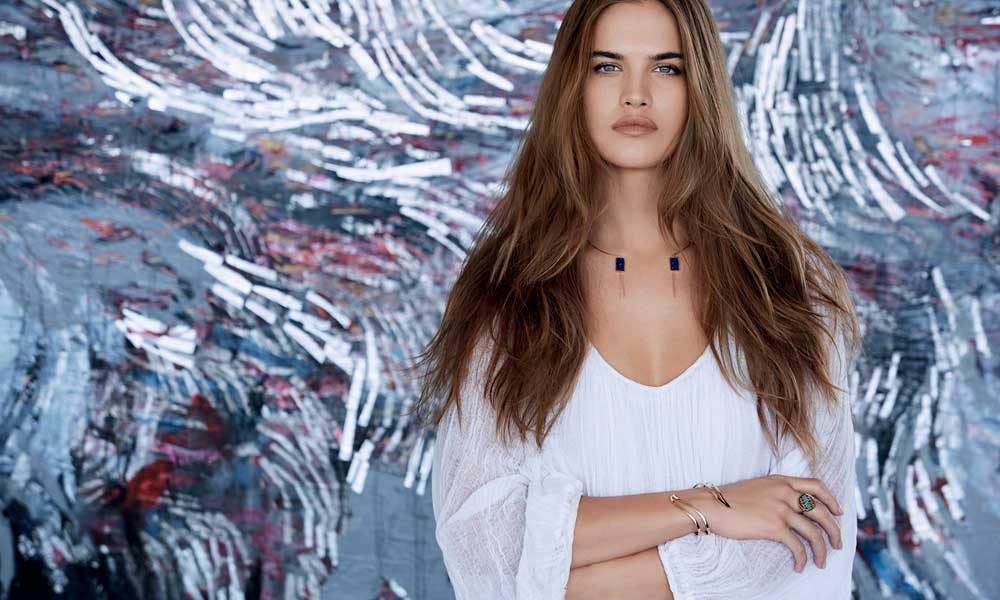 And after Paris? "Certainly a new address for the New York boutique and a second boutique in Paris and then... Asia and especially Korea, where we have just re-established contacts with a longtime client."
A Marseille born artist in New York: What is it about the two cities which inspire Frederique's creativity? "The energy of New York is limitless, the urban, industrial, and cosmopolitan side, is an inexhaustible source of inspiration, but the French touch and Parisian chicness inspire me too, few  things in common yet a real complementarity."
Text Donatella Zappieri
---