Jewelry meets Tarots, According to Aire
Five tarots for five illustrations: a superstitious and mystical invitation to reinterpret and divine the future of jewelry by giving it a totally positive connotation
---
Love. Money. Health. Future.
Tarot card reading to find out what destiny has in store for us is a practice that may lead to addiction. And this is well known to Maria Grazia Chiuri, who has dedicated the latest Dior Haute Couture Spring/Summer 2021 collection to the mystical world of prophecies revealed by tarot cards. A tribute to a passion cultivated by Monsieur Dior, who became interested in divinatory arts during the Second World War and continued to have tarot cards read in the following years. «In times of uncertainty, believing in the existence of something supernatural, that is beyond our control, and that we may know the future by appealing to certain forces, gives us confidence», said the fashion designer who, after getting acquainted with the subject, had the cards read for months. This practice is more fascinating and appealing today than ever before thanks to its magical and symbolic force, its aspiration for a better future and positive change. Because every time we try to look beyond the present moment, somehow we find ourselves in front of a new starting point.
The High Priestess, The Fool, The Death, The Justice and The Hanged Man are the cards chosen for the
illustrations created by Aire.
---
The cards according to Aire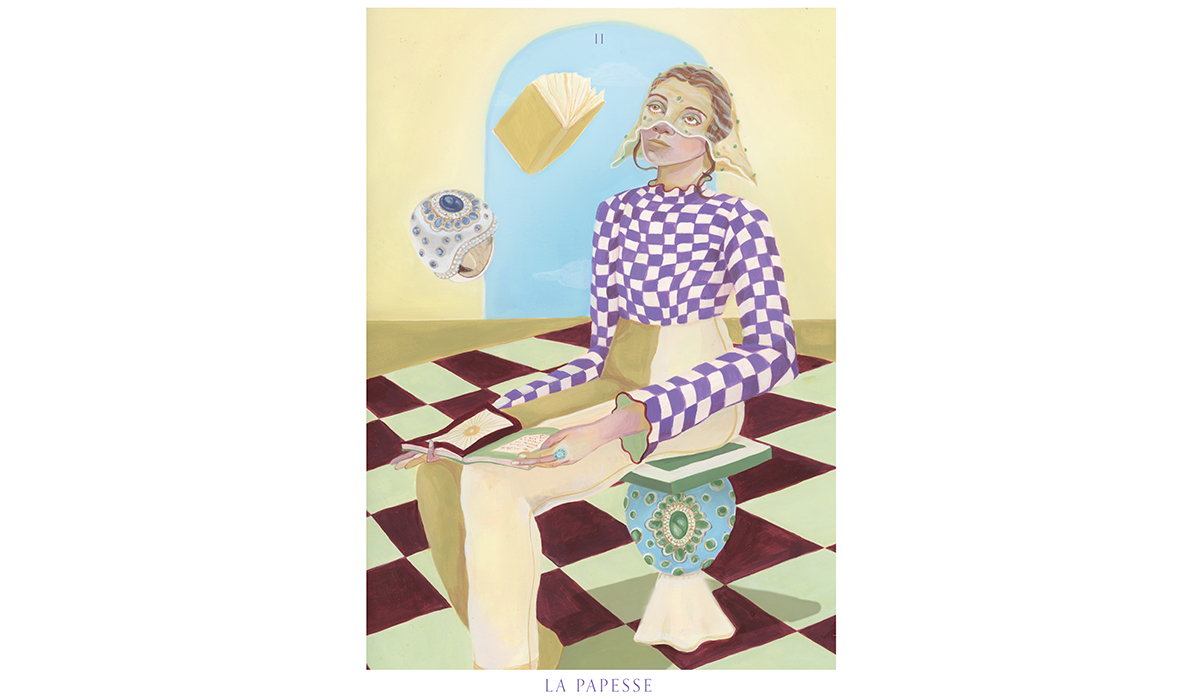 Two versions of rose gold rings: turquoise, emeralds and diamonds, and white agate, blue sapphires and diamonds. Rock 'n' Roll collection. Verdi.
A book in the hands of the High Priestess can be a sign that she is sharing her knowledge or secrets with us. I associate this card with the rings by Verdi since, like the number on the card, there are two..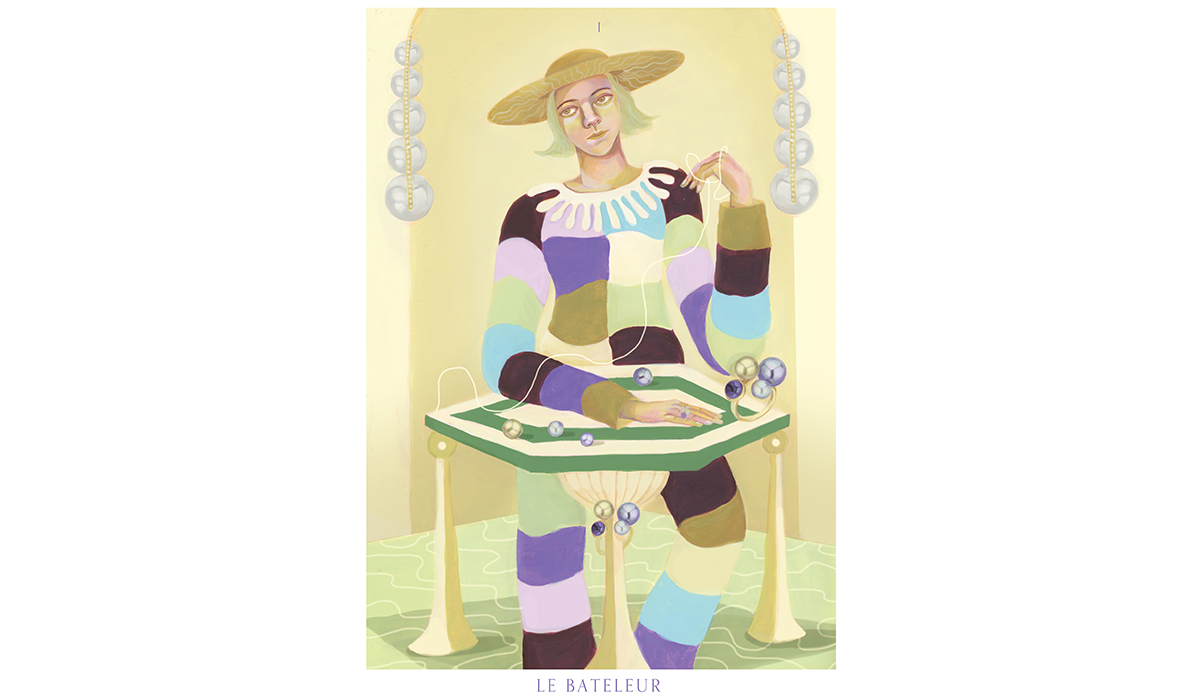 Shiny citrine cabochons, blue topaz, purple and green amethyst combined with South Sea, Tahiti and freshwater pearls. Papagayo collection. Yana Nesper.
«This card speaks of action. A good magician can also be an alchemist and here he is facing his tools of inspiration. Yana Nesper's pieces evoke thoughts on the creative process behind each jewel.»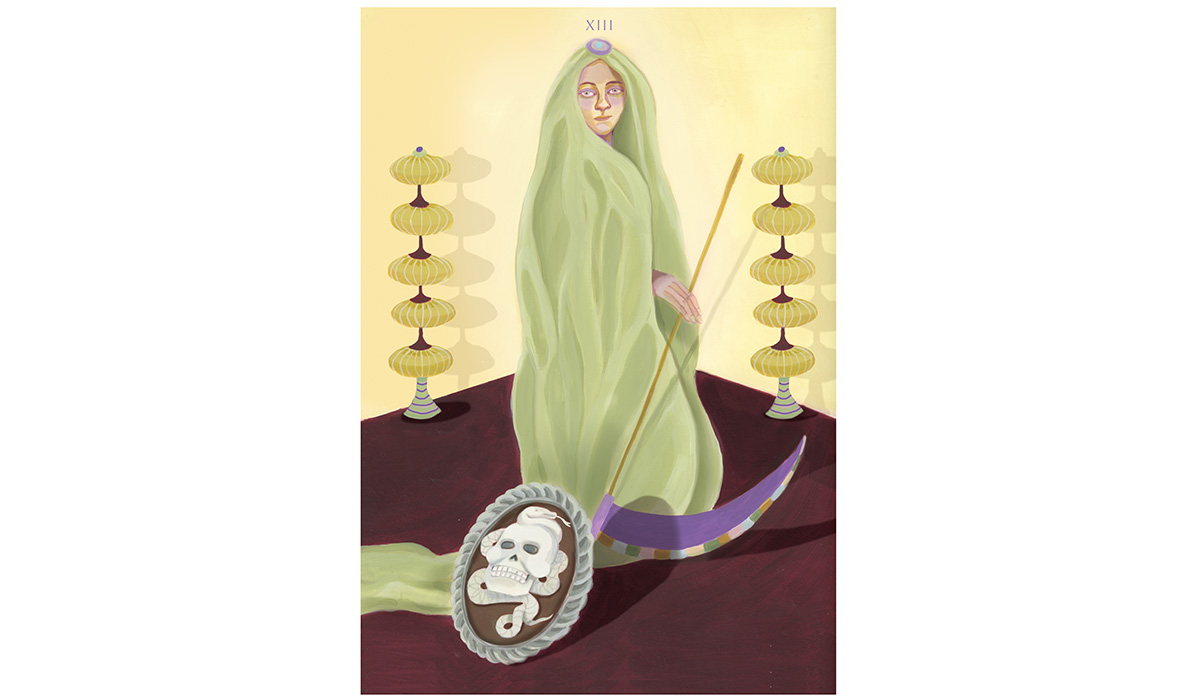 Zeus pendant brooch with hand-engraved 'skull' cameo on sardonic shell and silver. Cameo Italiano.
«Transformation in other packs is called "La Mort" (Death) but represents the opposite. "Let things that no longer work slip away: they will make room for new situations." The protagonist in "Zeus" is accurately reminiscent of this concept.» ** The card XIII is based on the Marseille Deck, in which it has no name.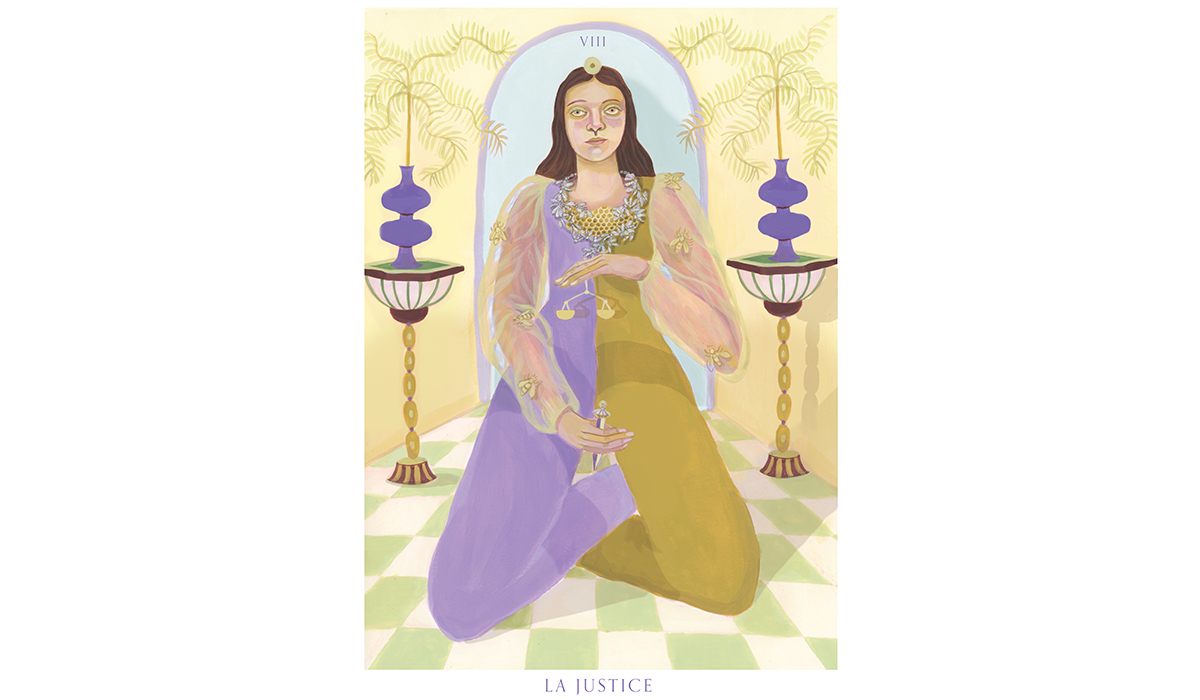 Alveare necklace: a real honeycomb was used for the lost-wax mold of this gold-plated bronze beehive, surrounded by a multitude of burnished silver bees. Giovanni Raspini.
«Justice orders us "to be just with yourself and others." Balance and perfection – concepts well represented in the honeycomb and by the bees on the necklace – are elements that we can find within ourselves. Just as in nature.»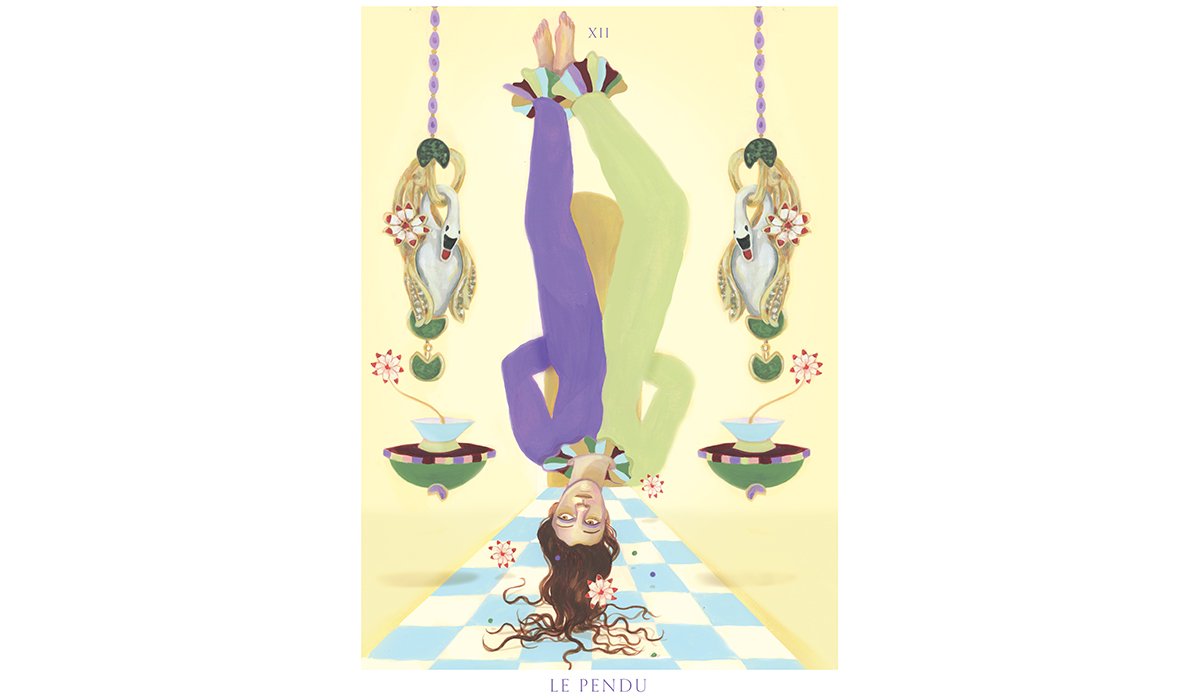 Gold earrings with enamel and precious stones. Swan Lake collection. Roberto Bravo.
«The character's position suggests another perspective: it is an invitation to a moment of tranquility. Action follows but, for now, we should listen to ourselves. Roberto Bravo's swans make me feel calm and reflective.»
---