Five Independent Brands and Their "Non-Binary" Jewelry
For everyone and everyone's. Exclusive yet inclusive. These are the jewels by Panconesi, Hatton Labs, In Gold We Trust, Garçon de Famille and Alan Crocetti: 5 independent brands, gathered here to boldly demonstrate the "social" side of jewelry
---
Once upon a time there were, and still are, family jewels. Items handed down from generation to generation, treasured not so much, or merely, for their economic value as for their sentimental and emotional worth, made up of stories to remember, anecdotes, identity and a sense of belonging. However, the color of society is changing and its reference values are becoming increasingly more difficult to define, weakening the division between female and male and transforming familiar models into a more dynamic concept. A predominant trend that inevitably influences the world of jewelry, going so far as to uproot even its most solid traditions. In this progressive context, a movement of independent designers is interpreting the sense of family with a more ideological meaning, aiming to share values such as love, respect, friendship and integration with an extended community. Through their vision, jewelry is no longer just a decorative element or something to be handed down. It acquires a real social function and becomes a means with which to send messages, break down gender stereotypes and prejudices, give a voice to minorities and claim equal rights. These "missions" are identified with an experimental and deliberately destabilizing aesthetic and, although the quality of the manufacture remains an essential base, the choice of more democratic materials underlines the desire to merge inclusion and exclusivity by offering a product that, while certainly unique, can be used by a wider public.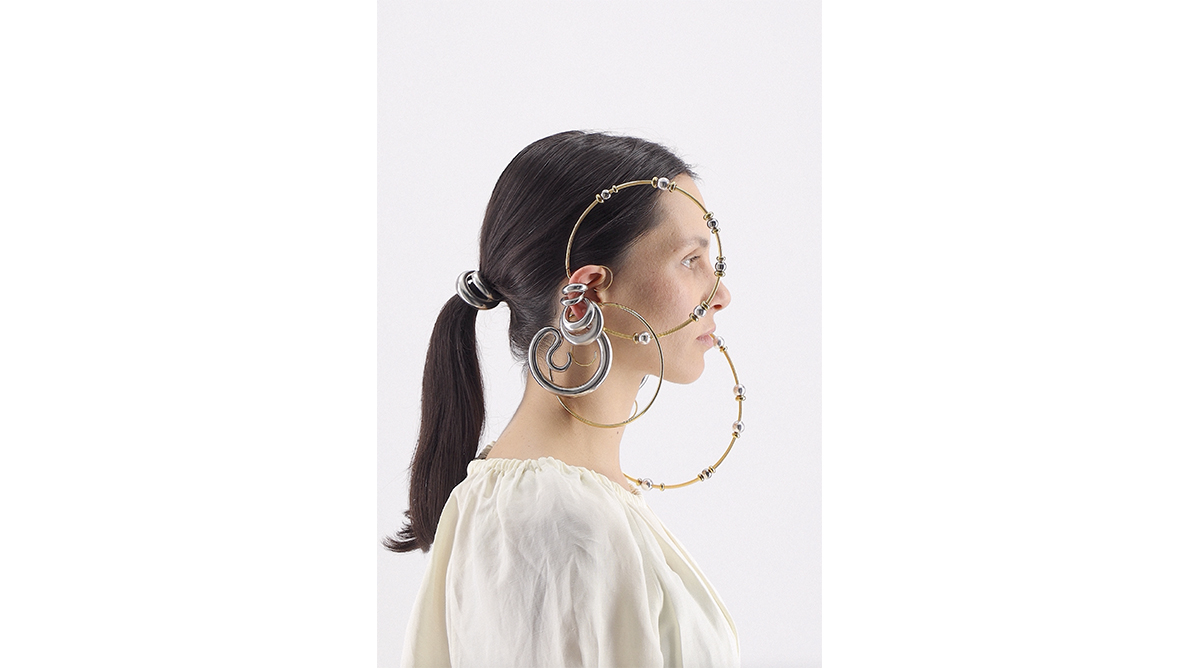 Silver and gold plated brass Signature Stellar and Serpent Upside-Down hoops, S/S 2023 collection, Panconesi.

«Family is a word that goes beyond the language of jewelry. Saying it in Italian means expressing respect for our roots and the desire to build a constellation of collaborators - from our suppliers to our customers - who share common ideas and emotions. It's about working with people you trust and enjoy being with,» Marco Panconesi told us in a past interview during the launch of his third collection. The Florentine designer founded his eponymous brand in Paris with the aim of innovating the way traditional jewelry can be designed and worn and proposing the concept of family jewelry in an alternative version. His collection for S/S 2023 is divided into 6 families, which include the development of some iconic creations in even more evolved forms, just like a growing family unit that increases the number of its members. Silver, gold-plated rhodium and semi-precious natural gems give expression to the design of mini sculptures suspended in a liberal imagery where high jewelry meets punk style. Guided by the same approach, Jack Cannon and Joe Gelb, founders of Hatton Labs, a brand located in the Hatton Gardens district - London's most famous jewelry and diamond district -, continue the discourse with a line aimed at fusing British heritage and thoughts of emerging subcultures. «We like to take traditional silhouettes and give them a contemporary twist,» they declared in an interview in the Wallpaper* magazine. The creative duo has made pearls an emblem of a reformist style. «We introduced them in our pieces to stir up the scene. Pearls are largely associated with mature women, which we felt was a challenge. We want to show people that they can be worn, regardless of status, age and gender.»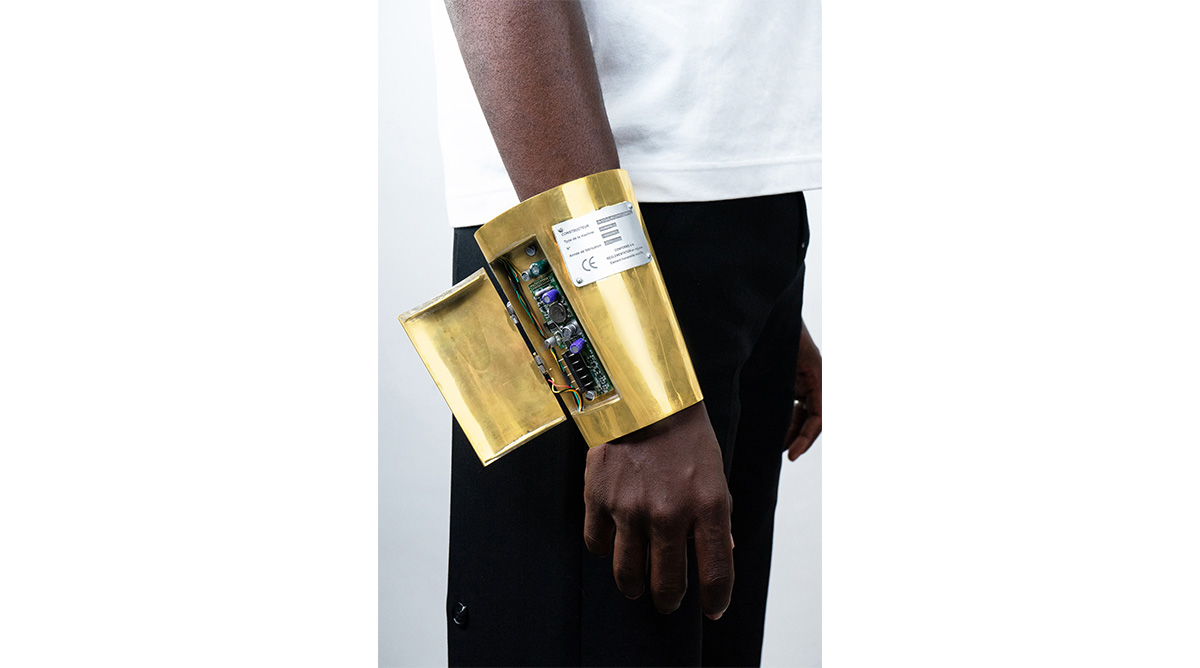 A statement cuff from the "AI-3022" collection, In Gold We Trust Paris
And while the freshwater gems of Hatton labs - strictly ethically sourced - disobey the usual rules by joining silver and luminous cubic zirconia in gender-neutral creations, the brand In Gold We Trust Paris shows us that even a noble material like gold can reveal an unexpected, impertinent and humorist nature to become a bearer of universal values. «This is not just another jewelry line,» Héloïse Chiron and Louis Marie De Bridiers are keen to point out. «We like to combine the excellence of French craftsmanship and noble materials, such as gold, with the minimalism of our design because a strong message requires a powerful vector.» Through their collections, jewelry becomes a means to reflect on the society we live in, a manifesto that tends to disrupt conventions, such as the recent "AI-3022" that takes us into a dystopian future, where artificial intelligence is gaining the upper hand and reducing humanity to nothingness, making us question what values we still truly believe in. May love, that powerful ideal capable of breaking down all boundaries, bring everyone together!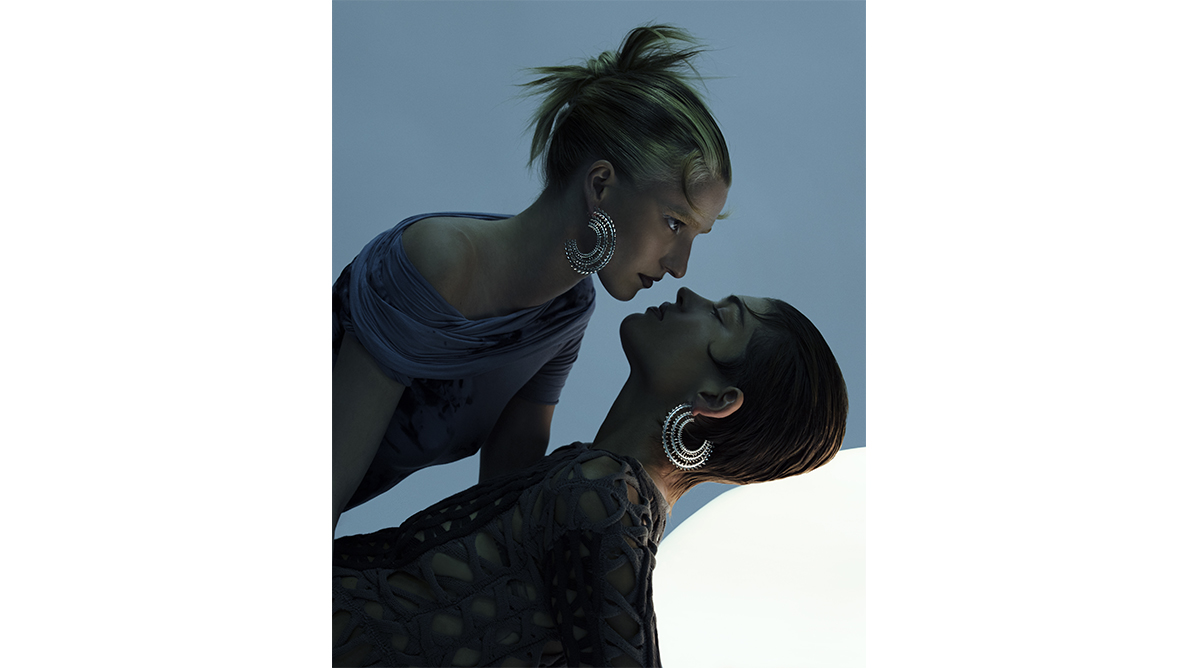 Silver Enea 106 hoops, Holiday Capsule, Garçon de Famille.
The latest collections by the Garçon de Famille and Alan Crocetti brands are precisely dedicated to this sentiment. Lebanese creative Karl Yazigi founded GDF in Milan in 2019 to nurture jewelry with a fluid and unisex philosophy. Bronze and silver breathe life into versatile and experimental shapes that, in the latest release, transmit principles of free love through the vital energy of precious gems. The now iconic piercing rings are re-proposed as a pair of earrings because "For every Juliet there must be a Romeo". Alan Crocetti, on the other hand, focuses on the origin of everything, the act of procreation, which inspires a particularly "provocative" S/S 2023 collection. Known for his unique and sensual imagery with which he imposes the theme of diversity as an absolute value of individual expression against any kind of pre-established norm, the London-based designer aims to recreate the romantic and selective narrative of conception through jewelry to remind us that each of us is born from a perfect combination. «We are the result of this quintessential connection. Worthy of love, appreciation, admiration, respect for being uniquely us... Whole with our particular tastes, fantasies, dreams, freedoms, fears, desires... To each his own... Disentangled from judgements, stereotypes, assumptions, existentialist and normative creeds.»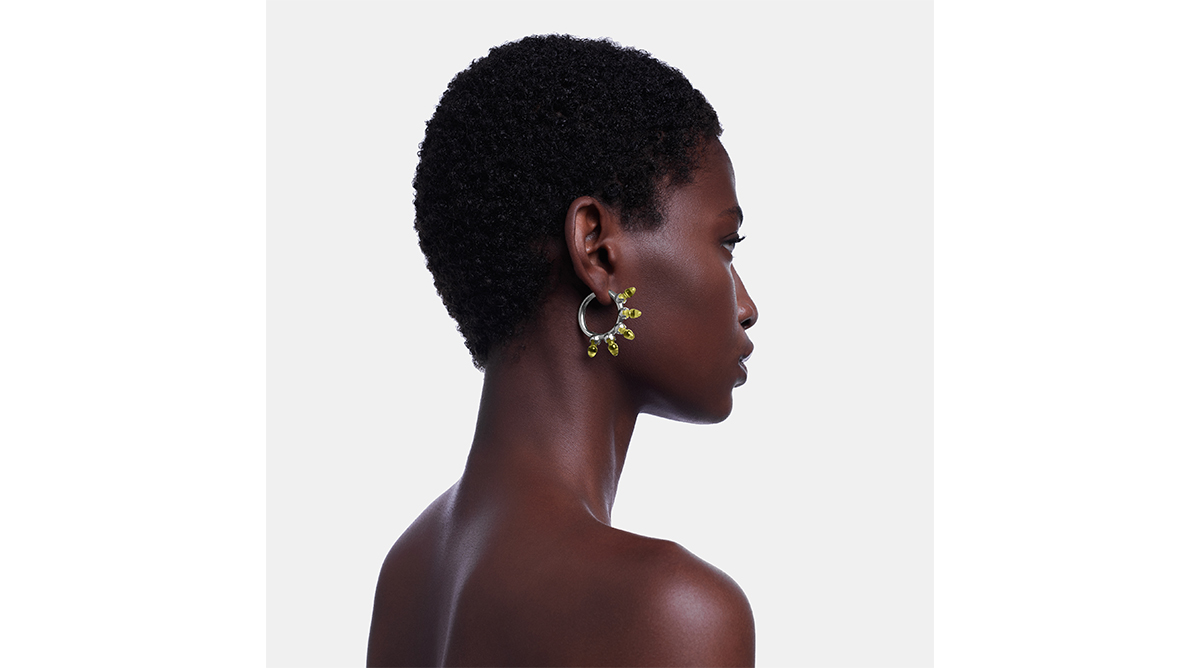 Nano Plug Hoop, S/S 2023 Rush collection, Alan Crocetti.
---