The New Wave of a Promising Jewelry Generation
Aisha Baker, Alessa Jewelry and Ananya: three brands destined to turn cultural differences into a strong point from which to extract energy and originality.
---
Aisha Baker is the result of a collaboration between a young Arabian fashion influencer and a multi-awarded Korean jewelry designer. Alessa Jewelry is the fruit of the love between an Indian jeweler and an artist of Guatemalan origin. Ananya was born from the intermingling of di erent eastern and western philosophies. An experimental and eclectic creative imagination characterizes the three brands selected to express a promising future for jewelry, one made of innovation, further cultural cross-fertilization and greater ethical commitment. Interpreters of an authentic new wave, the designers of the three brands stand out for their pronounced sensitivity, their desire to celebrate their own origins and their ability to conserve traditional artistic heritage within their contemporary style. Three brands destined to turn cultural differences into a strong point from which to extract energy and originality.
---
AISHA BAKER
Fairy Tales for Adults
If fairy tales belong to childhood fantasy and jewels are the exclusive domain of adults, the
Aisha Baker
brand breaks conventional rules by bringing these two worlds together in a special way. Launched in Dubai in 2017, the brand is the result of a collaboration between trendsetter Aisha Baker and the talented Hoonik Chang. Aisha, who was already famous in the fashion world, has always had a passion for precious gems. She wanted to create a line that evoked the enchantment and wonder of her childhood. For his part, the Korean designer studied metal production design in South Korea before moving to London to attend Central Saint Martins. He has won awards from big brands like Cartier, Avakian, Swarovski, and Folli Follie, and has skills that match his partner's creative vision. The results don't disappoint. Aisha Baker's imaginative style takes us down a path of fairy tales and folklore, to a far-off wonderland made modern with elements of contemporary reality, with each jewel telling a story. Fair queens and princesses, castles with secret passageways, enchanted forests, magical gardens, and unusual characters that are transformed into surprising one-off pieces that are made by hand with precious materials and stones. Each piece has hidden significance and messages. For example, there is the complex architectural structure of the Alcazar ring and bracelet that bring to mind a royal castle full of rooms, spiral staircases, and secret passages - all places that are easy to explore. While The Ever After ring explores one of life's greatest complexities: love. That which sends us into battle, that breaks us down and brings us back to life. There is not only one way to express how strongly this sentiment is with its many facets and surfaces. The Ever After is different every time you look at it.
---
ALESSA JEWELRY
The Other Side of Luxury
Studying at the prestigious GIA (Gemological Institute of America) is surely an important and very education experience, which can change the professional life of aspiring gemologists and jewelry designers. If one's education and dedication to gems are combined with love, the result can be explosive. That's what happened to
Yuvraj Pahuja and Alessandra Robles
. He is Indian and represents the fifth generation of a family of jewelers and she was born in Guatemala, immersed in an environment rich in art and color. The two designers met during their studies at the American institute and fell in love. In 2009, they founded Alessa Jewelry, the brand that brings a vision of cosmopolitan beauty – the result of a multicultural union – to the world of luxury jewelry. This is perhaps why the creations hold unique, mysterious and even a bit magical appeal: «ageless and timeless,» is how Alessandra Robles likes to define them. And each piece features very original designs and are made in Dubai, supervised by a team of designers who manage each aspect with great care, from the selection of the raw materials, which come from all over the world, to the final finishings. Nature and cultural richness characterize each new collection but there is also an admiral ethical commitment. Five years ago, the couple launched the 'Give Wings Movement' with the aim of funding the education of disadvantaged children in Guatemala and to help protect their health. And that is how Charity Week, a week created to raise money and spread awareness, was born. Alessa Jewelry created an ad-hoc collection – Give Wings – which each year includes new models: 20% of the sales of every piece is donated to the non-profit associations and partners of the event. The last release, presented last March during this special week, was inspired by swan wings. White and pink gold jewelry features magnificent white diamonds and powerful fiery red rubies. The project represents a fundamental aspect for the brand, which, in this way, renews the sense of jewelry. «The Give Wings collection is for us a symbol of freedom, rebirth and strength. For us, each piece sparkles with a purpose and a committed message, therefore making each holder an ambassador to a great cause,» explains Alessandra.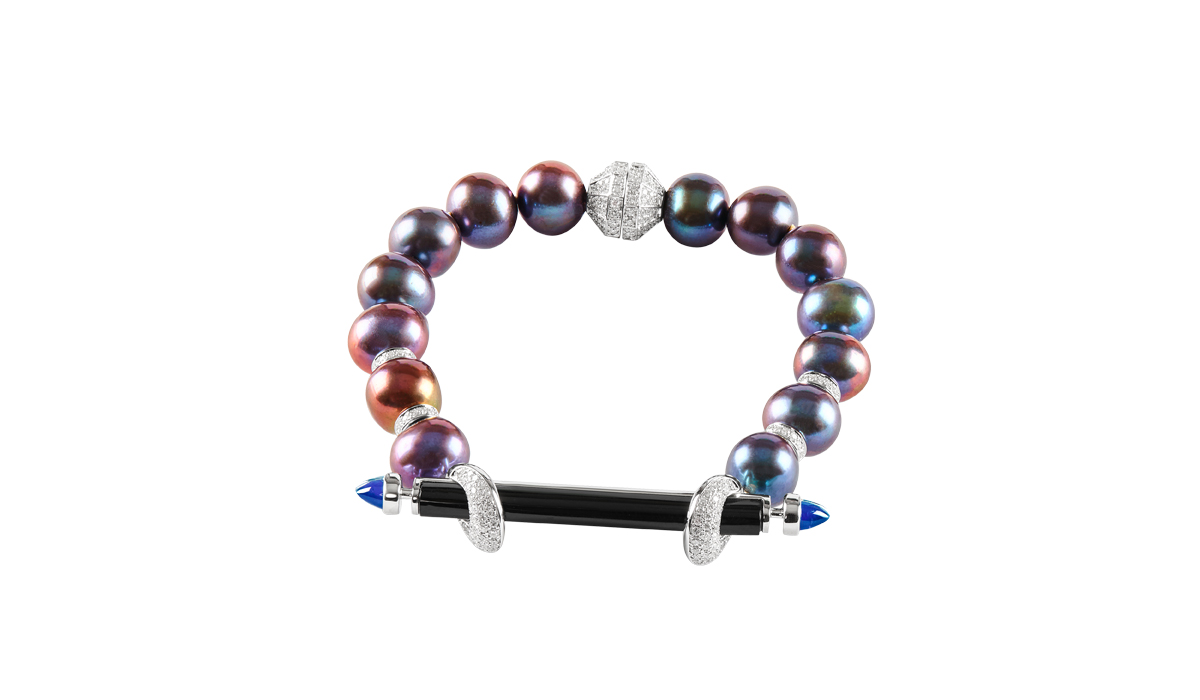 ANANYA BRACELET


ANANYA
Beyond Beauty
At the age of eighteen, she moved to London to study fashion at Central Saint Martins, but after a year, Ananya Malhotra realized that jewelry was her greatest passion. Emeralds, tanzanite, pink sapphires, rubies, tourmaline, diamonds, and pearls: how could she resist the fascination, colors, and spiritual energy of such powerful precious stones? And why not make the most of the heritage of her homeland where every jewelry piece has meaning that transcends beauty? The young designer comes from an Indian family with deep ties to the fashion industry, and she has inherited her great sense of creativity and an interest in vintage Indian jewels from them. Ananya has done a good job of combining this important legacy with different experiences she's had via her travels: the Buddhist traditions of Thailand, the multiethnic culture of Turkey, and the globalism of cosmopolitan cities like London. All of this has helped enrich her journey and allow her to come up with a contemporary aesthetic that is absolutely personal. For Ananya, jewels mark the most important moments in life and have the pow- er to create a sentimental connection with the wearer, a power that can be passed down from generation to generation, becoming stronger over time. Therefore, her mission is to create pieces that aren't just beautiful but that have deep significance. The designer has already proven her talent and her determina- tion with five collections rich in symbolism, characterized by ambitious craftsmanship. The Tala collection, for example, represents reincarnation, which is a common philoso- phy in Asian cultures. It features a pure design with a repetitive pattern boasting a perfect balance between diamonds and mother-of-pearl. The Nazar Talisman line is interpreted in shades of black and green, with onyx and emeralds. According to tra- ditional Indian philosophies, black wards off negative energy while, in Hindu and Buddhist philosophies, green emeralds are linked to healing and protection. The fluidity and shapes in the Balance collection are the result of Ananya's personal relationship with her chakras and their spirituality—these are philosophies learned from her grandparents. Finally, the Lotus Samara and Celestial Lotus collections pay homage to the lotus flower, symbolizing harmony and awareness. And this is one of the most beloved and iconic flowers in Buddhism.