The Return of Neoclassical Style Jewels
Today's Neoclassicism draws on stylistic features, techniques and subjects from the past, bringing a taste for the antique back into the studios of contemporary jewelry designers
---
Neoclassicism is perhaps the cultural trend that, more than any other, regularly comes back in fashion. Starting in the 7th century B.C., Greek and Ancient Roman artists and men of letters developed a model that was destined to become absolute and imperishable, one which, whenever it reappears, contaminates every form of artistic expression and aesthetic. It first happened strikingly in the second half of the 18th century in contrast to the shameless opulence of the late Baroque and Rococo periods, almost out of a need for a return to the cleanliness, elegance and measure that, in antiquity, were the guiding principles in every field. Theorized in Rome by archaeologist and art historian Johann Joachim Winckelmann and painter Anton Raohae Mengs in the same years in which the wonders of Pompeii and Herculaneum were coming to light, today's Neoclassicism, just as back then, draws on stylistic features, techniques and subjects from the past, bringing a taste for the antique back into the studios of contemporary jewelry designers.
MAISON AUCLERT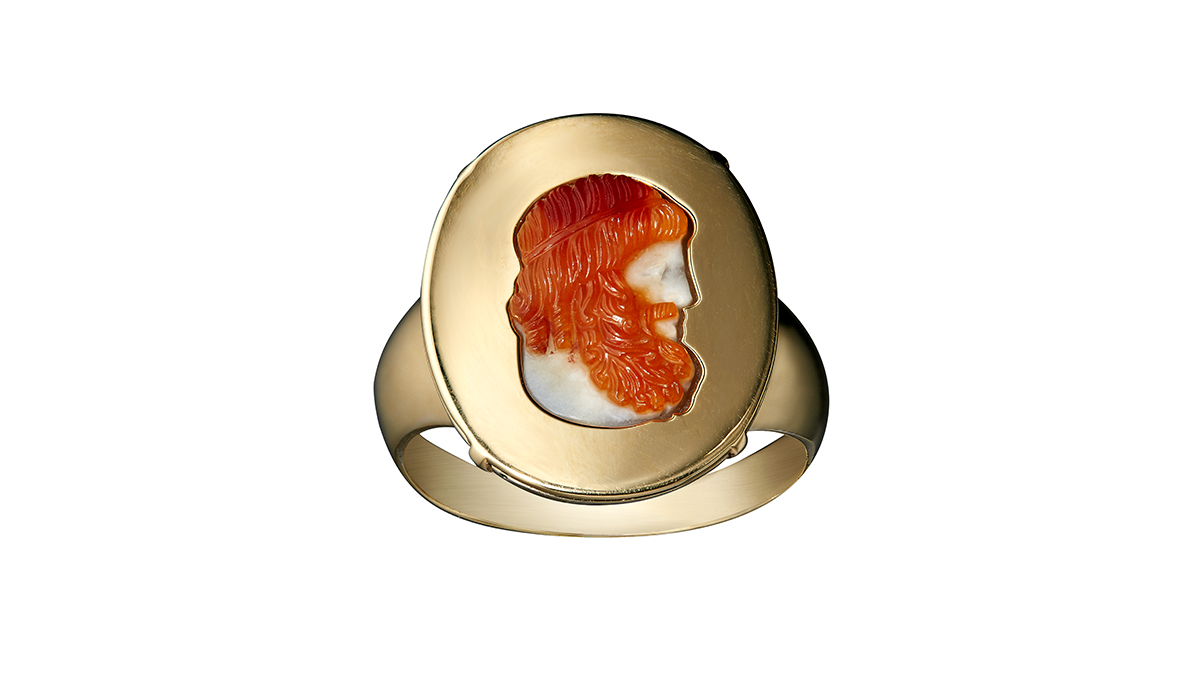 Gold ring set with a three-layered agate cameo engraved with the profile of a Jupiter. 18th century art, covered with a highly polished gold surface inspired by "fondoro", Maison Auclert.
An antique, three-layered agate cameo with the profile of Jupiter standing out in the center of a polished gold frame inspired by the "fondoro" technique. That particular Jupiter is "only" three hundred years old, the result of recovering an 18th century piece, but whoever sculpted it already had the model of two thousand years earlier in his hands and eyes. At no. 10 Rue de Castiglione in Paris, Marc Auclert and his "Collectif d'Amis" - as Marc likes to call his collaborators - create unique pieces and collections that have the same spirit as those that, in the 18th century, paved the way for Neoclassicism, and those before that in the Renaissance, who invented the concept of "Objets Montés" by setting engraved stones or lacquer on new mounts. Marc's childhood in his grandfather's antique shop was the viaticum that introduced him to the fascination of what was, and still can be, reborn in another guise, updated by a modern sensitivity that he has learnt in more than twenty years working for prestigious haute joaillerie companies. And today, as in the various revivals of the past, the result is an authentic celebration of the uniqueness of an antique art object, whose particular nature makes it original and inimitable. No welding, scratching nor permanent glue, no re-perforating or alterations are allowed in the assembly, in the name of the purest collectionism and the artistic genius that created it in the beginning.
«I AND MY "COLLECTIF D'AMIS" WOULD LIKE YOU TOO TO BE ENTRANCED BY THE GRIPPING AURA OF THESE JEWELS THAT FASCINATE AND SPEAK TO US, BEYOND TIME, BEYOND SPACE» - MARC AUCLERT
OLITHICA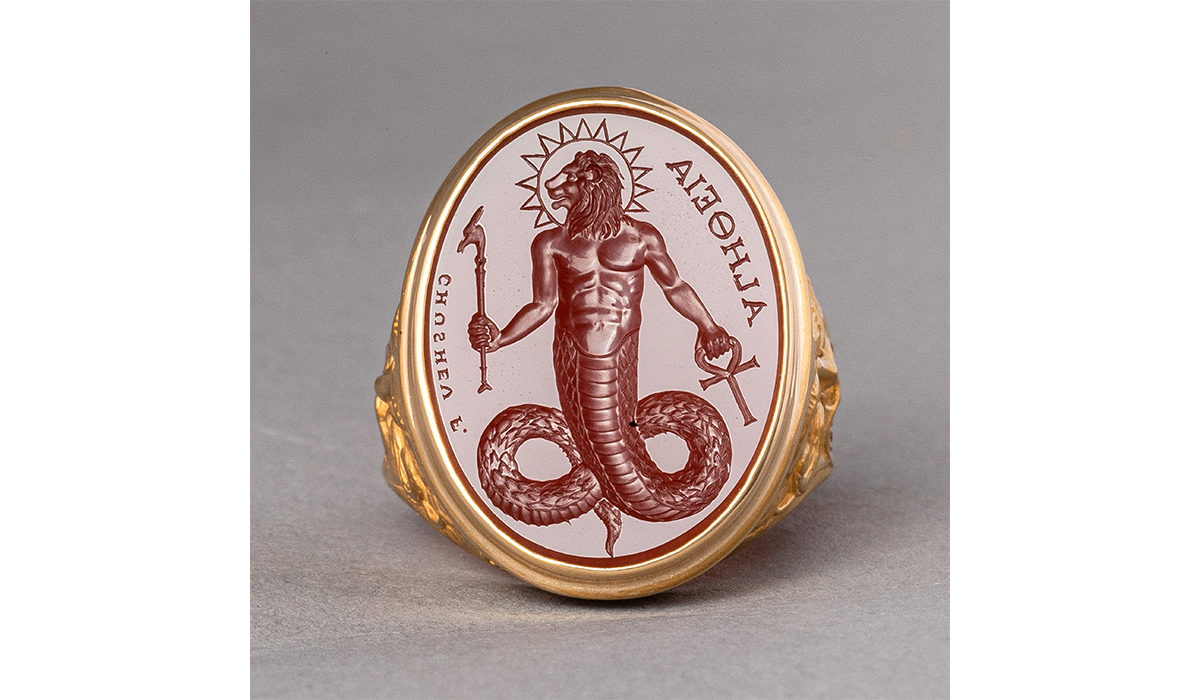 Chnoubis Intaglio Ring, a Gnostic deity and protective demon engraved onto carnelian. Throughout the centuries, the motif has been incorporated onto gems, amulets and talismans to safeguard against evil spirits, Olithica.
«The ancient art of gemstone engraving developed at the dawn of civilization. About 5000-6000 years ago, the first engraved gems appeared in Mesopotamia in the form of cylindrical seals. In ancient times, almost every person owned one, considering it as a talisman, an amulet, a detail with which to personalize an important object or document. Finely carved gems were considered a true benchmark of luxury, an extraordinary status symbol, and in some cases were believed to provide divine protection. Sovereigns, nobles and wealthy merchants sought, collected and traded these fascinating miniature works of art. Initially, craftsmen used rudimentary tools and techniques to engrave rather simple subjects, but over the centuries, carvers perfected the technique to obtain rather refined results. As Pliny the Elder wrote, For many people, a single engraved gemstone is enough to provide the highest and most perfect aesthetic experience of the wonders of nature. At the Olithica workshop, we use a combination of ancient and modern techniques to create a bold and harmonious ensemble. The complexity of the skillfully engraved motifs and the natural splendor of the stones make each gem unique and special, and the result has a thoroughly contemporary twist.»
«WE USE A COMBINATION OF ANCIENT AND MODERN TECHNIQUES TO CREATE A BOLD AND HARMONIOUS ENSEMBLE. THE COMPLEXITY OF THE SKILLFULLY ENGRAVED MOTIFS AND THE NATURAL SPLENDOR OF THE STONES MAKE EACH GEM UNIQUE AND SPECIAL» CHAVDAR CHUSHEV, HEAD CARVER
---
JOY BC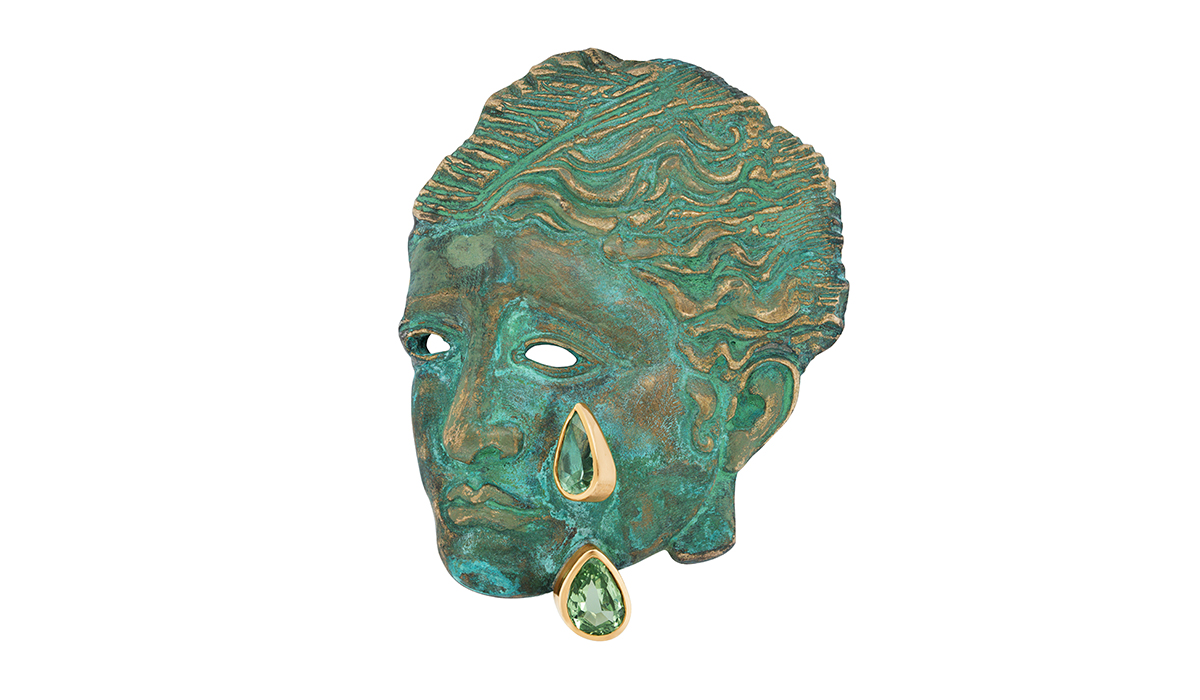 Hypatia, a sculpture, a brooch, a pendant in bronze, recycled gold, silver and two green garnets cut by Jean-Neol Soni, Joy BC.
Joy Bonfield Colombara's artistic mindset was nurtured and raised in her home: her mother was a painter and lithographer, her father a sculptor. She then graduated at the Glasgow School of Art and went on to obtain her M.A. from the Royal College of Art in London. Joy then moved to Japan, where she studied the techniques of steelwork and metal casting, and later, thanks to a scholarship at Japan's oldest art school in Kyoto, she also studied the ancient technique of urushi. Her successes began in 2019, right after graduation: she exhibited in Japan, Hong Kong, Somerset House and the Elisabetta Cipriani Gallery in London as part of "Force of Nature". She is currently working on a piece for the Nelson Atkins Museum in the United States and one of her works was recently added to the Alice and Louis Koch Collection held at the Swiss National Museum in Zurich. Collectors and important patrons especially appreciate Joy's work on the study of female sculptures from the past, which seem to play with classical mythology. Starting from the use of ancient techniques, Joy creates her evocative works inspired by both Greek and Roman art, molding forms that, in her hands, acquire a modern touch. One example is the Deconstructed Classics collection, in which heroes and myths become precious miniatures to wear.
COLLECTORS AND IMPORTANT PATRONS ESPECIALLY APPRECIATE JOY'S WORK ON THE STUDY OF FEMALE SCULPTURES FROM THE PAST, WHICH SEEM TO PLAY WITH CLASSICAL MYTHOLOGY
---