---
Moving works of art. Expert craftsmanship, sheer beauty and the most rare and precious materials: just like high-class jewelry.
by Fabio Schiavo
Cars and jewels at times come together to create a union, a sort of  crossover between two worlds that at first glance seem to have little in common. A crossover which is both striking and fascinating.  Not only because cars are like jewels, they must excite and surprise. A car must know how to speak to the heart and eyes and go beyond simple monetary value which becomes a mere detail, a feature of something far more complex.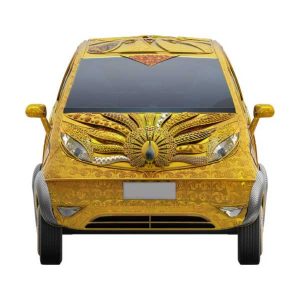 Tata Nano Goldplus
It is thus hardly surprising to see the existence of unique models of cars carved out of a single piece of solid gold, with platinum in addition to diamonds and precious stones for a specific target audience. Take for example the Lamborghini Aventador LP 700-4, carved from a 500g block of solid gold, with additions in platinum and diamonds for headlights and colored gemstones for the rear lights. Or the Tata Nano, one of the cheapest cars in the world costing around US $3,000 for a basic model, which in a special version produced with the help of thirty goldsmiths to celebrate 5,000 years of Indian jewelry, can come with a price tag of as much as 3.3 million euro: artisans enhanced the body with 90 kilos of 22-carat gold, 15 of silver and thousands of diamonds and precious stones to create a car that makes the concept of utilitarian rather special. Also worth mentioning is the Mercedes V10 Quad Turbo Sport, manufactured entirely in white gold.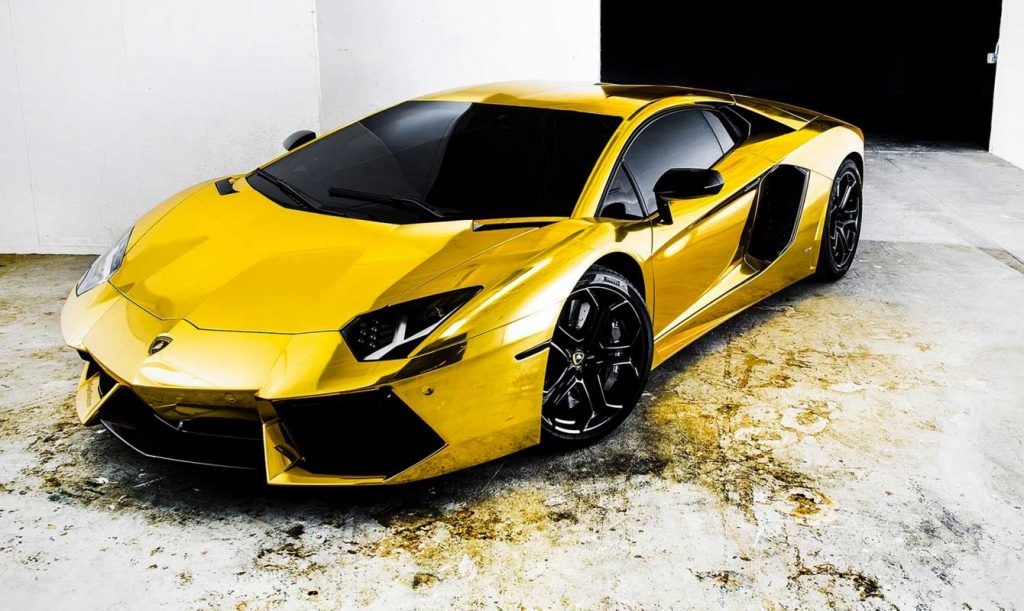 Gold Lamborghini Aventador
There are others which are merely covered, or rather completely wrapped, in precious metals, a technique called 'wrapping up'. One of the first cars to undergo such treatment in 1995 was an Aston Martin DB 7 owned by Prince Francesco Maria Seste Ruspoli, with a body in 24-carat gold, platinum and palladium leaf featuring six diamonds on the bonnet.  Since then, there have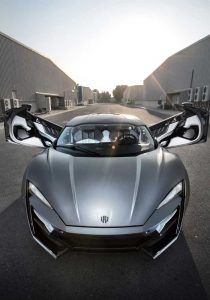 Lykan HyperSport 2014 from W Motors
been many customized cars, another by the German production house, the Mercedes C63 AMG owned by Saudi Prince Al Waleed of an undeclared price and the Rolls Royce Phantom Solid Gold, a collaboration between the British artist Stuart Hughes and the Swiss company Euro Cash AG who literally wrapped the car with 120 kg of solid 18k gold.
A further model - although not exactly belonging to the same family - the McLaren SLR painted in shiny silver chrome, another Rolls Royce, the Phantom Celestial equipped with 446 diamonds set in the luxurious interior to create the illusion of a starry sky, the Ferrari 458 Spider painted in glittering gold at a cost of 4,000 pounds owned by Riyadh Al-Azzawi, the Iraqi kickboxing world champion.
Also worth mentioning, the Mansory Bugatti Veyron Linea Vincero d'Oro, with gold and carbon coating based on the Bugatti 16.4 model, customized with carbon fiber, gold plated aluminum and gold seemingly everywhere: on the wheels, the handles, the front grid, mirrors, profiles on the roof and around the tank cap (price on request) and the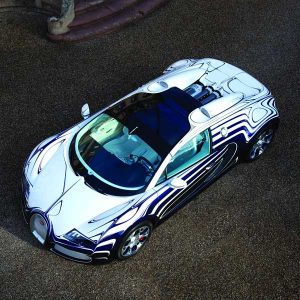 Bugatti Veyron L'Or Blanc produced with Königliche Porzellan-Manufatur
Bugatti Veyron L'Or Blanc, a one-off model based on the Grand Sport, created together with the German porcelain company Königliche Porzellan-Manufatur characterized by the use of porcelain also on the body, combined with the deep blue color to perfectly highlight the white finish. In addition to a tile behind the seats, many interior features including some compartments were made of porcelain, as well as the reservoir cap, Bugatti logos and the wheel studs.  Or the Lykan Hypersport, by W Motors, the first Middle Eastern hypercar factory, an atelier, it has to be said, of prestige automobiles, which in its latest model used gold to outline the shape of the headlights. Diamonds and precious stones can also be added on customer request •
---