---
From an architectural element to a culinary delicacy. Gold leaf evolves to become gourmet for sophisticated palates.
Gold leaf is so incredibly thin that very few people are able to extract it from its packaging with their bare hands without breaking it, when you hold it up to the light you realize that it is practically see-through. It is used to cover wooden frames and statues, furniture, carved ceilings, stucco, decorations and domes on churches and buildings. In recent years gold has been in increasing demand in the kitchen, also for beauty treatments and cosmetics. Produced in various colors and carats, it can be applied using different techniques. But both 'gouache' gilding and 'oil' gilding require incredible skill. It is sold as sheets, dust and flakes, and is also used in the world of jewelry: designer and performer Barbara Uderzo, for example, uses it to make her famous chocolate jewelry and goldsmith artist Graziano Visintin uses it with vitreous enamels.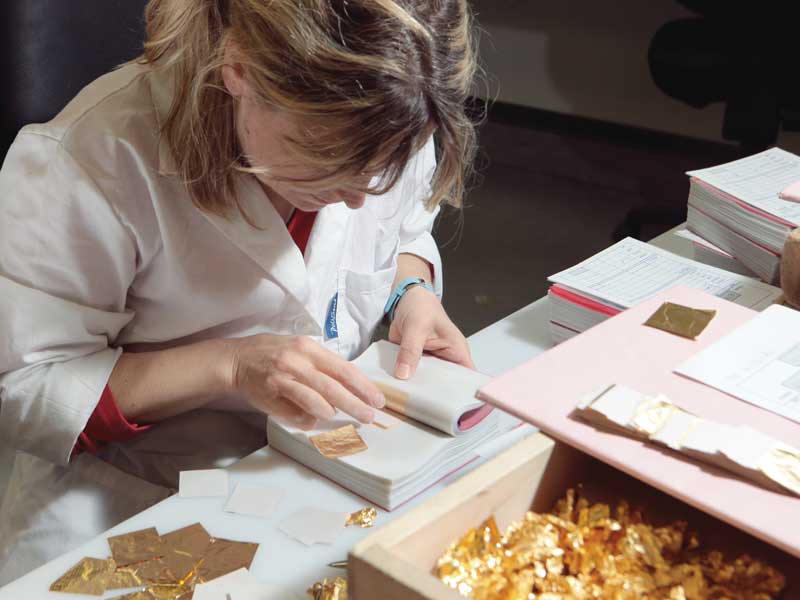 The saga of the goldbeater
Stories about Matteo Manetti, the Florentine goldsmith, claim that he was so skilled that he was called to Rome to gild the sphere on top of the dome of St. Peter's, and then to Florence to restore the one on the Cathedral which was destroyed by lightning in 1602. In 1732, his descendant, Niccolò Manetti, was elected as Consul of the Academy and of the Society of Art and
Design, a position once held by Michelangelo Buonarroti. As from 1820 the Florentine producer went under the name of Giusto Manetti Battiloro, and received an array of awards at national expositions in Florence, Milan and Turin.
Following the First World War his gold leaf began to gleam once more on some of the world's most important buildings, from the Rockefeller Center to the Palace of Versailles, from the Kremlin to Buckingam Palace. In 1990 the company was run by the sixteenth generation and in 2012 it moved to a modern plant with its 120 employees.
Golden delicacies
Not everybody knows that the king of metals, gold, if it is specially made into flakes and other tiny formats, can also be eaten. It made its first appearance on the dining tables of the rich three thousand years ago, it was popular with Egyptian pharoes, Chinese kings and at banquets held by the Italian aristocracy. Today it is back in fashion with a bang, as seen with the ultra-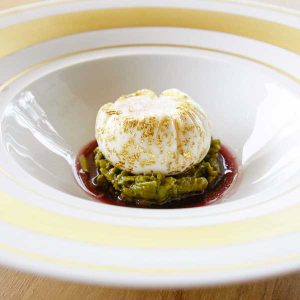 sophicticated Glamburger, served at the Honky Tonk restaurant in Chelsea, London: a mixture of rare ingredients, generously sprinkled with gold leaf. But in modern times, so far gold has only had a decorative function with food. A new page in history is being written by Giusto Manetti Battiloro who, together with Giotti, a producer of natural essences, has managed to give the precious metal a flavor and an aroma. This delicious first was presented at Expo Milano 2015 by chef Marco Stabile. The actress Maria Grazia Cucinotta was also there, and she, along with other guests, tasted the flavor of gold: truffle-flavour gold on Chianti en merurette eggs with asparagus, lime flavored gold on spelt risotto with fennel and vanilla flavored gold on desserts. A packet of 0.40 grammes of flavored gold is needed to prepare eight portions of poached eggs like those served at Expo.
Niccolò Manetti: A timeless story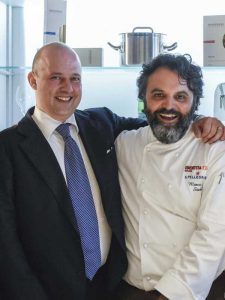 Niccolò Manetti e Marco Stabile
Niccolò Manetti, 44, is the marketing director of Giusto Manetti Battiloro. He is on the board of directors of important organizations and the committee of the Centro Firenze per la Moda, owner of Pitti Immagine.
Is it true that when you were just a boy you had already decided your future lay in the company?
Yes, I earned my pocket money preparing samples, and after I finished high school I chose to start work in the factory and then in the warehouse instead of going to university...
Did you become marketing director without any specific training?
No, I alternated experience on the factory floor with internships in the US, and I did a purchasing manager course in Milan, where the teachers included heads of purchasing from Fiat and Magneti Marelli.
In twenty years the company's sales turnover has increased fiftyfold. What is the secret to your success?
The ability to adapt to globalization, typical of the best Italian SME's.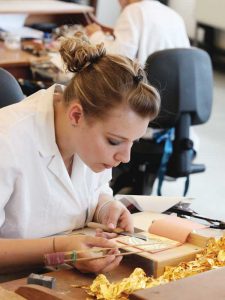 Have you ever encountered any difficult periods?
There are always problems of some kind but ours cannot be compared with those from previous generations. Like in '44 when the factory was bombed by accident and in '66, when the floods in Florence destroyed everything except the certificates of awards received in the 1900's and a few photos because they were on the upper floor.
Can you name any prestigious clients?
There are numerous... The restoration of the gates at Windsor Castle, rooms in the Hotel Plaza in New York, Burj Al Arab Resort, the one shaped like a sail. Our gold leaf is in great demand, even a star of minimalist architecture such as Rem Koolhaas wanted 200 thousand gold sheets to cover the tower of the Prada Foundation in Milan.
Is it true that you like cooking in your free time?
It is indeed, I love Tuscan and Asian food. In fact, the tradition of edible gold comes from China.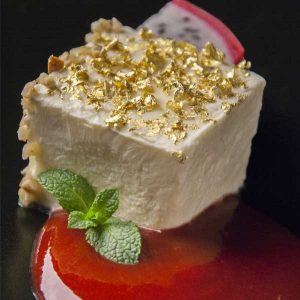 This tradition was reintroduced in the twentieth century by Gualtiero Marchesi with his gold leaf risotto, and with sushi in Japan... Recently, we added a retail line aimed at enthusiasts and housewives to our range of supplies for restuarants and producers of alcoholic beverages.
What does the future hold?
The introduction of nanotechnology and the expansion of new markets. In some countries there is a lack of craftsmen skilled enough in the application of gold leaf, but we are working on making it increasingly easier to apply. And then we want to develop the food sector, interior design and fashion, where gold detailing is in demand.
Is the romantic figure of the goldbeater with his mallet lost for ever?
We must never turn our backs on tradition. Technology is important but we have an internal workshop for the teaching of the ancient art of Florentine goldbeating, which was even mentioned by the great Benvenuto Cellini •
by Roberto Chilleri
---