Italian Priceless Jewels
The dream of a ring, necklace, or parure becoming something that is priceless thanks to the Italian manufacture, which is synonymous with craftsmanship and originality in style, for a guaranteed one-of-a- kind result
---
Here, we need to offer a small yet important clarification. As beautiful and captivating as the jewels seen in the pages of our November Issue are, they aren't the pieces we wanted to show you. Because the pieces commissioned to these six companies, which are all strictly Italian firms, are protected by iron- clad privacy policies protecting the identity of the people who turn to them to create a dream. The dream of a ring, necklace, or parure that is unique because of the size or quality of the precious stones chosen, or for the design that brings to mind a detail, a passion, or a moment in the life of someone. On-demand creativity that infuses a jewel with a value that is intrinsic, symbolic, and exclusive, going well beyond something purely commercial. Becoming something that is priceless. With the advantage of Italian manufacture, which is synonymous with craftsmanship and originality in style, for a guaranteed one-of-a- kind result.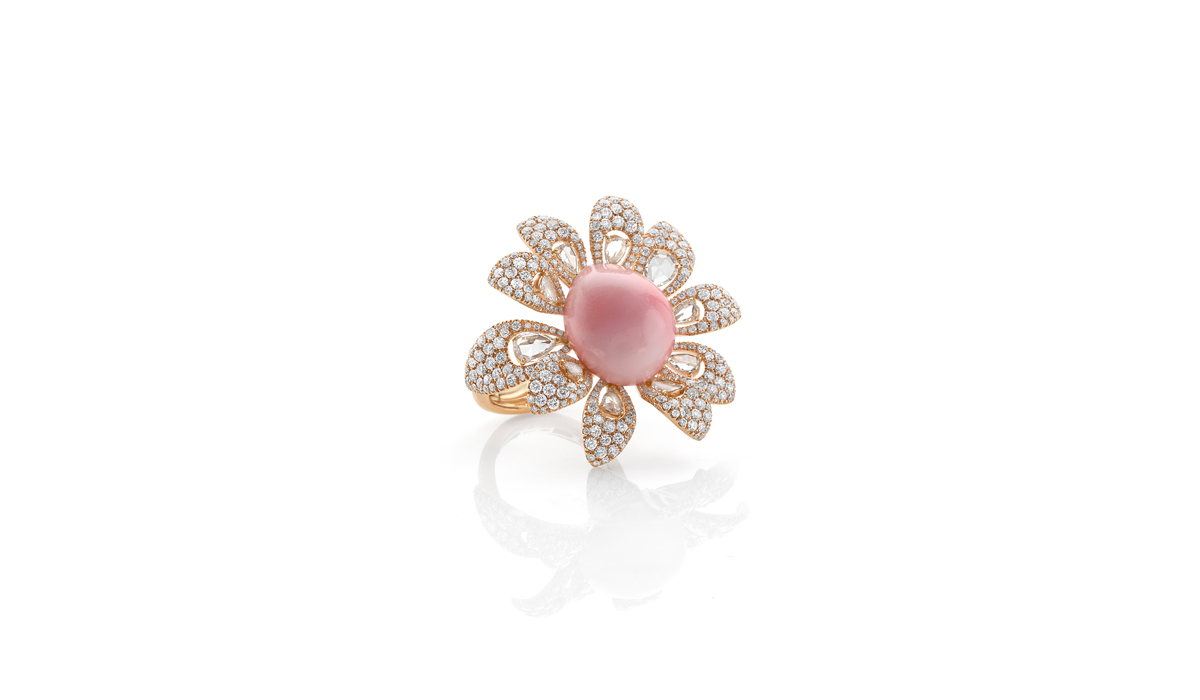 ROSE GOLD NINFEA RING BY VALENTINA CALLEGHER



Ninfea comes from the Arabic term nenuphar and means water lily. This delicate ower drawn by hand by Valentina Callegher, President of Di.Go, characterizes the Ninfea ring. A piece that features an exclusive conch pearl at the heart of the jewel, large in size and in a delicate shade of pink. It is extraordinary all the way around and that makes it unique. The irregularity of its shape and the non-uniform areas of pink are directly tied to the spontaneous and totally natural growth of this pearl. Its connection with water is at its best on a water lily. Jewelry by Di.Go is the result of a perfect balance of materials (gold, precious stones, and pearls) and shapes coming from taste and sensibility that are typical of Italian manufacture. This is the reason why each piece is able to meet the demands of a re ned clientele looking for a tailor-made piece of jewelry.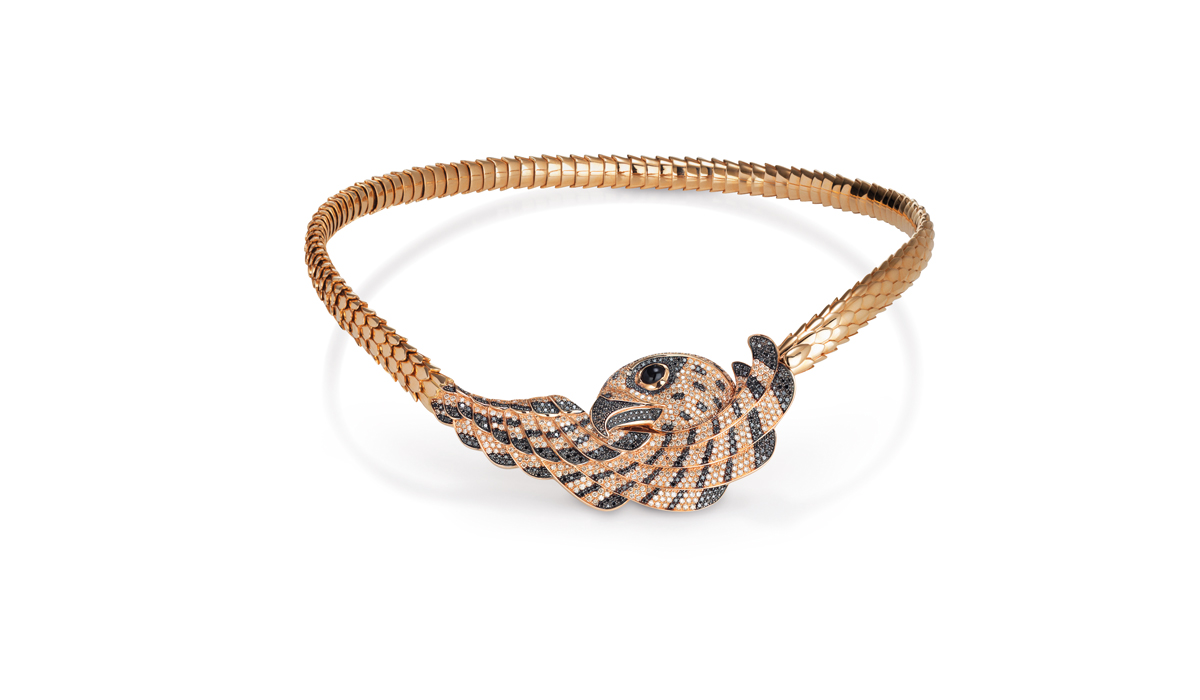 ROBERTO COIN'S FALCON NECKLACE


Roberto Coin's many different creations can be found in more than 1,000 boutiques, in more than sixty countries, but in none of these places is it possible to admire what the company's founder has made especially for princesses and celebrities since he founded in the company in 1996. An entire collection was created upon request - a variation of his famous Animalier line created for the people of the emirates who wanted bracelets, rings, and necklaces featuring their beloved falcon instead of frogs, octopuses, roosters, and lions. And just like that, Roberto Coin got to work and, in October 2015, the press and VIP guests attended the launch of the first Falcon collection, which has become a must-have in Arab countries. It still surprises today for its precise details and design along with delicate and harmonious colors and volumes.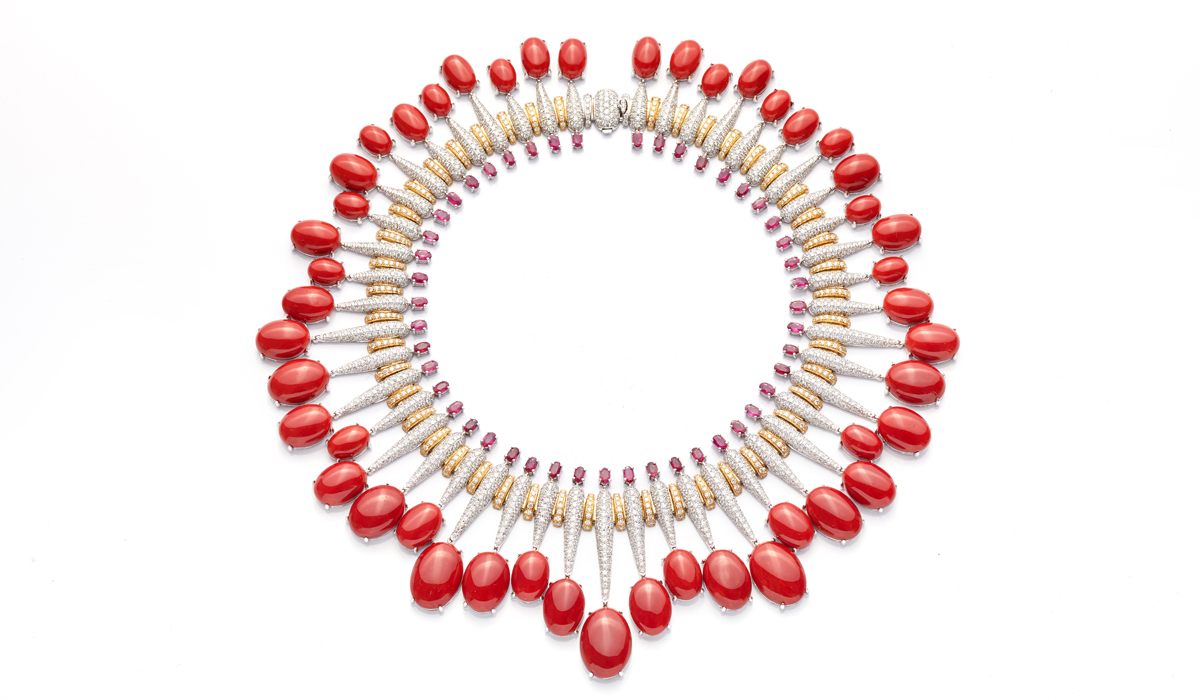 MYLADY NECKLACE BY DE SIMONE
«Since 1855, we have been dedicated to coral, turquoise, and pearl jewelry. At that time, coral was very much considered an Italian souvenir. Then, in the early 1900s, déco by Cartier appeared on the
scene, with its interesting cuts, but it was still a niche market,» says Fiammetta De Simone, one of the three siblings that own the brand. «Today, we make one-of-a-kind pieces inspired by the raw materials, which in uence us to come up with a certain type of design. From our latest creations, my favorites is Butter y, a very important collection that aims to become a contemporary classic by highlighting the color of turquoise, strictly from Arizona, perfect or imperfect, and with simple but very updated cuts, paired with white gold and diamonds. And then there's Mylady, an existing line, we are bringing with two fabulous necklaces, one in pink coral, emeralds, pink sapphires and diamonds and one in red coral, diamonds and rubies, true masterpieces of skill for the setting, which is completely hinged. And it took us six months just to choose the coral!»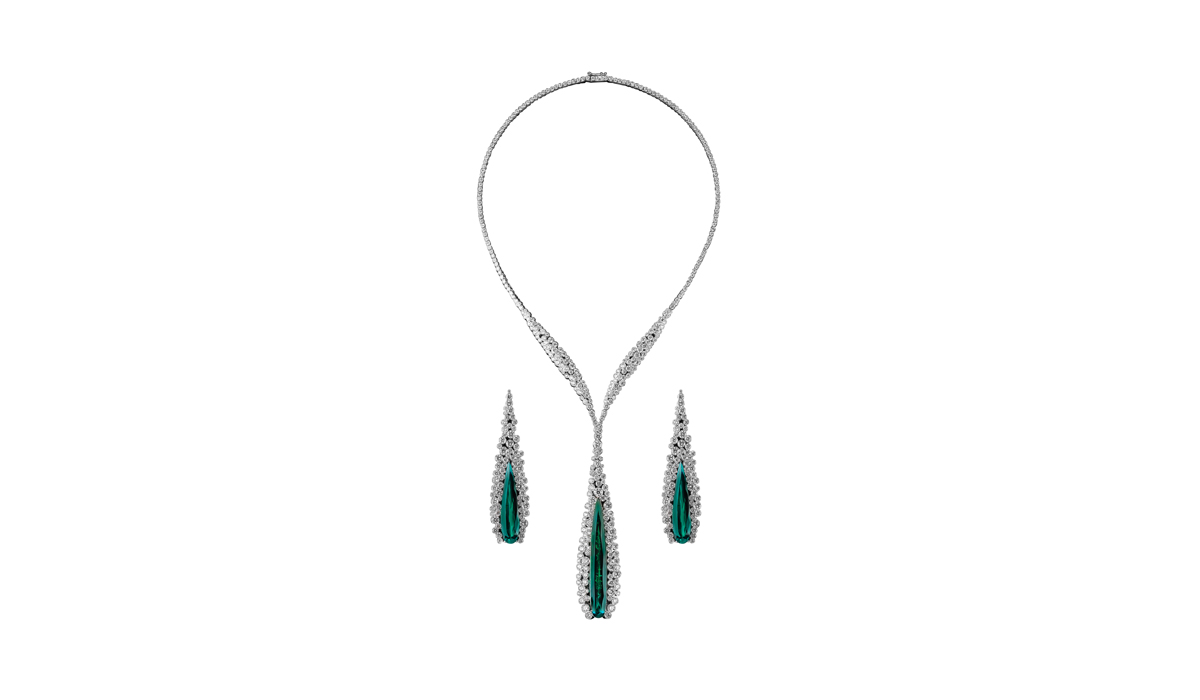 WHITE GOLD NECKLACE AND EARRINGS BY PALMIERO

What fascinates me is that jewels have always kept their own charm, becoming the object of a timeless desire. I have enclosed the world in my jewels and given it a new shape. This is the story of my passion.» Carlo Palmiero was only a child when he began to mould wax rings and work with a hacksaw. In 1979, he founded the company at a very young age. However, he soon showed outstanding creativity by bucking the trends and modifying the standards of classic jewelry. Nowadays, his main markets are the Middle East, Asia, the Far East, and Europe. These are growing markets that have a great understanding of jewelry and that are always looking for something very unique, 'Made in Italy,' and impossible to nd elsewhere. «We often create customized items based on speci c customer requests. For example, one of our Middle East customer requested a watch with his favorite artwork on the dial. Another customer asked us to have his favorite number in black diamonds on a white diamond dial. Other times, we start from a client's stone and create a unique design, one of a kind».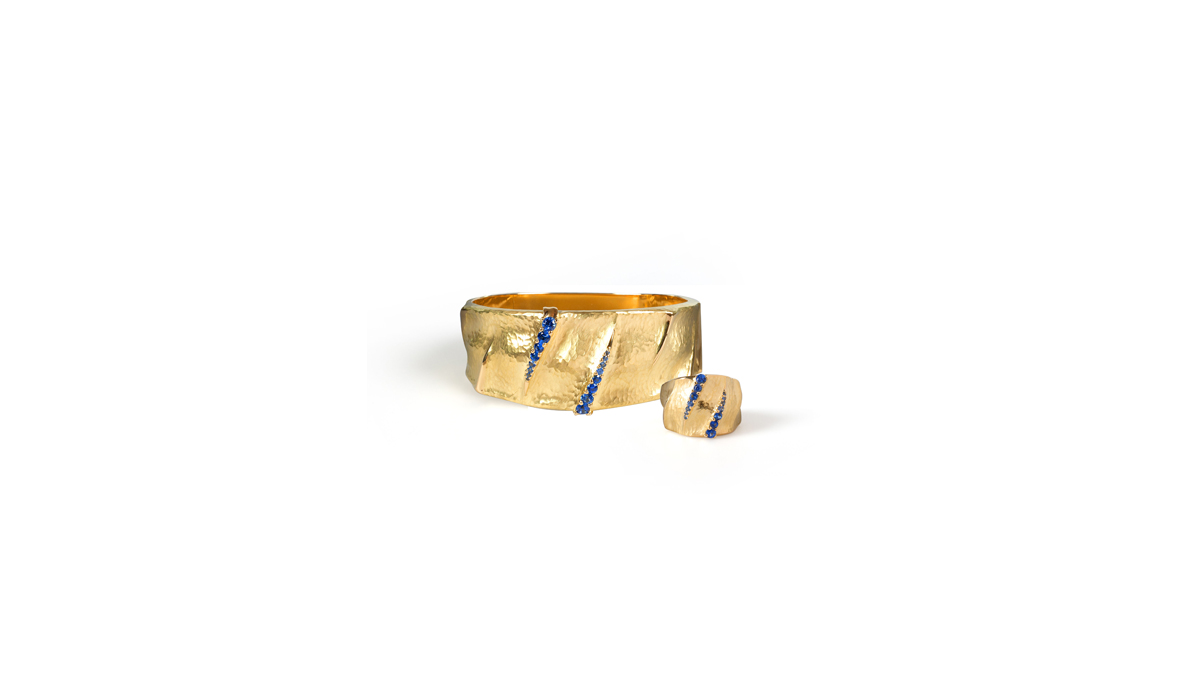 VENDORAFA, DUNE COLLECTION
«Tradition, creativity, and handcrafting excellence are the pillars on which we found our deep belief in the power of 'Made in Italy.' Our goal is to create iconic signs of beauty that will perpetuate over time as witnesses of our timeless heritage.» This is how Augusto Ungarelli, co-founder with his wife, designer Daniela Lombardi, of the Vendorafa brand, sums up his adventures in life and business. Not much has changed since this artisanal workshop in Valenza was founded in the 1950s. And, yet, so much has changed. The passion and desire to find its own path and own identity is still there, but the means are different because they are more advanced and in line with contemporary desires. First and foremost, there's RJC certi cation, which guarantees great commitment to social and environmental sustainability. Creations with bold shapes, abstract or inspired by nature, are at the center of everything, always wonderfully intricate and unique.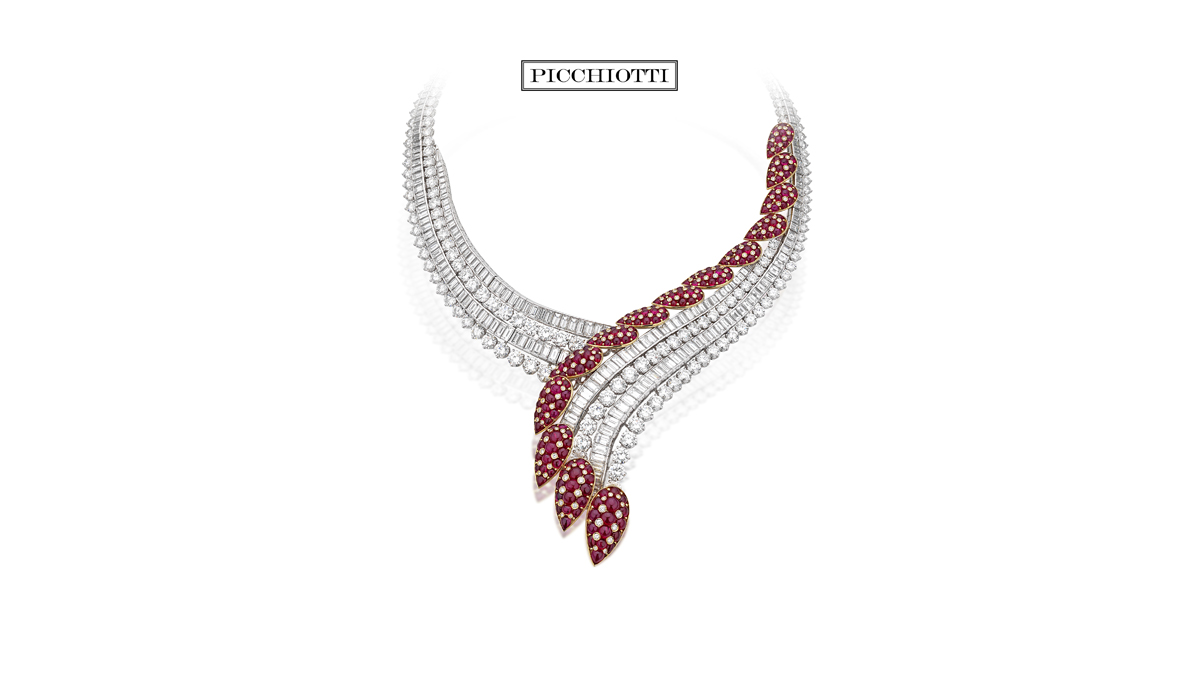 RUBY CASCADE NECKLACE BY PICCHIOTTI

One of Giuseppe Picchiotti's loyal clients asked for a necklace that represented femininity, strength, and passion. This is how the Ruby Cascade came about. This is a personalized jewelry piece where every single element boasts the highest level manufacture, featuring rare precision and skill in the cutting of stones that were set one after the other to highlight the color. The founder of this Valenza-based company is renowned for his mastery in making colors the focal point of his creations. Here, round, cabochon-cut rubies are set invisibly in gold and accompanied by diamond baguettes set in platinum. The rubies were cut one by one and adapted to the size of each drop, which tumble down the neck in a soft caress.























---