The marriage of the technology and jewellery
---
In our rapidly changing world, technology is everything and these jewellers show that traditional crafts, such as jewellery, needn't get left behind. While flashing rings and talking pearls might cause the purists among us to balk, these creations capture the zeitgeist and that smart jewellery is on the rise.
words Rachael Taylor
Wearable tech have certainly been buzz words of 2015, with a frenzy of column inches dedicated to smart watches, not to mention an endless stream of other weird and wonderful oddities – fitness trackers for dogs, robotic clothing to assist people with disabilities and the divisive internet-enabled Google Glass, to name but a few. But just outside the media glare is another contender that is steadily growing – smart jewellery.
Like watches, many versions of smart jewellery are focused on syncing with mobile phones, allowing wearers to be alerted when a new text, email or call comes through. While for some this may seem like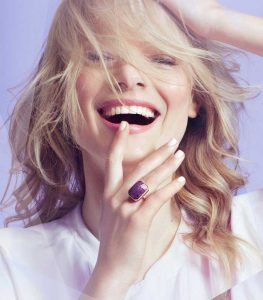 further enslaving oneself to modern technology, the creators of such products would have you believe that it in fact offers you a sense of freedom; when your phone does require your attention, you'll know, but keeping it out on the table during drinks, sneaking covert peeks in the middle of a meeting, or scrabbling to the bottom of a giant bag only to discover you've misheard a beep, will be a thing of the past. When a notification does come through, your piece of smart jewellery will politely buzz or discreetly flash, leaving you to decide whether you need to pick up your phone or leave it until later.
The Tyia smart bracelet by Viawear was created after chief executive Ben Isaacson's wife Tyia, after whom the bracelet has been named, was out for dinner with her phone on silent and missed a barrage of calls from the babysitter to tell her that her son had broken his arm. Isaacson vowed that this need never happen again and took his knowledge of the consumer electronics market to former David Yurman design director Walter Chevitz, who created a wraparound leather bracelet fitted with a vibrating gold- or rhodium-plated case set with a colour-changing quartz or blue topaz fused to mother of pearl. The intensity of vibrations and colour that glows through the gem can be assigned to different types of alerts, so you'll know whether it's a breaking news notification or a text with a glance at your wrist.
[ts_row] [ts_one_half]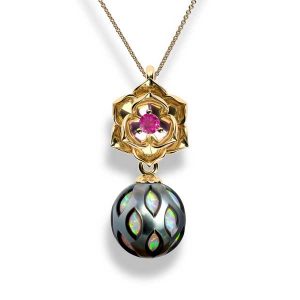 Galatea
[/ts_one_half] [ts_one_half]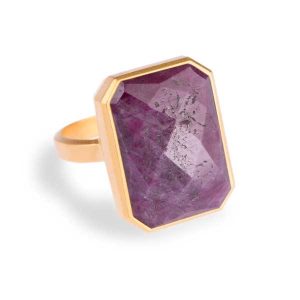 Ringly
[/ts_one_half] [/ts_row]
Ringly, a product designed by a collective of engineers and product designers, works in the same way by delivering messages from mobile phones through vibrations and colour-coded flashes, with the technology inconspicuously locked within a range of cocktail rings set with a large faceted sapphire, emerald, onyx, moonstone or quartz. The only visible sign that this is no ordinary jewel is a tiny light on the side of the case beneath the gem.
Sports is another key area for wearable tech, and Swarovski is leading the charge with what some experts believe may be the answer to the Achilles' heel of consumer tech – constant recharging. Swarovski has teamed up with consumer electronics firm Misfit, founded by former Apple chief executive John Sculley, to create the Swarovski Shine, a piece of technology that tracks fitness activities and sleep patterns, powered by a Swarovski crystal fused to its surface that refracts daylight to create solar power. This patented Energy Crystal technology can be worn within wraparound bracelets, rubberised bands or pendants, and just a few minutes in the sun will keep it running all day.
[ts_row] [ts_one_half]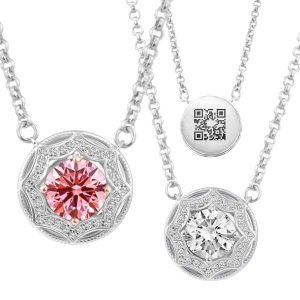 Reena
[/ts_one_half] [ts_one_half]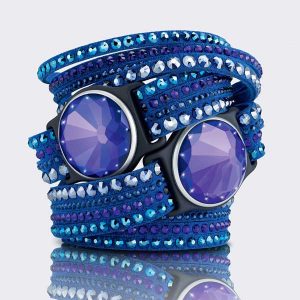 Swarovski
[/ts_one_half] [/ts_row]
While mobile and fitness tracking are new territory for jewellery, there is a faction within smart jewellery busy modernising more familiar stomping ground. Just as one might commission a secret engraving, voice and text messages can now be built into jewels as a thoroughly modern way to personalise a gift.
Nurture by Reena is a line of floral-inspired 18ct gold jewellery set with lab-grown diamonds devised by Canadian jeweller Reena Ahluwalia, who decided to add a little twist to the collection by hiding QR codes on the underside of flippable rings and the backs of pendants. When scanned by a mobile phone, they unlock secret messages and images uploaded by the person gifting the jewel.
US jewellery brand Galatea has also created a line of fine jewellery with hidden message-delivering technology. Its Momento Pearl collection has tiny microchips inserted into real, carved pearls that are set into rings, earrings and pendants. When these jewels are touched to a suitably enabled device, they play a voice message from the person who has bought it – perfect for loved ones who find themselves separated.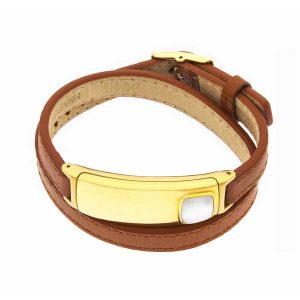 Viawear
And for a truly luxurious twist on the smart jewellery trend, we turn to two creations by Shawish, a Genevan fine jewellery house known for pushing boundaries. The first is its rose gold and diamond pavé cuff The Octopus that has illuminating technology embedded within that causes the diamonds to sparkle individually at random and change colour when the lights are low. The second is a series of 18ct gold Mushroom pendants set with up to 12ct of rubies, sapphires, emeralds or diamonds that conceal the world's most expensive USB stick, which when plugged in to a laptop connects its owners to a world of VIP concierge services.
---