Micromosaic: Don't call it a lesser art
---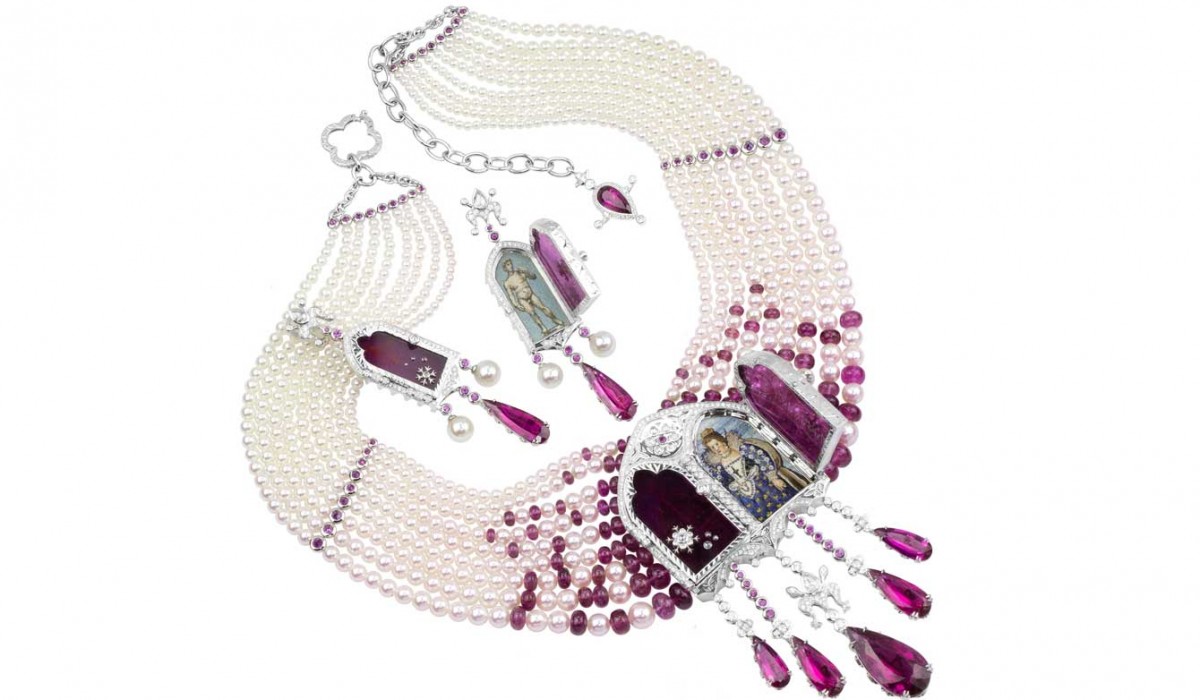 This noble technique of positioning tiny tesserae of coloured glass to create images has existed since the 17th century. Today Le Sibille presents jewelry with a unique personality.
[su_highlight background="#A26741" color="#FFFFFF"]HANDICRAFT'S SOUL[/su_highlight] Francesca Neri Serneri
started her career by designing accessories for
Romeo Gigli
and other fashion houses. Captivated by Roman micromosaics, she began studying the technique with two friends from university:
Camilla Bronzini
and
Antonella Perugini
. Together, they opened the
Le Sibille
workshop in Rome in 1990, which contributed to the jewelry world's rediscovery of micromosaics.
What is your role at Le Sibille?
I am a designer, but we all work together on the mosaics, even though we have five specialized mosaic artist.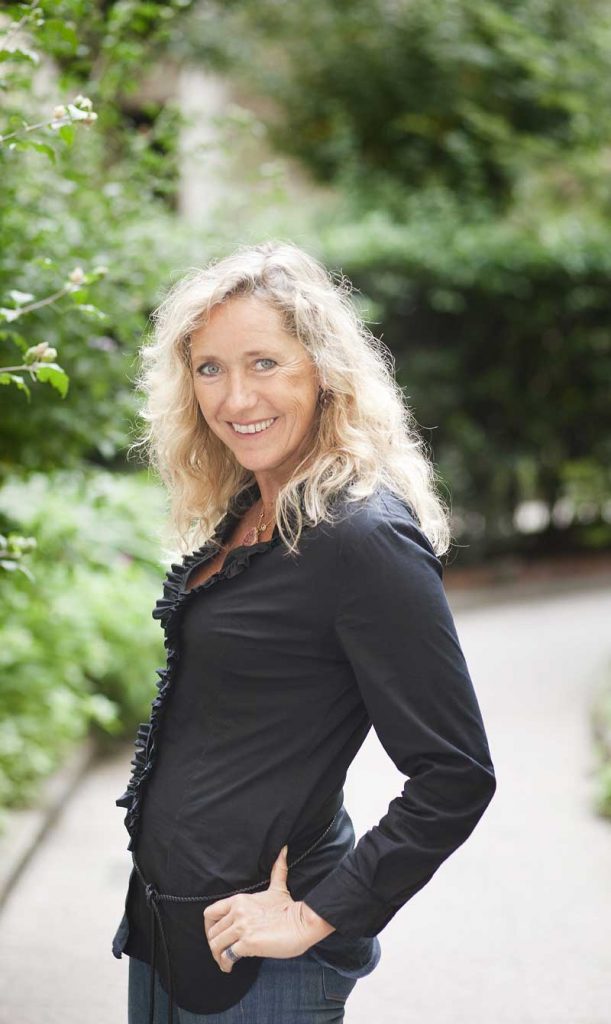 Is this technique suited to the reproduction of miniature works of art?
Many subjects come from details of particular paintings or examples of architecture, it isn't easy to reproduce Raffaello's cherubs or the bird on the House of the Golden Bracelet in Herculaneum, in a mosaic measuring just 1.5 centimetres...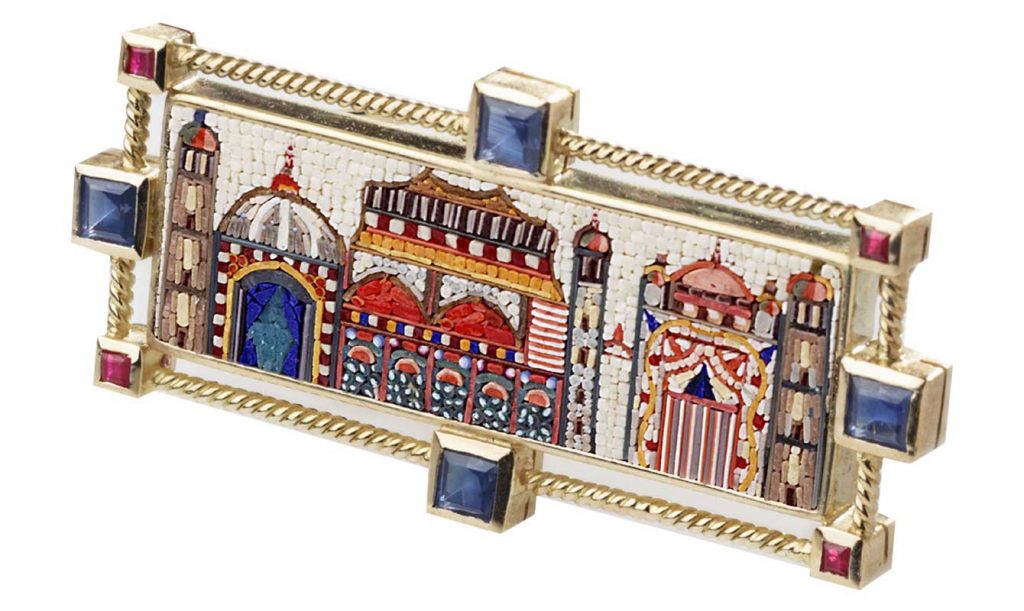 Or Catherine de' Medici, the star of a necklace made of rubies, pearls and diamonds...
And the result of a recent collaboration with Alessio Boschi, an excellent designer who lives in Italy and Bangkok. I think working collaborations are important for the future of excellent craftsmanship, and we were lucky to meet such an extraordinarily talented person.
Is it true your best clients are Russian?
We appeal to orthodox countries because they have a connection with the mosaic tradition. For example, the Roman micro-mosaic school Nicholas II opened in St.Petersburg produced masterpieces, such as the famous mosaic-decorated for Fabergé.
Does the Vatican workshop create mosaic jewelry?
It creates small pictures which are often presented to heads of state. Or portraits for the tombs of Popes, the one of Wojtyla for example is stunning...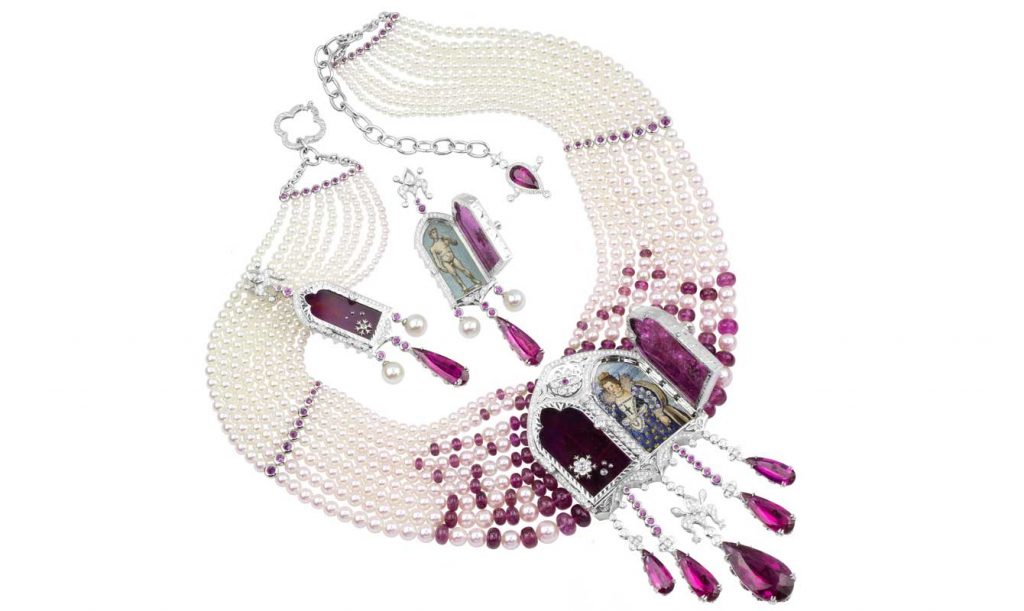 "Homage to the Renaissance"necklace by Alessio Boschi, made of white and rose gold, rubies, pink sapphires, rubellites, diamonds, baby Akoya pearls in shades ranging from pinkish to white. The tiny rubellite doors open to reveal stunning mosiacs crafted by Le Sibille from Rome.
How long does it take to complete a piece?
Work on the mosaics for Alessio Boschi, for example, started in December 2014, and the jewelry was completed in March 2015. We also create less complex pieces, but the value of the work is always elevated.
Where in Italy are they sold?
Above all in prestigious hotel boutiques, in Capri, at the Danieli, Cipriani, and in Rome at the Residenza Manfredi and the Menichini jewelry store in Piazza di Spagna. The window displays are all exclusive, like the Mandarin Oriental in Hong Kong, and that's ideal for us because the production process doesn't allow us to produce any more than ten micro-mosaics per month.
[ts_row] [ts_one_third]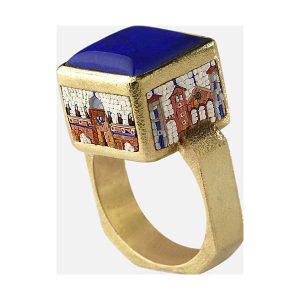 [/ts_one_third] [ts_one_third]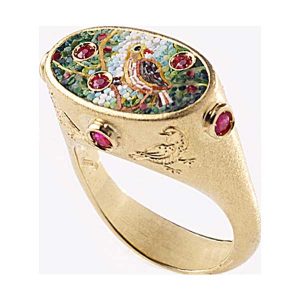 [/ts_one_third] [ts_one_third]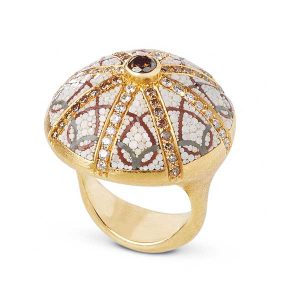 [/ts_one_third] [/ts_row]
Is it true Johnny Depp has a cross and other celebrities, from Bill Gates to Abramovic and Afef wear your jewelry?
People don't buy directly from us, even though we hear about a lot of things... and the appreciation from important clients is an important confirmation. We also do granulating and coral engraving, because we like to offer the world things that run the risk of disappearing
Text Roberto Chilleri
---