Livia Firth Be the change
---
Livia Firth has turned our appetite for celebrity to her own advantage, using her spousal appearances on endless red carpets to promote the cause of sustainable, ethically produced fashion. With a bit of a genius.
Text
Frank Stephen Dottriani
The recipient of numerous awards, feisty and committed to various issues, Livia Guiggioli, globally known as Livia Firth, following her marriage to the Oscar-winning actor, Colin Firth, over the past ten years has gone from film director to the world's most glamorous champion of "eco style" and has been dubbed "the queen of the green carpet". Now Livia Firth is moving into design: last week she revealed she is working on a line for the online retailer Yoox's eco brand Yooxygen, in partnership with Reclaim To Wear, which helps designers recycle textile surplus and waste.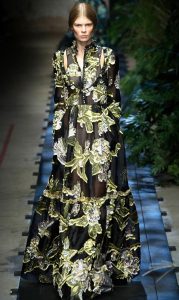 The garments from the Green Carpet Collection by Erdem Moralioglu and Livia Firth, created using reused, surplus or sustainably certified materials,
Her forays into the world of sustainable fashion and 'green' jewelry date back to 2009, when she and her brother Nicola, launched the Eco Age concept store. They closed the shop a couple of years ago, but the eco-consultancy flourishes, advising clients ranging from Wembley stadium, Gucci, the British Film Institute and Chopard: 'Two things happened almost simultaneously,' Livia explains. Firstly, she met journalist and eco-queen Lucy Siegle. 'We opened the shop and literally on day one I emailed Lucy and said "I want to talk to you because you're my hero".'  Secondly, Colin got the nomination for A Single Man at the Golden Globes. 'I was like, well OK, all these major red carpets – let's try and be inventive. There's now a GCC brand mark, which signifies that a product meets their exacting ethical, environmental and sustainable production standards'.
The first award went to Gucci for a collection of anti-deforestation handbags. 'The entire collection sold out before it even hit the shops.' Says Livia. The expression, "be the change you want to see in the world" could have been written for Livia Firth. Having identified a real problem in the fashion industry, she's making significant headway in changing it – while looking immaculate, of course. The success of this operation gave her the incentive to double her efforts in the battle against multinationals investing in fast fashion.  The real villain in her world is 'fast fashion': 'Fast fashion and ethical fashion don't go together. There's no way that you can produce those volumes at those prices in an ethical way'.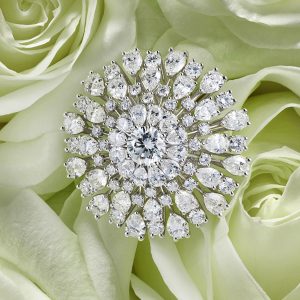 Diamond ring from the Green Carpet collection by Chopard
She's a global ambassador for Oxfam, and has visited factories in Bangladesh, Ethiopia, Zambia and Kenya with the charity. We touch on the Rana Plaza factory fire in Bangladesh earlier this year. 'When you have 1129 people, mostly women, dying in one single accident in the name of fashion – you think, there's something wrong. I saw those women – they produce 100 pieces an hour. The prices are ridiculous…and then they end up in the rubbish after one season. It's a perpetual circle of poverty. They make you think that it's democratic in our countries, buying things at those prices, but it's a democracy of fools.'
Livia, together with her husband, supports Survival International, the global movement for the rights of indigenous people, and took part in the 2012 campaign for the protection of the Awá people, the "most- threatened tribe in the world." She received the Green Award at the Harper's Bazaar Women of the Year Awards in 2013 for her work. Thanks to her efforts, her increasing influence, which is also down to her global visibility, Livia has progressively managed to persuade certain large companies in the jewelry and fashion sector to make some partial changes.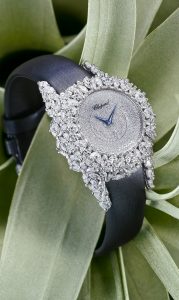 Chopard timepiece made of white gold, the case features pavé marquise-cut diamonds
"Three big changes have taken place in the past two years. First, Chopard, the luxury watch and jewelry company, decided to start not only sourcing but also supporting Fairmined gold, and is today addressing some serious problems and leading the industry with its pioneering work. Then there is the ground-breaking project led by the Kering group (which owns labels such as Stella McCartney, Alexander McQueen and Christopher Kane), which last year published an EP&L (environmental profit and loss) report—something unheard of in the fashion world. And the fact that they made it open source is incredible. Last but not least, Unilever last year launched the first-ever human rights report at supply- chain level—again, something that no company has ever dared to do."
Most recently, Livia has launched the GCC capsule collection. Five stellar British designers – Victoria Beckham, Roland Mouret, Erdem, Christopher Bailey and Christopher Kane; ten beautiful, sleek, wearable designs in black, white and gray; all in sustainably produced fabrics. The collection was the result of a conversation with legendary US Vogue editor Anna Wintour at Paris Fashion Week. 'I was venting my frustration with working with stylists,' Livia says, 'I said to her, if I had a collection of ready-made clothes it would be so much easier. And she said, well let's just do that.'
With fashion has also come a focus on the jewelry industry and a Valentine's-appropriate collaboration with luxury jeweler, Chopard. Firth first met Caroline Scheufele, the brand's artistic director and co-president at the Oscars in 2012. "When I asked her 'where does your gold come from?' Caroline immediately replied 'from the bank!' and then realised that meant she did not actually know."  From that point on, she credits Scheufele as embarking on a mission "to change not only her company and brand but the entire industry."  Scheufele partnered with the Alliance for Responsible Mining. The first Chopard Green Carpet collection in collaboration with Eco-Age launched in 2013, featuring pieces made in Geneva from ethically-sourced materials. It is, Firth says,"a perfect example of the marriage between ethics and aesthetics". Then came the Palme Verte collection. "It's Chopard's first diffusion line crafted with fair-mined gold,"she adds. "Caroline is now looking at other raw materials and how to source from responsible suppliers – there are lots of exciting projects planned for 2016."
[ts_row] [ts_one_half]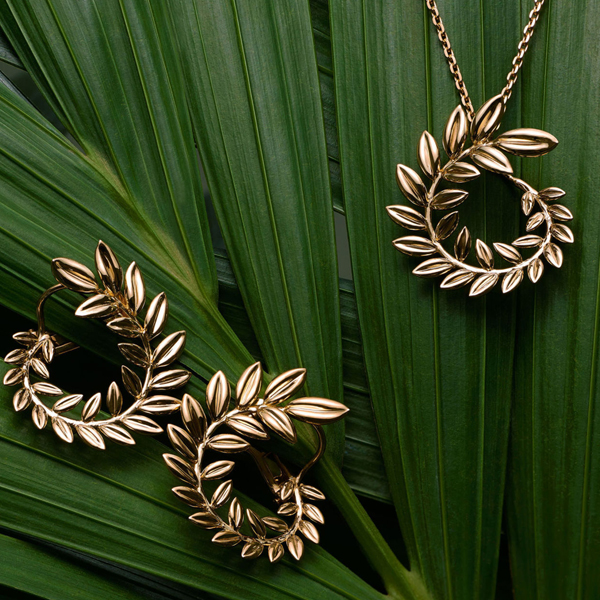 'Palme Verte', Chopard's first collection of ethical gold for the mass market.
[/ts_one_half] [ts_one_half]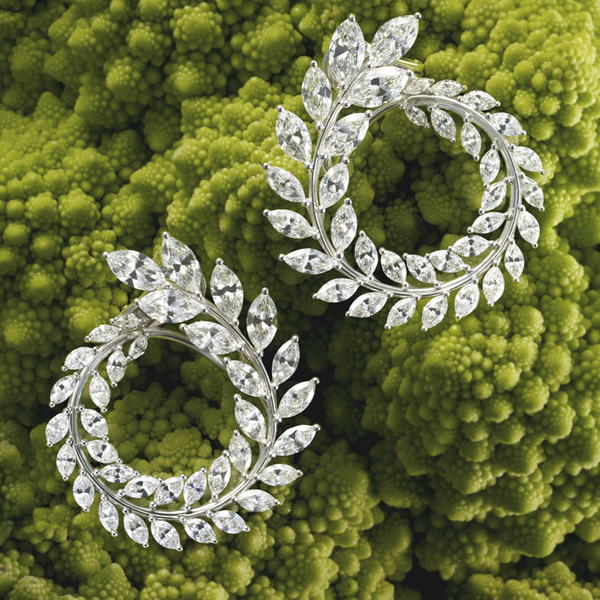 Earrings featuring marquise-cut white diamonds set in a laurel design, crafted in 18-carat Fairmined white gold.
[/ts_one_half] [/ts_row]
While her eco-conscious attitude pervades all areas of her life, Firth still finds time to relax and unwind. "Now that I am in my 40s I exercise twice a week, three times if I can," she says. She eats "healthy, home-cooked food". Livia currently resides in London with her husband Colin, two children, one cat and four fish •
---