Ancient Greece: An Endless Source of Inspiration
Ancient Greece produced extraordinary jewelry that still provides a wealth of forms, materials and expertise to draw on today
---
In Greek museums, the immense richness and variety of antique jewelry from 1000 to 323 BC is truly striking. Forms vary between the graphic purity typical of the Mycenaean civilization and the profuse decoration characteristic of the Hellenistic period linked with Alexander the Great's father, Philip II of Macedonia. Snakes, Minerva's heads, vases, palmettes and laurel leaves mingle on crowns and bracelets in beaten or filigree gold, or worked using the granulation technique, i.e. in small gold balls.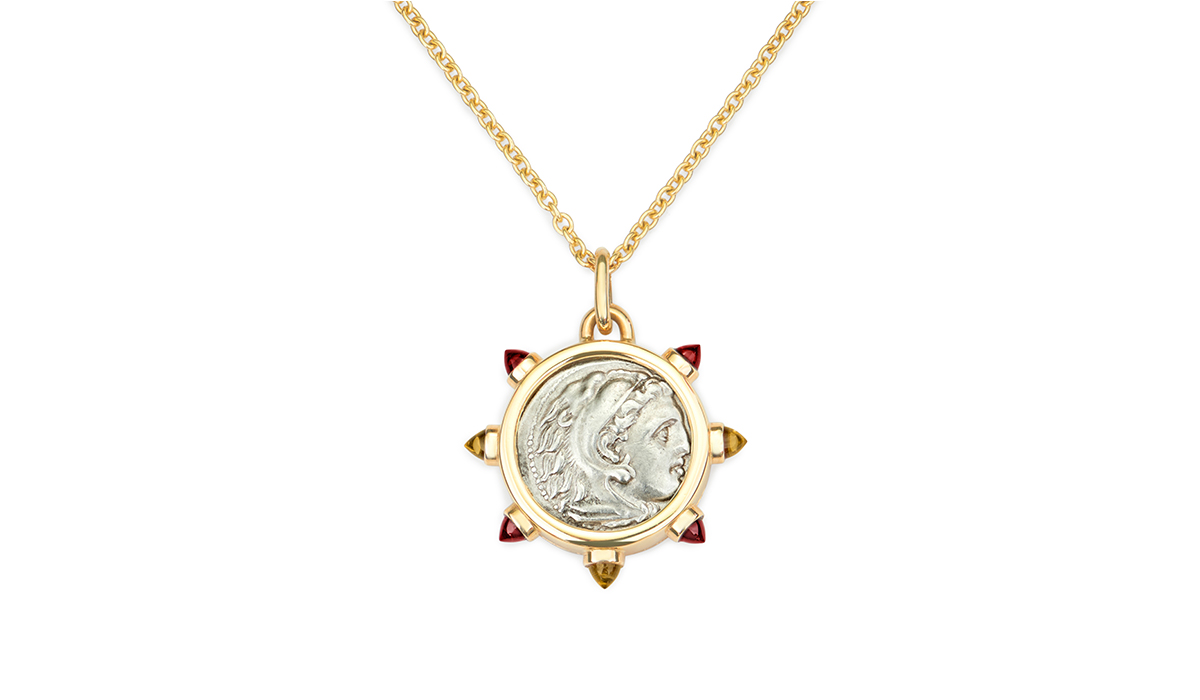 Pendant in gold with an ancient coin representing Alexander the Great, Dubini.
The 19th Century Eco
In the 19th century, archaeological digs throughout Europe (intensified by a Philhellenic movement supporting the struggle for independence) led to the first major revival of both Roman and Greek Antiquity. The fabulous Campana collection was exhibited to the public. In Greece, the tombs in Mycenae were discovered, along with priceless treasures like Agamemnon's mask, rock crystal fibulae for the hair, rosettes and so on. All the jewelers were fired up, first and foremost Mellerio and Chaumet. At the 1867 Universal Exhibition in Paris, Eugène Fontenay exhibited ravishing jewelry sets including earrings in filigree work or in vase-form, carved in jade.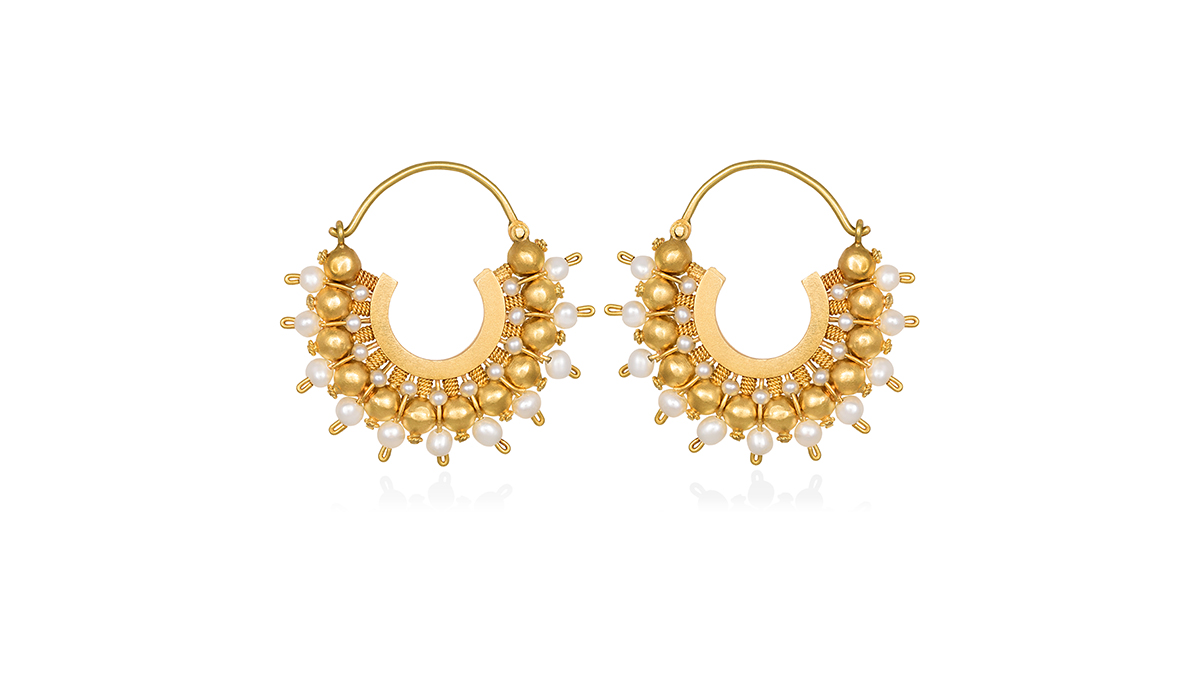 Gold filigree and pearl earring, Christina Soubli.
Hippy Chic Antiquity
In the 1910s, René Boivin revisited granulation, using fine microbeads to cover a magnificent pure gold brooch with an antique comedy mask. In the 1970s, when Greece was in vogue with hippies fleeing the consumer society in the Cyclades, women discovered the work of Zolotas and Lalaounis. These designers working in an antique vein became the darlings of the jet set: Jackie Onassis, Mélina Mercouri and Elizabeth Taylor went crazy about their big double lion's head bracelets, heavy torcs enhancing the lines of the neck and rings engraved with mythological scenes. Today, their prices are rocketing at auction.
Contemporary Revival
Antiquity is a classic influence for contemporary jewelers. We find intaglios and cameos with Marc Auclert, patinated pure yellow gold pieces with Marie-Hélène de Taillac, coins featuring Alexander the Great's effigy with Dubini and Bulgari, and works in granulation with the American Jean Prounis. In contrast, Greek designers Melanie Georgacopoulos, Elena Votsi, Yannis Sergakis, Ioanna Souflia and Christina Soubli are moving away from this area or offering barely recognizable stylized interpretations. Nikos Koulis masterfully interprets the snake as a type of chain with the same name, and designs totally abstract vases and Hercules knots. All of them are worthy of this fantastic legacy, and their success on the international scene is decidedly well-deserved.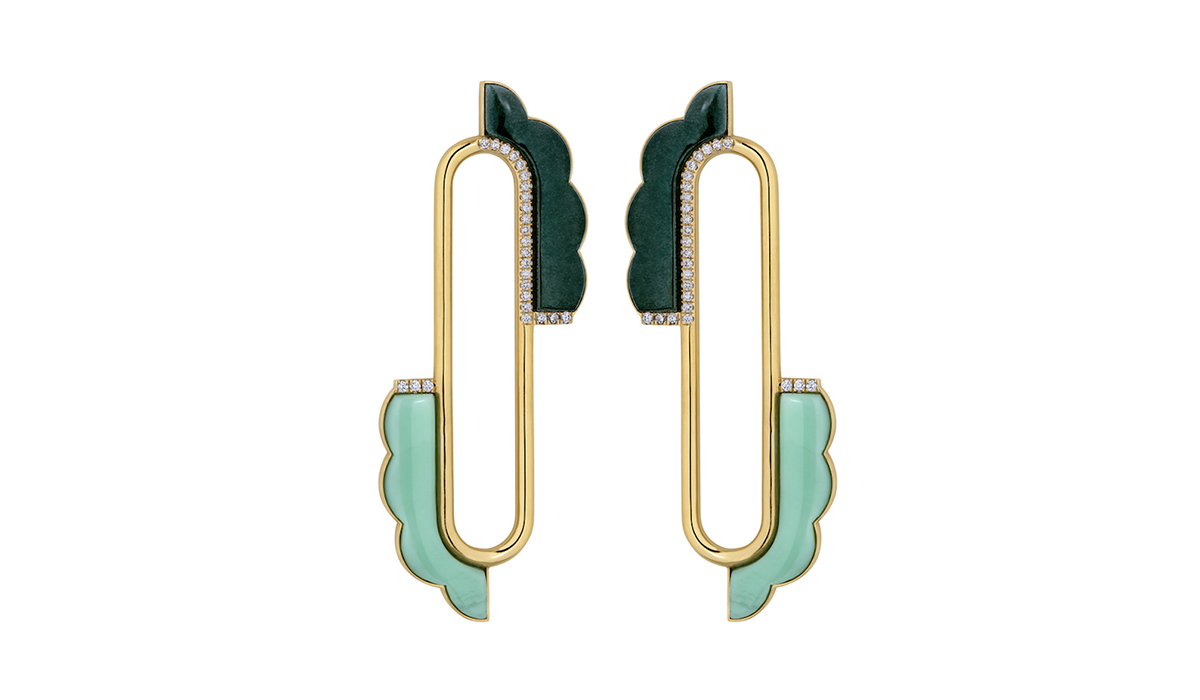 Gold earrings with chalcedony, chrysoprase, white diamonds by Ioanna Souflia.
---