Calypso, the Goddess of the Sea, Inspires Sicis Jewels
The micro-mosaic technique, high jewelry and inspiration from Greek mythology for Calipso: the new creation by Sicis Jewels took two years to complete
---
"How wonderful" are surely the first words that spring to mind on seeing Calipso, the new creation by
Sicis Jewels
, presented at the last edition of
Vicenzaoro
, which closed on 22
nd
January. A precious and important
necklace
, accompanied by a pair of
earrings
, able to evoke all the mind-blowing charm of t
he goddess of the sea
that inspired them. In an intimate fusion between art, artisan workmanship and elegance, three strings of
Akoya light blue
pearls are woven into a golden weft and enriched with the splendor of 10 carats of diamonds which are, in turn, interwoven with micro-mosaic elements. «I have a passion for Greek mythology, I like to link the jewelry to its mythological characters. We imagined Calypso, the nymph, weaving as she watched the sea, thinking about Ulysses. That's why we chose blue»,
Gioia Placuzzi
, Director of Sicis Jewels, told us. «This necklace is a one-off item. It took two years to find all the Akoya light blue pearls in exactly the right color combination.
Pearls
are a product of the sea, it isn't easy to match them perfectly, especially since we wanted to obtain a gradual color effect». An effect that is possible to achieve due to the incomparable brightness of these rare pearls with their perfectly spherical form, cultivated exclusively in the center/south Japan. «The micro-mosaic process»
Gioia
continued, «is done in a
Paisley
pattern that belongs to the history of the Persian peoples and evokes the sea». In fact, the mini-tiles decorating the upper part of the necklace, all perfectly aligned by masters of the mosaic art at the
Sicis Jewels Atelier
, and set in captivating patterns in shades of sapphire blue and white, look just like shifting waves.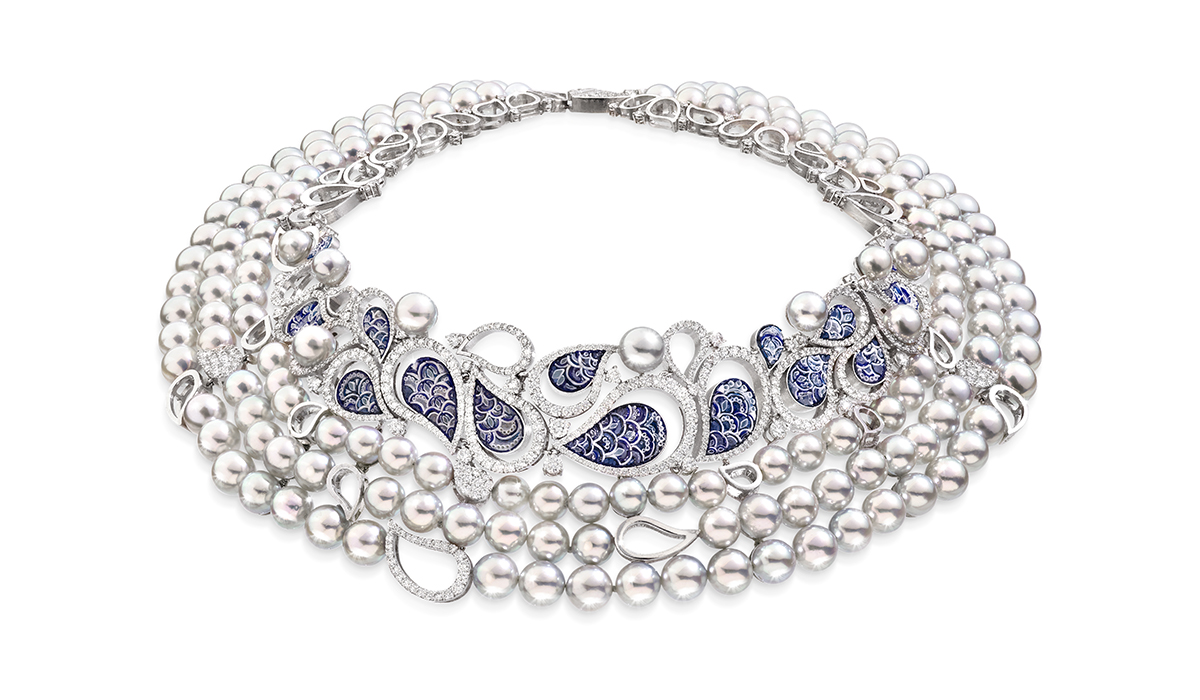 ---