Jewelers from L.A.
Goodbye East Coast. Hello West Coast. The most desirable city is no longer New York, but Los Angeles, thanks to the creative spirit overtaking the jewelry industry
---
«The West Coast is the best coast, baby.» Of that,
Jacquie Aiche
has no doubt. The designer, one of the most sought-after at the moment, has formed her own tribe that includes the likes of
Gigi and Bella Hadid
,
Behati Prinsloo
,
Emily Ratajkowski
, and
Alessandra Ambrosio
. «I adore the carefree atmosphere of Los Angeles. The women here need beautiful and easy pieces that work well with their lifestyle. All the jewels I design hold the energy of California.» That same energy that has attracted designers from around the world over the years, stealing the spotlight away from its lifetime rival: New York. With its relaxed style, wide open spaces and mild climate, the home of great Hollywood legends is populated with many photographers and designers as well as models, bloggers and influencers (like Chiara Ferragni, for example). And today, it is welcoming a multitude of jewelers. «
Los Angeles
brings new energy to the jewelry industry. The fashions and lifestyle are more laidback. This relaxed feeling translates into jewels enlivened by natural stones and brilliant colors,» agrees
Larisa Laivins
, who after growing up in Dallas and spending time in New York, now calls Los Angeles home. «There is more space for everything! More space in my apartment, more space in my workshop and more space for my creativity! And it's so pleasant all year long. Where ever you look – even on the freeway – there are beautiful flowers and palm trees. There are different colors for each season. In Spring, for example, the jacaranda trees 'explode' and as the flowers fall, they leave a purple covering everywhere.» There are many others like her, from
Polly Wales
, who left the rolling hills of the English countryside for the sunny California beaches and
Sarah Hendler
, who moved from the coast of Long Island thanks to her interest in film, to only find out that her true passion was jewelry.
Vram Minassian
, from Beirut, chose California ages ago (at least thirty years), but his brand Vram really took to the international scene this year, winning an award for the categories '
Best of debuting
' at the
Couture Awards in Las Vegas
.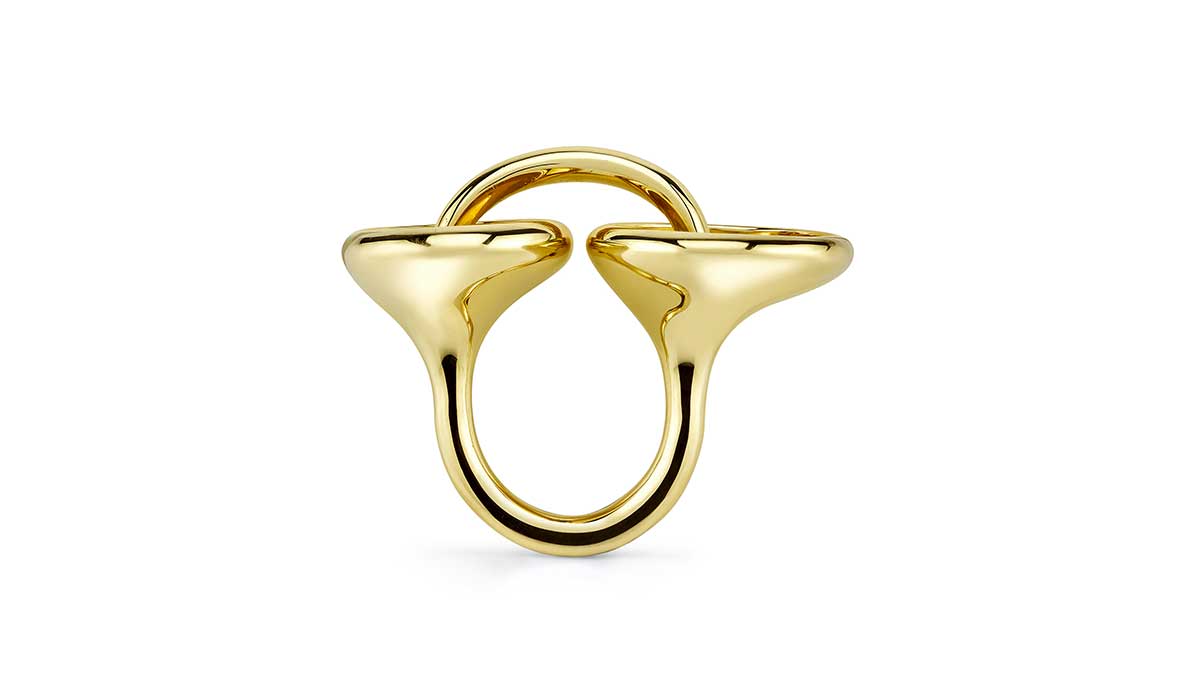 GOLD SINC RING, CONTINUUM COLLECTION, VRAM
But there are also those like Jennie Kwon who was born and raised in Los Angeles. She has shaped her style in the exhilarating excitement of her hometown. «We launched our line just five years ago when minimalism was all the rage. Since then, things have totally changed. Everything has become more colorful and is rich in meaning, almost magical. Jewels made in Los Angeles have more life. We spend more time outside and perhaps this gives more enthusiasm and color to our creations.» A feeling of optimism and a carefree attitude seem to penetrate all the collections conceived under the California sun, creating new trends. In Los Angeles, diamonds and precious stones have become 'pop.' They are casually worn on the beach or for special events, making the most casual outfits or those meant for an evening out on the town sparkle like a second skin. Body jewelry and precious piercings are among the most popular along with multi-colored gems and raw crystals, which aim to create a spiritual connection with nature. «I am very attracted to raw diamonds. There's a wonderful contrast between their imperfections and their extreme brilliance. It's a metaphor for life: we are all perfectly imperfect,» said Lisette Polny, the designer for Zofia Day, an overnight success thanks to the most glamourous vows of the year: she designed the famous bracelet Meghan Markle, the new Duchess of Sussex, gave to her bridesmaids. After all, Los Angeles is a place where anything can happen and where perhaps, today, realizing your dreams is easier than you thought.
---