Masterpiece London: The Unmissable Event
Masterpiece London is the unmissable art fair at which visitors can view and buy the finest works of art, design, furniture and jewelry, from antiquity to the present day.
---
From today,
28th June, till the 04th July 2018
The Royal Hospital Chelsea will host the famous
Masterpiece London art fair
. This exhibition offers an unparalleled opportunity for new and established collectors to discover exceptional works for sale across a range of price points from 160 international exhibitors and across every major market discipline.
Here you can have a look at our jewelry highlights of Masterpiece London 2018, among contemporary and antiques jewelers:
WARTSKI

Wartski is a family business, specializing in works of art by Carl Fabergé, antique jewellery, silver and objets de vertu. It was founded by Morris Wartski in Poland in 1865, and was moved to Bangor in 1895.
After the establishment of two branches in Llandudno by 1895, a third was opened in London in 1911. It was with Morris Wartski's son in law, Emanuel Snowman, that the firm began its long association with the work of Carl Fabergé. Wartski has had a long association with the Royal family and hold the warrants of Her Majesty the Queen and the Prince of Wales.
Photo: A carved rock cristal and enamelled talisman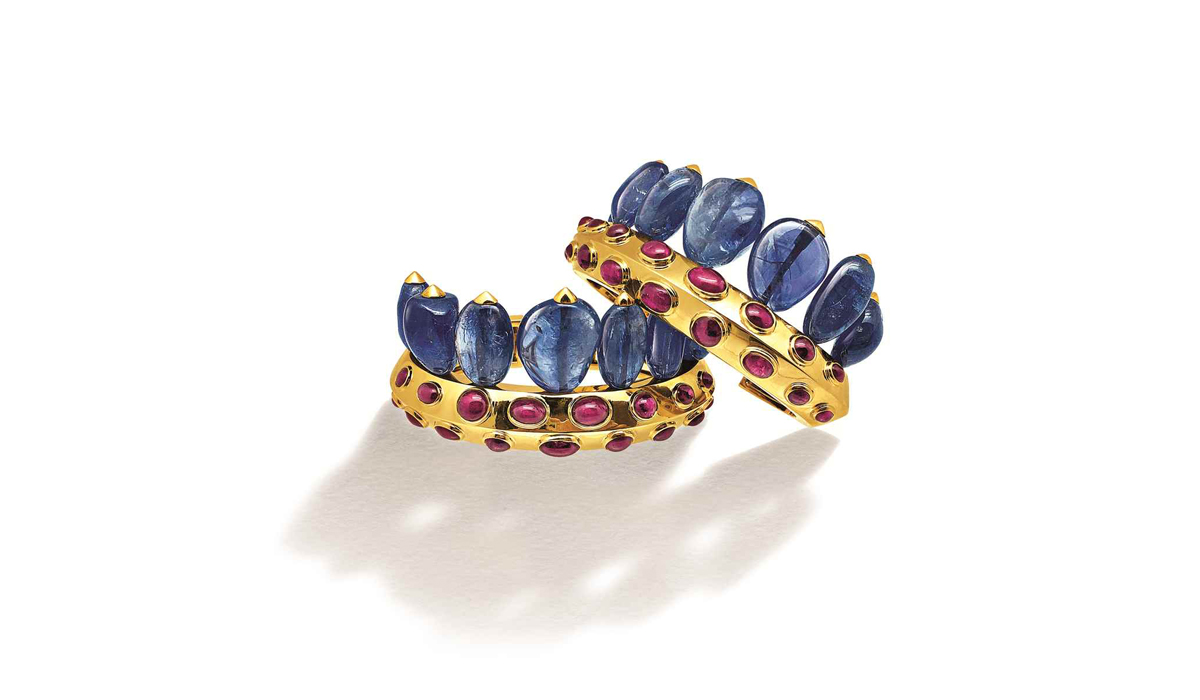 VERDURA

Duke Fulco di Verdura began designing jewelry in 1920s Paris with Coco Chanel, for whom he created his signature Maltese Cross Cuffs. After venturing to America and opening on Fifth Avenue in 1939, with the financial backing of Cole Porter and Vincent Astor, Verdura quickly gained a following among New York's best dressed, including style icons like Diana Vreeland and Babe Paley, and Hollywood screen legends such as Greta Garbo and Marlene Dietrich. Today Verdura continues to create jewels from the Duke's archive of nearly ten thousand designs and is widely recognized among collectors and jewelry cognoscenti for its bold but understated 'chic.'
Photo: Couronne Cuffs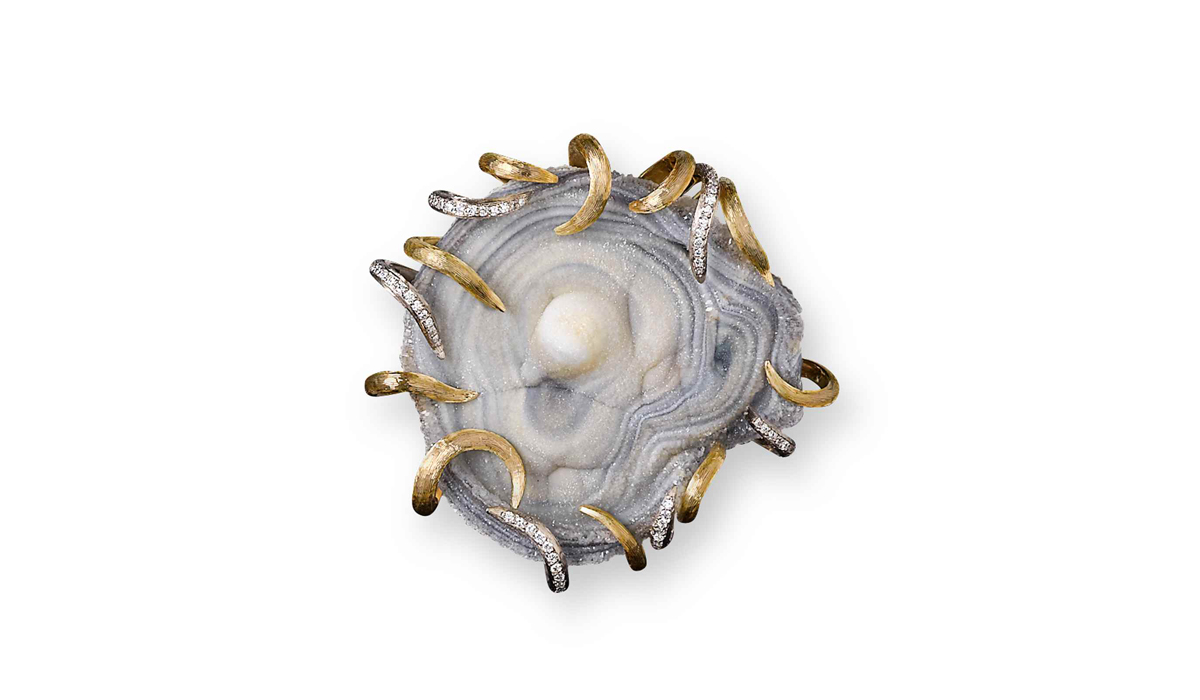 GRIMA

Andrew Grima was one of a handful of British designers who revolutionised jewellery in the early 1960s. Unlike most of his contemporaries, he didn't learn his trade at art school, being entirely self-taught and having never worked at the bench. He considered being a pure designer to be an advantage; his ideas were never confined by technical ability, only by imagination. By the mid 1960s Grima had become the doyen of British jewellery design - the Royal and society jeweller of the day. He is the only jeweller to have been awarded the Duke of Edinburgh Prize for Elegant Design and his service to industry was recognised with The Queen's Award for Export.
Photo: Agate geode brooch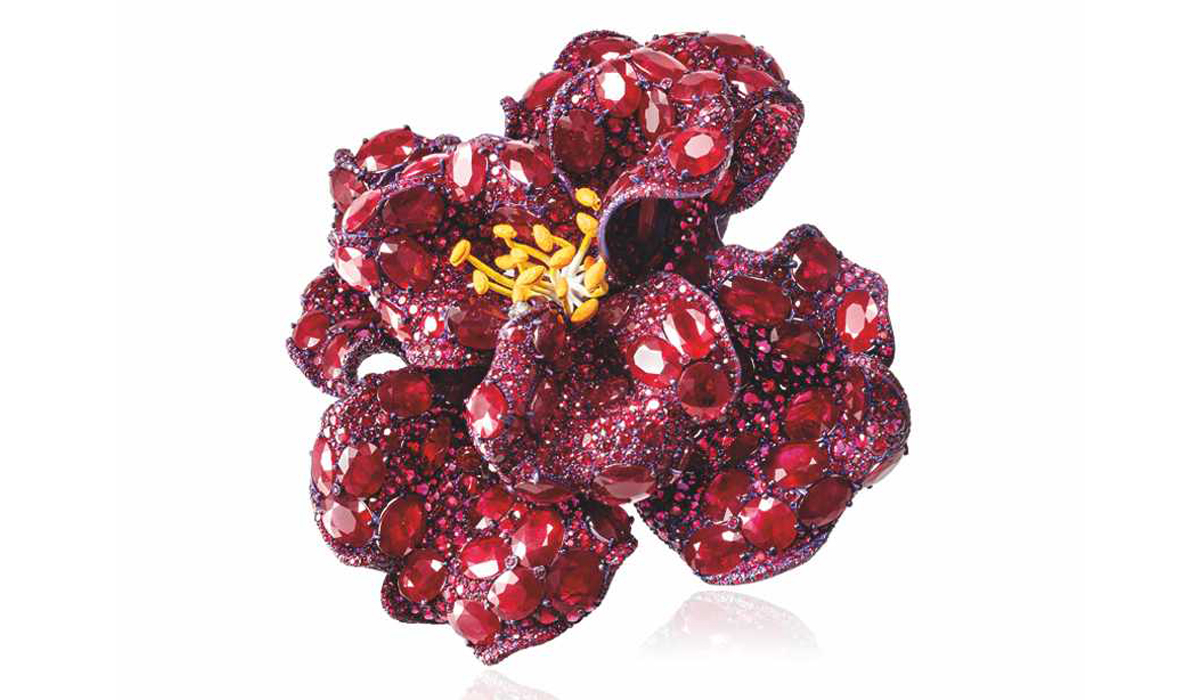 CINDY CHAO
Comtemporary fine Jewellery artist Cindy Chao established her eponymous brand CINDY CHAO The Art Jewel in 2004, motivated by a desire to break boundaries between art and jewellery. Believing that every piece of fine jewellery should be a miniature work of art, she is dedcated to adopting the ancient European lost-wax technique. This long-lost artisanal skill, essential for offering Chao's creation an organic, sculptural and architectural characteristic, has allowed her to revolutionise the way fine jewellery may be created, perceived, and appreciated.
Photo: Peony brooch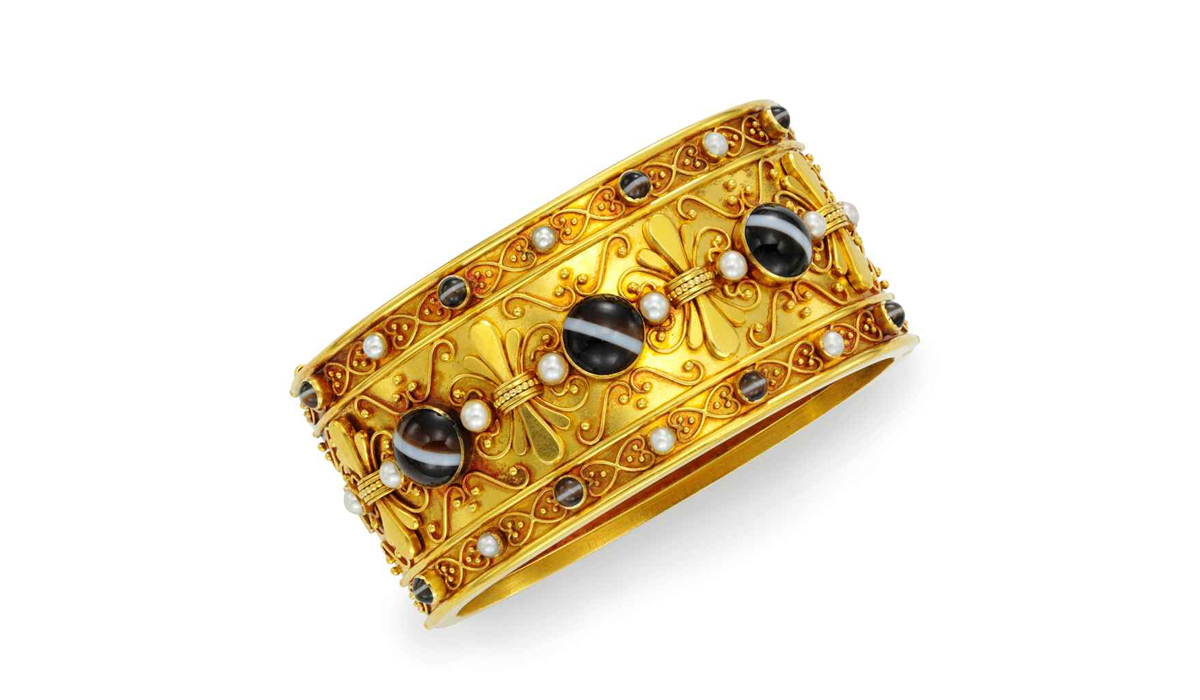 SIMON TEAKLE FINE JEWELRY
Simon Teakle is an internationally recognized figure in the jewelry industry. His experience includes twenty years at Christie's, the majority of which was spent running its New York department. A qualified gemologist, Simon has handled many of the world's most important gemstones and jewelry collections, including The Agra Diamond, The Rockefeller Sapphire, and jewels belonging to Eva Peron, Doris Duke and Elizabeth Taylor.
Photo: Victorian gold and banded agate bangle
---