Processing Techniques: Echos of the Past
Champlevé enameling, micro-mosaics, jewelry embroidered with micro-beads: here are the contemporary version of processing techniques of the past, reinterpreted and modernized according to visions and hands that never stop dreaming
---
Micro-mosaics, enameling, jewelry worked with micro-beads as if they were embroidered fabrics. Jewelry's latest frontier rediscovers virtuous artisan techniques to tell adventures, describe faraway journeys, reveal anecdotes or revive memories of a bygone past. Three creative stories that start from the latest intuition of Gucci's Creative Director, Alessandro Michele, whose curiosity for knowledge takes us to an ancient imaginary world through nineteenthcentury micro-mosaics. Stories that materialize in the "fabled" subjects of Cece Jewellery's champlevé enameling and land in the sparkling, multicultural world of Silvia Furmanovich.
GUCCI HIGH JEWELRY

The third act of Hortus Deliciarum, the high jewelry collection designed by Alessandro Michele, has begun. Unique pieces divided into five different themes but united by the passions and obsessions collected and developed during an imaginary Grand Tour, which, from the mid-19th century to the 1970s, represents a dreamlike journey suspended in time and space. The first chapter speaks of Italy, above all, the beauty of Rome and its surroundings, with a set of unique pieces in antique micromosaics, created between 1850 and 1870. The Colosseum, the Pyramid of Cestius, the Forum, the Pantheon... Numerous cameos with which Alessandro Michele captures the wonder, desire, nostalgia and amazement at the beauty that is still breath-taking.
CECE JEWELLERY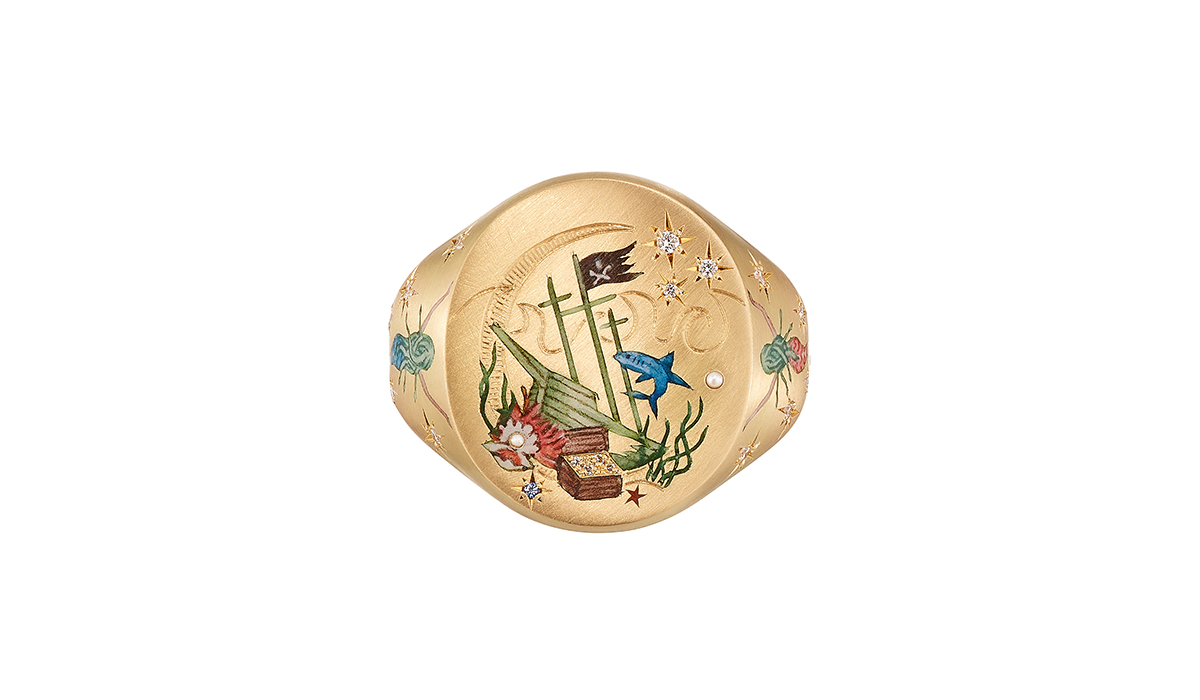 Cece Fein Hughes began her career as an art historian and then converted to jewelry making. A scholar and lover of beauty in all its many forms, Cece "married" the art of champlevé enameling to create unique pieces, all handmade in recycled 18-carat gold, inspired by the "journey of enamel", which she began to appreciate by studying the ancient hand-painted armor of Celtic warriors. The stories she reproduces in miniature on rings and pendants pay homage to ancient accounts of the past, her love for fairy tales and the world of tattoos. Her rings are tiny caskets that reveal treasures explained in engravings made by the artist's skilled hands.
SILVIA FURMANOVICH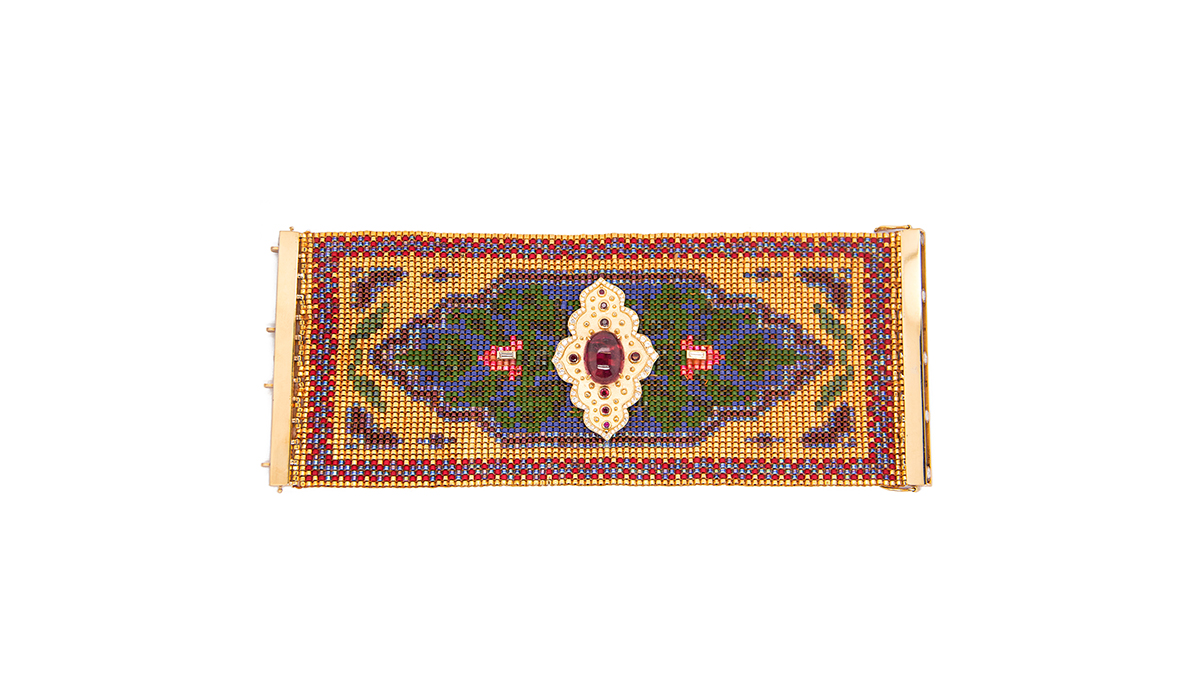 The journey that Silvia Furmanovich has undertaken is also long and intense with jewelry that appears to belong to many different cultures. From India to Egypt, from Amazonia to ancient Persia, each piece reveals an age-old technique linked to a distant land. The micro porcelain beads with which she designs the motifs of her cuffs are in fact a tribute to the workmanship of Persian carpets, which have always stood out for the variety and elaborate fantasy of their designs. Furmanovich makes it her own and succeeds in untangling this skein of shapes and hues with the help of colored porcelain micro-beads, embroidered as if they were fabric, to produce two multicolored cuff-bracelets.
---