---
Cutting crystals to obtain shapes, facets and colors which make them unique. This is Swarovski's key to success, explained by Robert Buchbauer,  a fifth-generation descendant of the family and CEO  of the Finished Products Division.
by
Donatella Zappieri
This story begins in Wattens, Tyrol, right in the heart of Austria. It was 1895 and Daniel Swarovski was pursuing his dream to invent an industrial crystal-cutting machine: to harness the power of water for industry. In fact, this first invention revolutionised crystal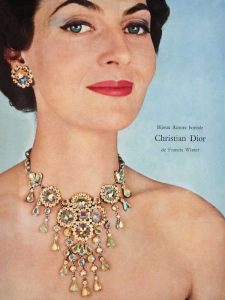 A 1956 campaign featuring a necklace by Francis Winter for Dior
production. Just as for Michelangelo beauty lies within the material, Daniel Swarovski's dream was to cut crystal in such a way as to obtain shapes, cuts and colors that make it unique. Not only did he breathe life into a new technique he also boosted the use of this particular material, and innovated it, whilst listening closely to the needs of creators, designers and producers.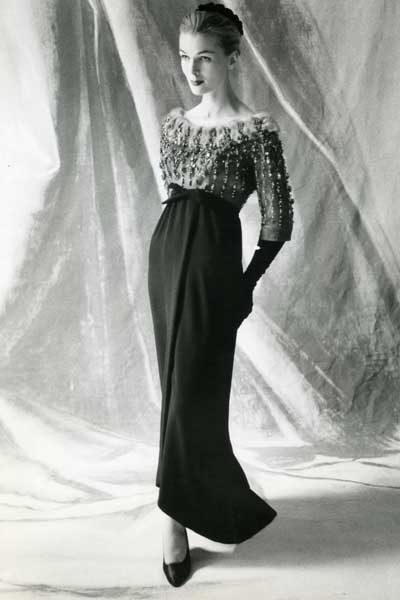 Cristobal Balenciaga Haute Couture. Fall 1958. Ph. Studio Kublin
Daniel Swarovski, an intensely intuitive and inventive man, quickly realised that his innovations within crystal-cutting could open up extremely important creative scenarios and by the twentieth century he was already forging relations with prominent Parisian couturiers. These professional collaborations soon made him aware of the fact that crystal was an essential element for the fashion industry and they also motivated him to come up with increasingly versatile uses. He directed his technological research toward new horizons, without ever losing sight of the stimulus provided by constant relations and dialogue that the biggest fashion houses, jewelry brands and design companies could offer him.
Indeed, it was the collaboration with Christian Dior which led him to create the Aurora Borealis effect exclusively for the French designer. This unusual treatment of crystal stones imparts an iridescent effect which changes with the light. Today, Swarovski crystals are an essential element for all jewelry and fashion brands, such as Prada, Dolce & Gabbana, Lanvin to name but a few; all their seasonal collections are enriched and enhanced by the magic of crystals.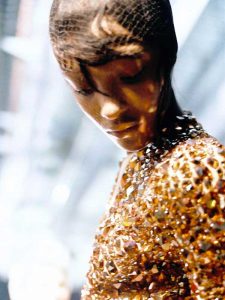 Alexander McQueen
There was no stopping this business instinct within Daniel Swarovski and the company, and in fact 1974 saw the arrival of the hotfix technique, which was used to fix crystals to fabric, Crystal Pearl and Crystal Mesh, a fabric made entirely from crystals, it was used to create stunning gowns by a young Alexander Mc Queen still at the beginning of his career and recommended to Nadja Swarovski by Isabella Blow as an up-and-coming designer. This desire to be at close quarters with creators is still strong today within the Swarovski family and has led to the launch of the Swarovski Collective, with Nadja as patron. This research and support committee for 150 designers, both and new and established names, donates around 100 million crystal stones per year for their most spectacular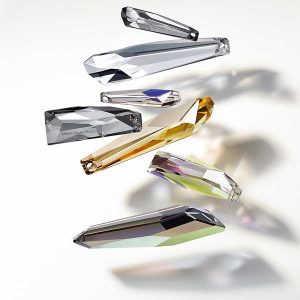 Crystalactite Pendants. Designer Edition by Maison Martin Margiela
creations which will grace runways all over the world. Some of the talented people supported by the Swarovski Collective over the years include Joseph Altuzarra, Rodarte, Alexander Wang, Hussein Chalayan, Viktor&Rolf, Christopher Kane, Mary Katrantzou and Anthony Vaccarello. Swarovski's fil rouge with jewelry all began with the introduction of custom jewelry in the US and was consolidated when Trifari asked Swarovski to produce stones and shapes similar to the 'invisible setting' fashioned by Van Cleef and Arpels. These first dealings with the world of jewelry led Daniel to take more interest in this environment and experience the desire to create crystal stones which were more 'versatile' compared to those found in nature.
In 1965, entry into the world of jewelry was complete when the Swarovski Gems division was set up; natural and synthetic precious stones, cut using the sophisticated techniques which make Swarovski the world leader in the industrial cutting of these materials.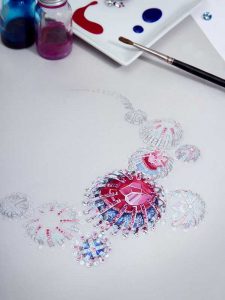 Naturally, this constant pursuit of new technology could only lead the company to develop their own finished products. History often teaches us that the most sensational discoveries happen by chance. In fact, this is precisely what happened at Swarovski : the year was 1976 and thanks to the creativity of a factory worker who was playing around with single stones and gluing them together, the first mouse was made, this charming little creature was promptly adopted as mascot at the Olympic Games in Innsbruck… Success was immediate and there then followed an entire collection of cute little animals which are now sold in capital cities the world over . It was a short jump from ornaments to jewelry: the company possesses the raw materials: crystals in all colors and different cuts, the know-how for working metal, from pavé, to claw settings, bezel settings and even the Pointiage technique(exclusive to Swarovski) the creative team began designing and developing jewelry collections, and as from 2009 watches too, in step with the times but always with that extra edge that only the tradition for innovation belonging to a company like Swarovski has managed to instil in a new generation of managers, all Daniel Swarovski's descendants.
Indeed, it was by interviewing Robert Buchbauer, great-great grandson of the original founder and CEO of Swarovski CGB, the Consumer Goods Business Division that we were able to understand the key to a brand that for the past 120 years has accompanied our world and brought the magic of crystal into our homes and lives.
What are the challenges facing Swarovski in terms of products?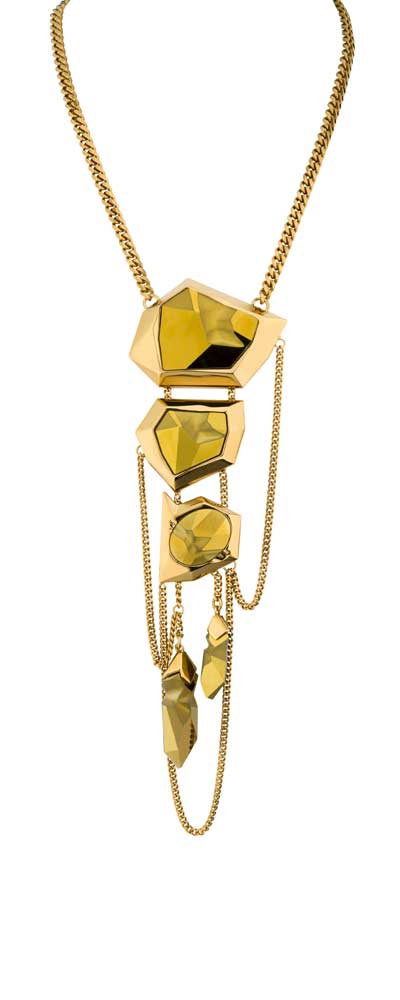 Our company is constantly pushing for innovation so as to update our collections, we want to offer products which satisfy women's different lifestyles. At the same time, we are careful about quality and seasonal products, we are very aware of trends. We invest a lot of time and effort into research and development of our new products, as well as renewing the classic lines, so as to be sure of always being able to offer our clients the very best in every collection.
The incredible success of the jewelry and the launch and consolidation of the watches line makes us wonder if Swarovski is developing new categories within the sector, can you give us a foretaste?
We launched the watches collection in 2009. Since then the product has gained ground with each new collection and we calculate that soon it will account for 10% of our overall turnover (from the Finished Products Division ndr). We are confident that the strength of our watches lies in the beauty of the product when it is actually being worn. Moreover, we are very proud to have won numerous " Red Dot Awards".
Our crystals are part of a creative process which right from the initial stage are an essential part of the object's design and its unique nature. From the Octea Classica watch whose case made entirely of faceted crystal, to the Crystalline Oval watch which boasts 1700 sparkling crystals, crystals are part of the genetic makeup of every single piece.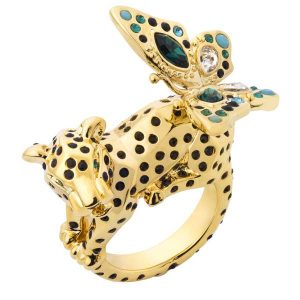 As for the next Autumn/Winter 2016 collection we plan to launch various different lines, each one is specific in terms of color and style, such as glittering grey and bronze, to ensure that every single item is perfectly in line with fashion trends.
What is your point of view regarding the international jewelry market (precious and non-precious)? Do you think there is still potential for growth? 
Swarovski has 2,650 stores in the world, in over 170 different countries; this forms the basis for our future growth, and reassures our followers that they can always purchase our collections. From a general standpoint, forecasts suggest that the jewelry market is set to grow over the next five years, and this is a prerequisite for us to develop even more. As far as new collections are concerned, I am particularly proud of the work performed by our Paris team, headed by Nathalie Colin. I have utmost faith in the fact that they will continue to create new, innovative collections. Strong creativity leads to strong growth, so we make certain that our team has all the resources it needs to carry on working successfully in the future.
What is Swarovski jewelry's 'recipe for success'?
At Swarovski, every design starts with our skilled cutting of the crystal, it's no secret but it is undoubtedly our recipe for success. We make sure that crystals feature in all of our creations: its' such a versatile material and the possibilities are endless.  Our creative team really exploit all their potential – from different cuts, shapes, colors and effects, each collection presents fashionable jewelry and accessories which are both modern and contemporary.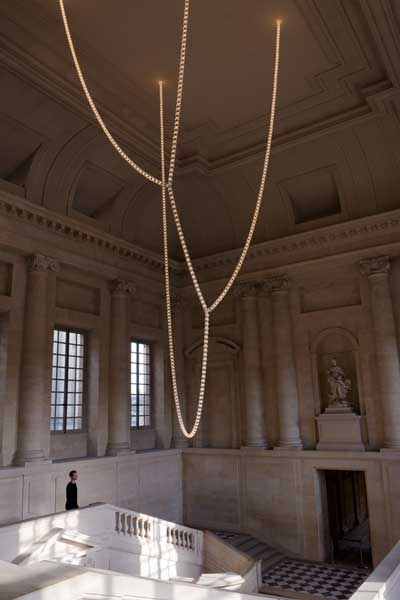 The 12 metre chandelier designed by Ronan and Erwan Bouroullec with Swarovski inside the Versailles.
Versatility is another of our key principles: we want to offer our clients objects which can be worn every day, from morning until night, with that touch of light they want, a delicate touch or maybe something with more impact. Premium quality is another motto close to our company's heart. Swarovski is an aspirational brand yet at the same time accessible, recognised for the know-how and passion for detail it has cultivated over the past 120 years.
Are you considering personalising your style based on specific markets? If so, which markets are the most important for Swarovski? 
Our jewelry and accessory lines sell very well in every continent. However, we are very aware that women the world over want more fashionable, versatile products, with that special touch provided by crystal. So, our 2,650 stores in the world ensure our global presence and allow us to answer all our clients' needs.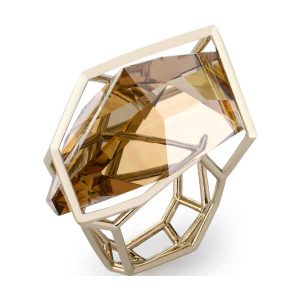 The Swarovski brand will continue to amaze precisely because constant development is in the company's DNA, there are many more surprises in store. I think it is both interesting and a must to end our journey into the magic of crystal by  mentioning some of the philanthropic projects the company is involved in: fifteen years ago there was the launch of the first  Swarovski Water School on the River Inn in Austria, this was followed by the opening of other schools on the banks of the most important rivers; this project involves 257thousand children and their families and was implemented in 2,600 schools all over the world, introducing teachers and institutions to the topic of water. In short, Swarovski is not just about glamour, facets, refraction and creativity, it is also about commitment to the development of the world we live in and our heritage, which is made up of people and culture.
---