---
The jewellery influencer Liza Urla is the founder of Gemologue, one of the Top 5 jewellery blogs, in which she celebrates fine, costume and vintage jewellery featuring her exquisite global discoveries.
When and why did your jewellery passion started?
As a child I accompanied my family on business trips to Japan, China and South Korea, so since an early age, pieces of jewellery were my talismans while travelling. I had developed my love for stones during my gemmology degree in NYC GIA, and it gradually turned into jewellery passion.
What kind of jewels do you wear?
I like to mix vintage, fine and fashion. My personal choice of metal is white gold and I adore sapphires. I like black costume jewellery at the moment. Constantly travelling between NYC and London I feel most comfortable in black and it reflects on my costume jewellery style.
Do you follow special rules to wear different jewels?
I will share a secret with you: there is always jewellery in my bag! It is not about what you show the outside world it is about the pieces you collect, pieces which have special memories, achievements and sentimental value.
What is the most important thing in a jewel?
It is the emotion or memory you experience while wearing it. The value is definitely secondary unless you are looking for an investment piece.
Is there a particular gem or stone you consider a sort of talisman?
My favourite is sapphire as I am absolutely obsessed with blue • [A.R.]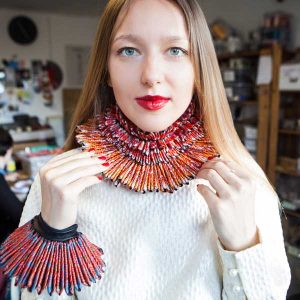 ---