---
Look beyond the skyscrapers and highways in Dubai to Discover the charms of the Old Town.
Feel the sea
spray on your face as you pose for photos on a traditional wooden boat crossing the water. When you reach the other side, you're greeted with winding alleyways filled with bazaars selling Arabian perfumes and spices while voices haggle over prices in hundreds of accents. Welcome to Old Dubai: so close, yet so far from the towering skyscrapers, malls the size of small cities, and seven-lane highways that characterize modern Dubai. Crossing over the Dubai Creek may feel like entering a different world or time period, but this is common throughout some of the greatest cities around the globe. The River Thames divides London into North and South, culturally and geographically. The River Seine cuts Paris into Left and Right Bank and the water surrounding Manhattan separates it from the other boroughs in New york. In the same way, taking an abra boat across the Creek is a way to go from the modern, flashy side of Dubai to a district of souks, hole-in-the-wall eateries and funky bars. Before the discovery of oil in any of the emirates, Dubai gained popularity as a trading port, specifically originating at the Creek over 40 years ago. Today, tourists flock to the glitzier, more modern parts of town including the DIFC, Dubai Marina and Palm Jumeirah, which play host to fantastic hotels, restaurants and art galleries. The older part of town is witnessing a revival, with a slew of new hotel and restaurant openings to add to the ongoing popularity of its traditional architecture, favorite eateries and vibrant personality. Here is our guide of where to shop, dine and take selfies across Old Dubai.
[ts_row] [ts_one_third]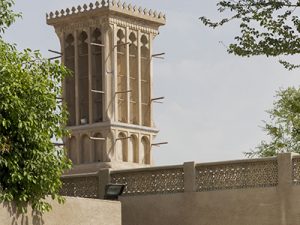 [/ts_one_third] [ts_one_third]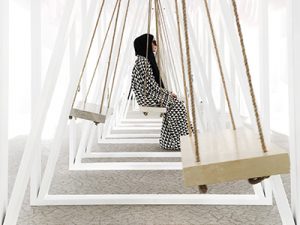 [/ts_one_third] [ts_one_third]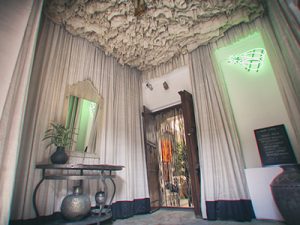 [/ts_one_third] [/ts_row]
Shop till (the Price) Drop 
Dubai is known to be a shopper's heaven, with some of the world's biggest malls and hottest brands on offer. Thanks to its heritage as a trading hub, Old Dubai has been a bargain hunter's paradise. Meander from stall to stall in the old souks, trying on leather moccasins, Arabian oud perfume, and jewelry at unbeatable prices. This is the place to haggle, so make sure to have a friendly exchange with the shop owner for a 'best price.'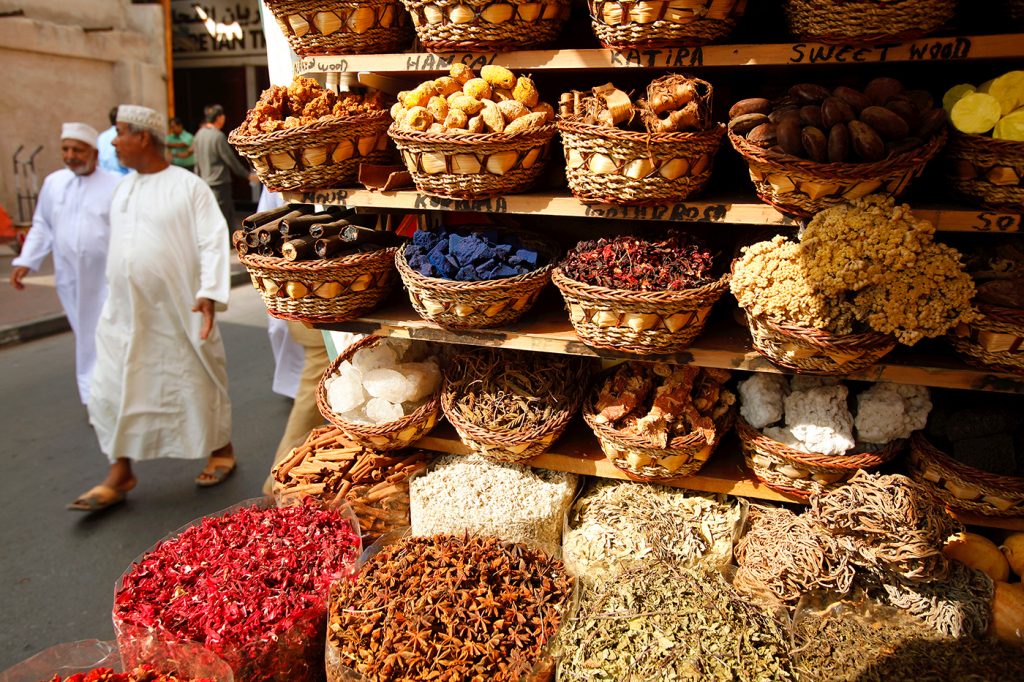 Old Souq, Dubai. Ph. Martin Sasse/laif/contrasto
In the market for... Jewelry. The Dubai Gold Souk in Deira has more than 300 stores glittering with jewelry at some of the lowest prices in the world – particularly for gold. There are established retailers, including the likes of Damas, as well as second-hand stores where you may find hidden gems. you'll feel like you've stumbled upon Aladdin's treasure trove. www.goldsouks.com/dubai
Fabric. If you've ever wanted to try your hand at designing a dress (or want to have one made based on another that fits you perfectly), then Meena Bazaar is not to be missed. Nestled in Bur Dubai, this shopping area has stores full of colorful fabrics and skilled tailors. It's an ideal spot to shop for fancy Asian national dress for men and women for weddings, particularly saris.
Spices. Owing to its history as a trading port, Old Dubai is a great place to buy spices from all over the world. From saffron to turmeric, the colors and scents will inspire your inner Jamie Oliver to experiment with new dishes once you get home. you can even buy a curry plant to put in your kitchen next to those cookbooks you've been meaning to open •
World on a Plate
Dubai is known for its dizzying array of five-star eateries. you would be hard pressed to find a celebrity or Michelin starred chef who hasn't opened a restaurant here. Nobu? Check: Nobu Atlantis. Jamie Oliver? Check: Jamie's Italian in Jumeirah Beach Hotel. Atul Kochhar? Check: Rang Mahal in JW Marriott Marquis. When it comes to Old Dubai, however, you'll get a taste of truly authentic, affordable food from all over the world. Some of the restaurants are small eateries frequented by royalty. Best part? The focus is on the food, so don't worry about a dress code or queues to get in.
A taste of... Asia. 
Ravi's is a Pakistani favorite in Satwa, where you will find CEO's seated next to construction workers soaking up butter chicken sauce with naan. Asha's in Wafi Centre is an award-winning Indian restaurant with fiery cocktails.
Middle East. Special Ostadi and the Iranian Club in Bur Dubai offer extraordinary Persian food with some of the best kebabs in town. They are among the oldest restaurants in Dubai, so you'll have a great meal and a story out of a visit to either spot. For Arabian cuisine, fall under the spell of award-winning Khan Murjan. Seafood For a taste of the sea, go for Dampa Seafood Grill in Deira, which has local fish marinated in regional spices served on a bed of rice. For a holistic dining experience, visit the award-winning Fish Market in the Radisson Blu Hotel that has beautiful views of the Creek and a selection of fresh fish that you can choose from •
Through the Lens
For an appreciation of the old town that will have a lasting impression, keep your camera at the ready for some of the most photogenic opportunities Dubai has to offer. From dawn to dusk, here's a list of spots that will add flavor and spice to your Instagram feed.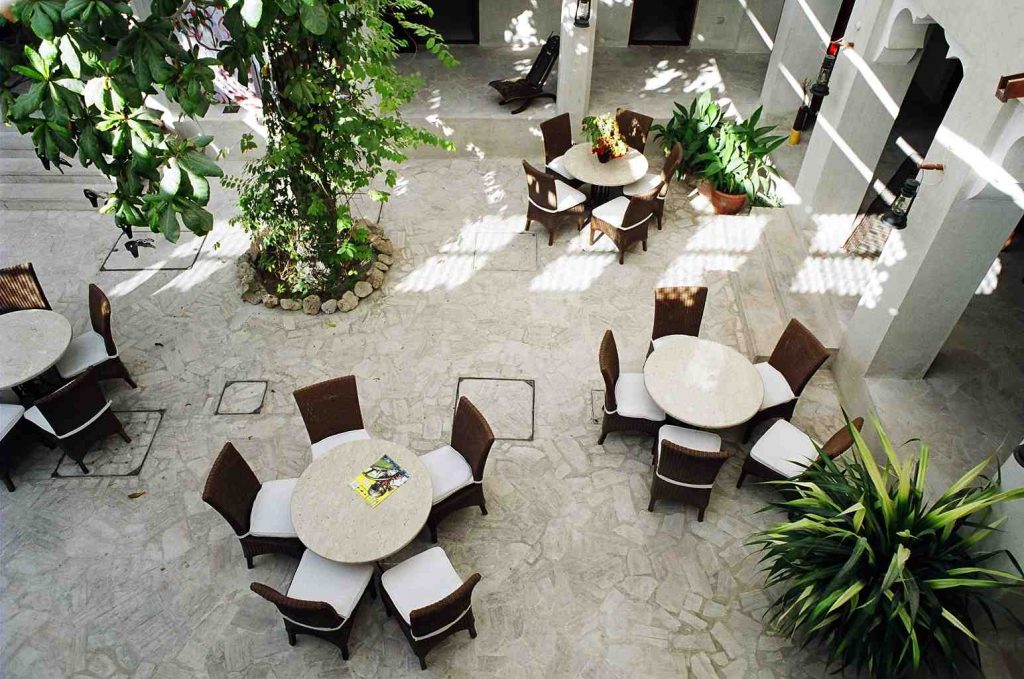 An eye for... Art . Art and architecture aficio- nados will love the winding alleyways and galleries scattered throughout the historic Al Fahidi district. Check out XVA, a hotel and art gallery in a building that looks like the first houses ever built in Dubai.
Local Trade. Jet lag? Take advan-tage and head over to the Deira Fish Market, where you'll find fisherman offloading their morn- ing catch from wooden dhows at dawn. It's a lively, colorful way to start the day.
History. The former house of Sheikh Saeed bin Maktoum Al Maktoum, ruler of Dubai from 1912-1958, has become a museum that gives a glimpse of the past in its original setting. Make a stop at Dubai Museum, housed in Al Fahidi Fort built in 1787, to see one of the oldest structures in Dubai. Instagram gold •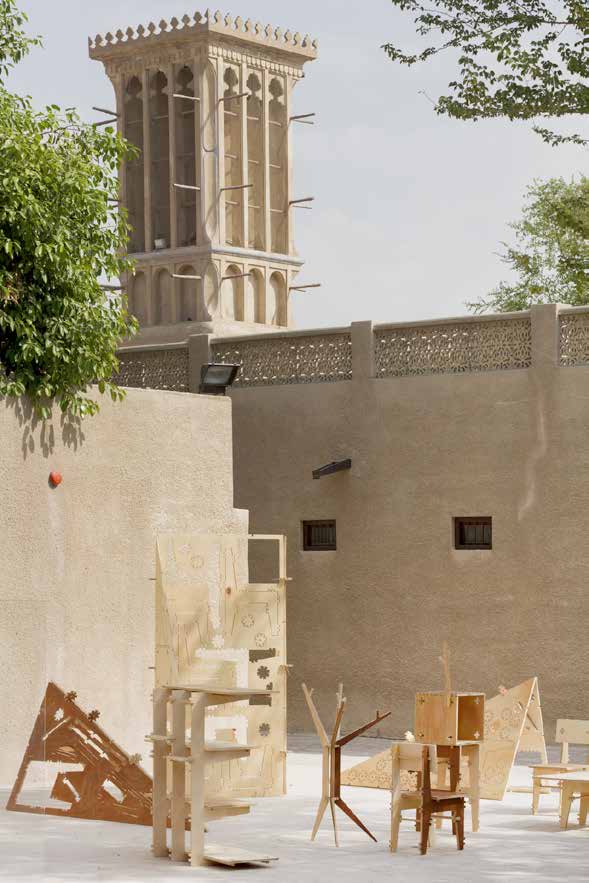 An installation in the Al Fahidi Historical District during Downtown Design Dubai
Dancing Shoes
You've soaked up the culture, then the sauce at dinner – now it's time to party. Sure, you can enjoy a night of bottle service and champagne spraying at popular clubs across town, but if you're in the mood for something a little funkier, Old Dubai has the answer.
Sway your shoulders to...
Live Music
The award-winning Music Room in the Majestic Hotel is a showcase of some serious local talent. you'll find yourself tearing over fantastic covers of Adele one minute, then dancing to a Maroon 5 cover the next.
House
If you're looking for a real party, check out Chi@ TheLodge in Oud Metha. It's close to Dubai airport and attracts plenty of cabin crew. Want to say you've been to the oldest club in Dubai? Sixteen year-old Rock Bottom Café is where it's at. It's crowded nearly every evening with a casual crowd.
Karaoke
For a night to remember, drop by China Sea. It's got authentic Chinese food with a side of karaoke so you can sing away your troubles.
If you're a little shy, book a private room with a group of friends to really let loose.
The excitement of Dubai is that it's a city in the making. As it continues to evolve, Old Dubai maintains an authentic feel of a bygone time. From authentic cuisine to local music, Old Dubai will have your heart as soon as you set foot on an abra •
Text Sara Hamdan
---