---
" Empty hands but eyes filled with memories of her " (Ibn Hadmis). 
Siracusa stands on one of the island's most beautiful bays, rising out of the cobalt blue depths of the sea with moments that smell of ancient history and landscapes painted by the sun.
An inexhaustible source of inspiration for master goldsmith Massimo Izzo, who speaks here of how his poetry becomes unique jewellery.
Texts assembled by Arianna Pinton Photography by Lorenzo Maccotta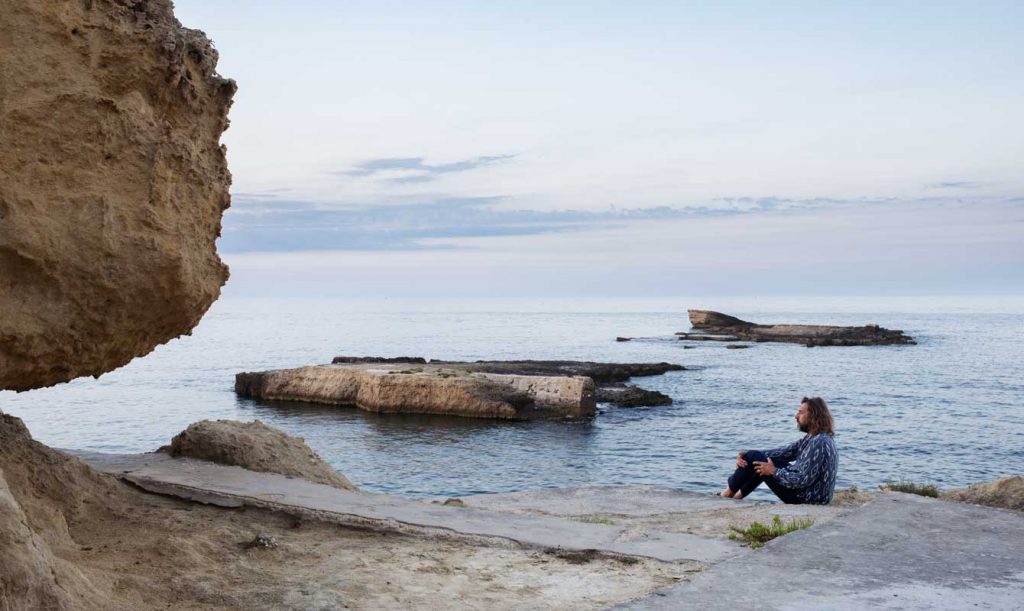 Horizons designed by the sea are the breath of infinity, eternity, the unreachable. My horizon coincides with its blue line that predominates within me and in the daily perspective of my present. In my study, I believe I have captured its emotion and, as if by magic, have turned it into a precious and celebratory sculpture.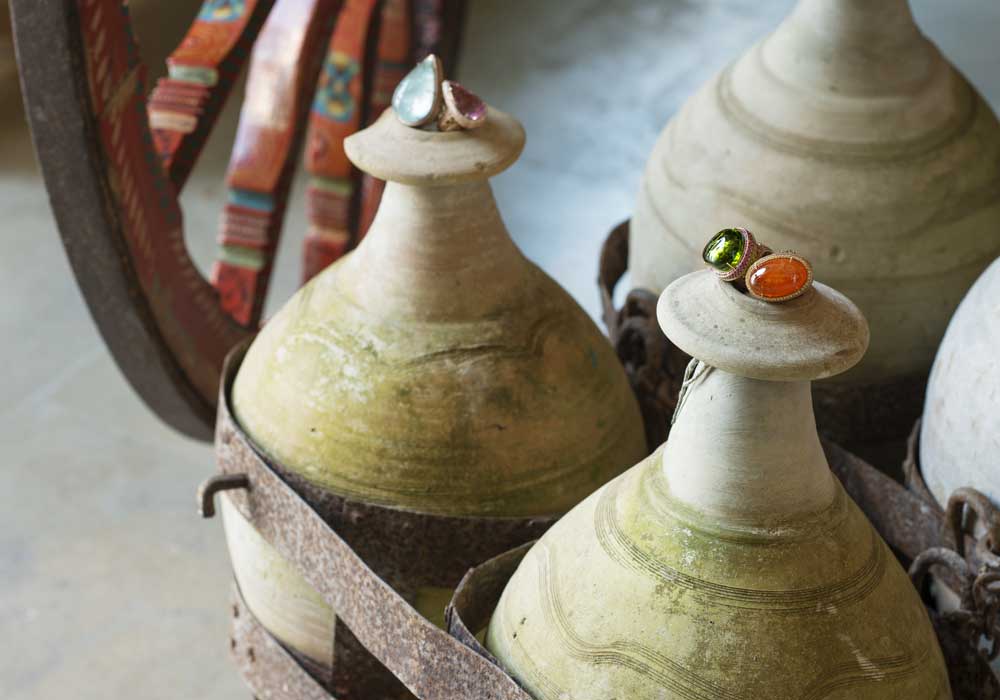 One of the historical memories in my studio are Bummuli or Sicilian amphora. Positioned on the backs of donkeys, they were used to carry water. The root of the past is my precious nourishment. I feel that memory, and safeguarding it, is one of my strongest vocations.
Transforming all this into something that has eternal aesthetic value and the ability to win the challenge of time is the almost mystic duty that has been assigned to me. Ring from the Sicilian Lace collection in pink gold, cabochon peridot, rubies. Pink gold, mandarin garnet, yellow sapphires. All unique pieces.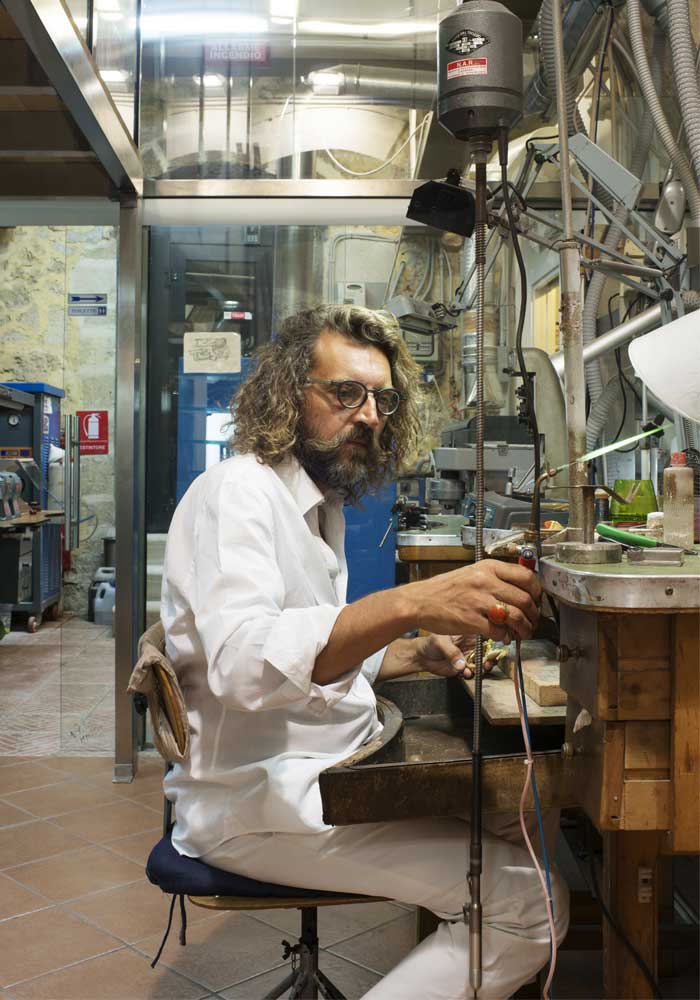 I have a soft, confidential, almost loving dialogue with the precious material which, between my now expert fingers, expresses its true essence. Precious stones take me by the hand and accompany me on a journey and I, with sacred respect, build the jewellery around them. My studio is forged inside a 1600 building in piazza Archimede.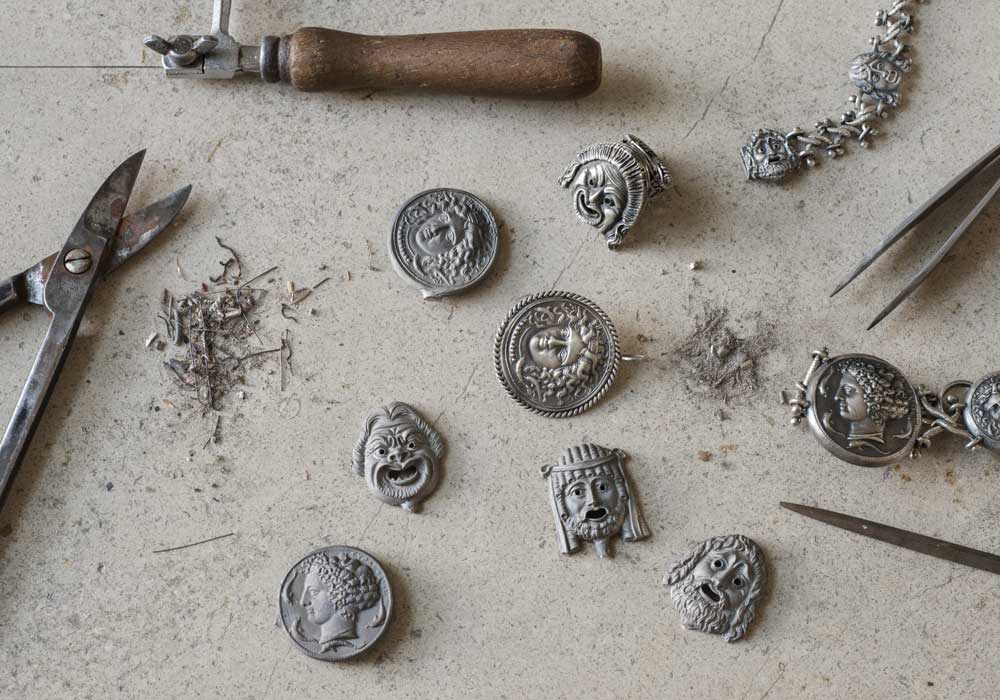 Transforming what our museum preserves into jewellery allows me to divulge the concept of Greek beauty to the new generations. My Museum Collection was generated in this way and is inspired by the Greek coins minted in Siracusa in 413 BC by two great masters, Kimon and Euarchidas.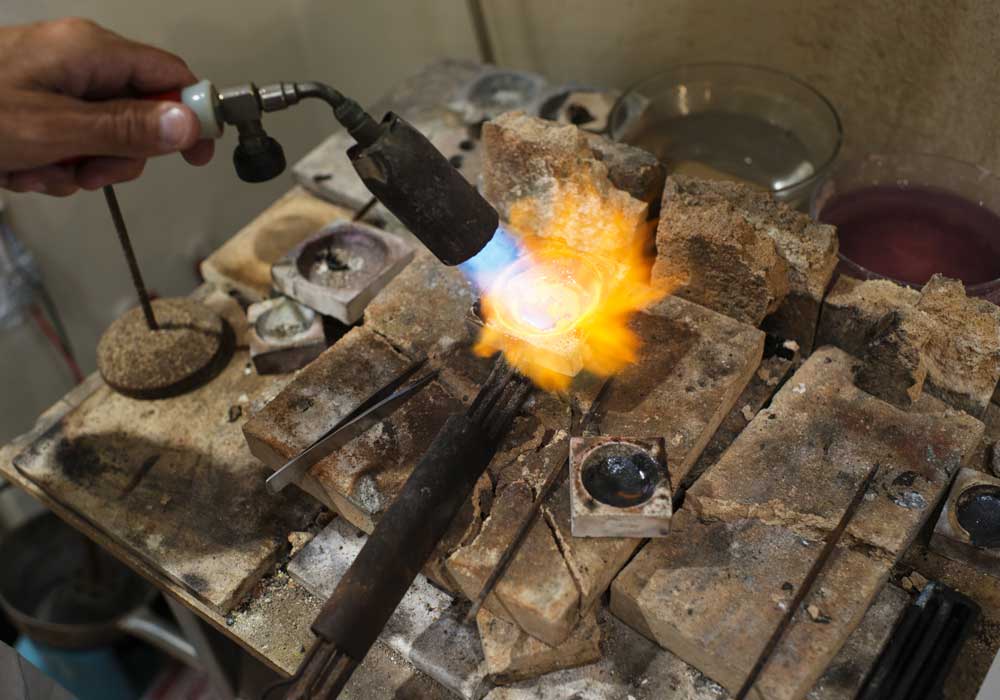 The forge is technically my starting point. Fire is my true privileged accomplice and it is indispensable for my work. By harnessing it like a divine wind and using it to produce my creative ideas, it has not only forged my works but also my personality.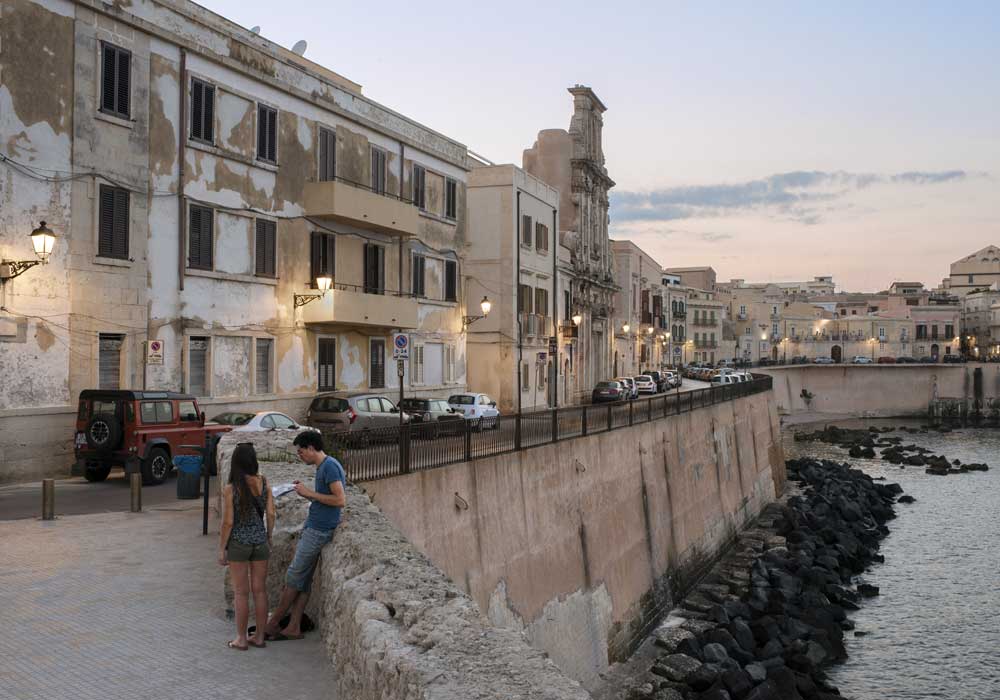 This place has an ancient story which has no space or time. The theatre, which opens up like a stone fan, is a constant and magnetic presence in this territory. On my journeys and in my art, I feel I am witnessing a thousand-year culture.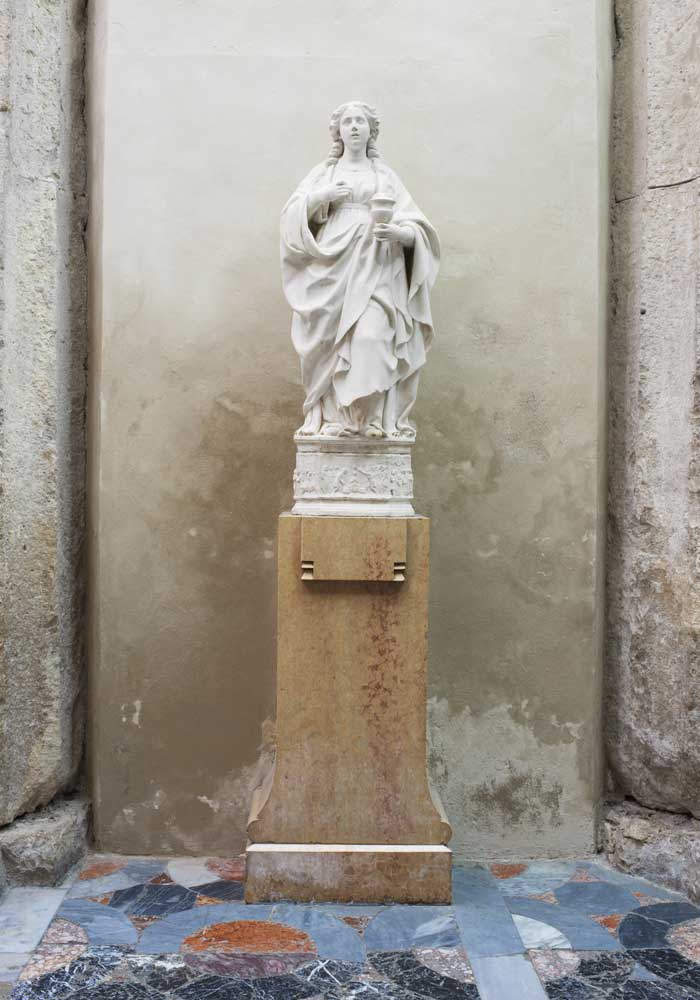 Siracusa Cathedral stands on the high part of Ortigia island. Besides the original Greek foundations, the façade is a typical example of Baroque and Rococo, and the interior is Byzantine. "Here one breathes thousands of years of history".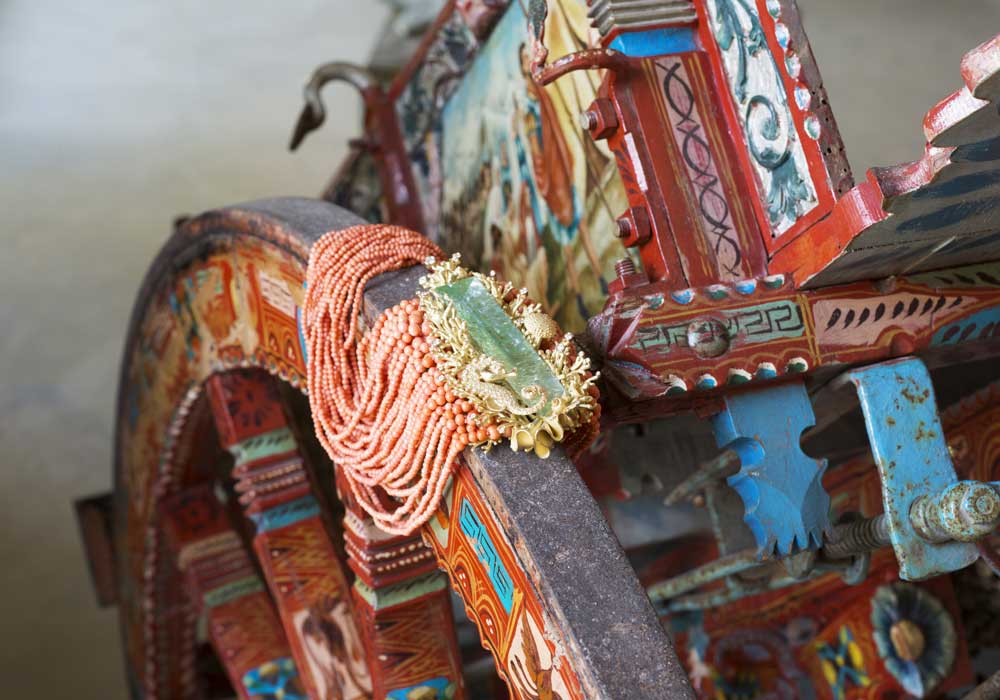 The vibrant and generous colour, the joyful and narrative rhythm of the decoration, the overflowing beauty in the life of Sicilian culture, are the absolute and indelible marks of my life as an artist. Therefore I adore red. Red like the Sciacca coral, the world's only fossil coral that, believed to be a bearer of fertility and happiness, is given to daughters as a marriage dowry. Red like the sunsets that slip, silk-like, behind Etna and its perennial snow. Red like the coloured outlines on Sicilian carts, red like my passion for absolute beauty. I keep an exceptional example of a Sicilian cart in my studio. Necklace from Jewels of the Sea collection, strings of ancient (1800) Sciacca coral, Brazilian aquamarine, yellow gold, brilliant-cut diamonds. Unique item.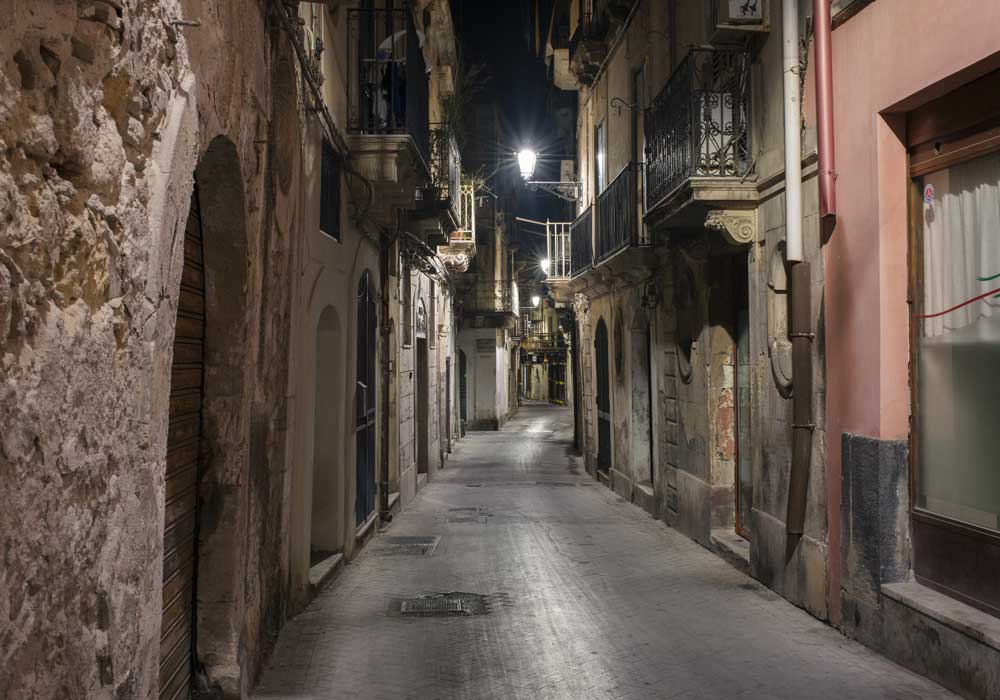 ---