Production: Processes and Materials
Give shape to creative ideas focusing on research and development, recycling of materials, sophisticated algorithms. Five realities that innovate by focusing on production
---
To be an innovator when producing jewelry can be achieved in two ways: starting with the selection of raw materials, either alternative from the more "classic" or drawn from unusual sources or even recycled or in the process of being transformed while making the items, which involves a special effort to research and develop unconventional technologies. We have an example of this here, thanks to entrepreneurs and designers who have decided to take different, uphill paths in order to fulfil their dream. And so, there are those who started from Darwinian theories, evolutionary biology and the most sophisticated algorithms to give shape to their creative ideas. There are those who, as exponents of Gen Z, have staked everything on sustainability and make handcrafted rings from plastic pulled out of the Mediterranean Sea, and those who gather rare marine diamond from the sea beds of Namibia and South Africa. Then there is the luxury brand that has made recycled and certified gold its strong point and those who, in less than ten years, have created a new goldsmith district where traditional jewelry-making was a distant memory.
---
Rea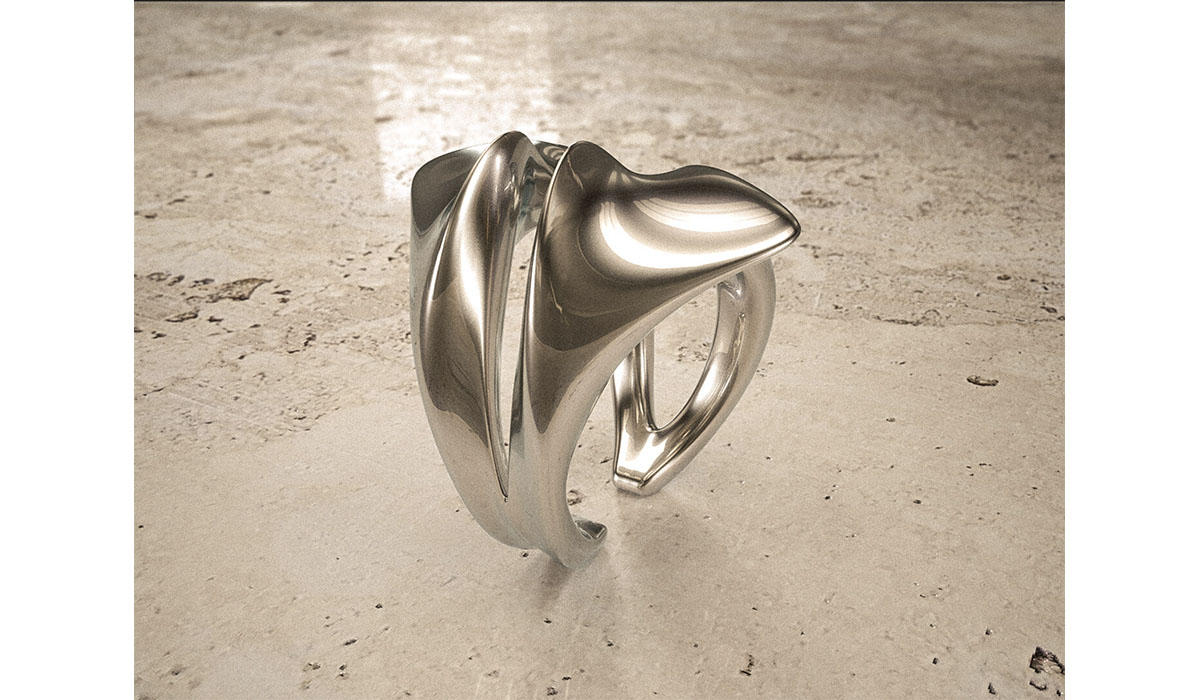 WHO Marco Guardincerri, founder
WHY A new combination of computational intelligence and biological philosophy leads to a new kind of jewelry
WHERE London
WEB linktr.ee/realondon
Despite their eye-catching amorphous profiles, hand crafted in silver by the skilled artisans of Hatton Garden, London's historic goldsmithing district, the organic design of Rea London's rings originates a far cry from traditional design principles. In their aesthetic, which is structurally complex and particularly enigmatic, Darwinian theory, biology and experimentation come together. The jewelry, in fact, is the result of a special evolutionary digital analysis, conducted with an unprecedented algorithm, programmed by founder and architect Marco Guardincerri. «Rea London is a computational design project that started as a joke before the pandemic crisis and then became reality in December 2020. Guided by my passion for algorithms and evolutionary biology, I developed a particular code to be applied parametrically to the complex architecture programs I use in my designs. The algorithm simulates the evolutionary environment of a small living being that ideally tries to grow around a finger, interacting with its moving form. Launching an initial movement, I observe the shapes that come to life around the fingers and "capture" those that I find most interesting. Then I 3D print them and make an initial prototype in resin. If it works, it will be entrusted to Hatton Garden artisans, who will then turn it into a ring.» This extraordinary combination of computer intelligence and biological philosophy has led to a first capsule collection of models whose "personality", as alien as it is close to nature, captures the attention: a new "breed" of jewelry that encases infinite exploration possibilities.
Prada Eternal Gold
WHO Prada Eternal Gold
WHY It is the first truly sustainable jewelry collection from a global luxury brand that pushes the boundaries of jewelry by using 100% recycled and certified gold
WHERE Milan
WEB prada.com
Prada's new sustainable challenge stems from the experience of Re-Nylon. And if in the first case, the initiative involved recycling nylon, with Eternal Gold the Milanese company has overcome stereotypes and set a new standard in the concept of sustainable luxury. The entire collection, in fact, which consists of 48 pieces including necklaces, bracelets, earrings and rings, is made with recycled and certified gold that conforms to the "Chain of Custody" standards established by the Responsible Jewelry Council. Not only that, every stage and procedure in the production of Prada's responsible gold and diamond chain can be verified and traced thanks to the Aura Consortium Blockchain platform, an exclusive prerogative of the brand that no other jewelry or luxury fashion house in the world offers. And while the gold comes exclusively from sources of suitably recycled materials, including industrial gold and precious post-consumer items, for the diamonds Prada has chosen to challenge the status quo by demanding certification even for stones below 0.5 carats. To support the launch of the project, the company has entrusted the advertising campaign to photographer David Sims with the creative direction of Ferdinando Verderi. The stars of the shoot are three prominent personalities: the American poet and activist, Amanda Gorman, the American actress, model and singer-songwriter, Maya Hawke and the naturalized Korean-Canadian musician, Somi Jeon.
Sterling International
WHO Patrizia Ciompi
WHY The search for cuttingedge professional profiles is fundamental for a company's development
WHERE Milan
WEB sterling-conseil.com
«The dynamics of the search for the highest ranking personnel in the hard luxury segment are not so very different from those that govern the world of high fashion as far as the high-profile customer experience is concerned,» explains Patrizia Ciompi, Partner Sterling International. «However, we can identify two macro areas substantially linked to the size and culture of companies looking for new talent. In the case of big brands, which are often part of large conglomerates, searches focus on innovation. On the one hand, they draw on distant sectors, such as the automotive and tech industries, to find people specialized in processes in more complex contexts; on the other, they look to everything related to the metaverse and augmented reality, so profiles that know how to imagine the evolution of these topics, which are now on everyone's lips but will not be fully operational for several years to come. Instead, niche market companies, where manufacturing and product as well as the uniqueness of the objects themselves are central, searches focus on creativity and customer care. And if in the first case, companies are seeking talent that can bring unprecedented visions also in the use of materials, in the second, it is the client experience that guides the choice of new resources. The latter case - niche companies speaking to an extremely exclusive audience - finding established personalities who have a one-to-one relationship with the target community is a priority. We can add these two extra concepts: all the jewelry world needs to evolve in order to manage integrated projects, from design to product development and branding (not, as happens now, with such vast fragmentation); for the new digitized generations, the relationship with luxury jewelry is changing. It is becoming a form of expression instead of a status symbol or something needed for an occasion, and sustainability and environmental and social ethics in the sourcing of raw materials and the impact of processing are still the driving force.»
Ringo
WHO Mike Fried, CEO The Diamond Pro
WHY A unique tool that allows buyers to determine what the purity of a diamond would be to the naked eye based solely on its image and to ensure that they are making the best purchase based on certification, desired shape, setting style and precious metal gender
WHERE Switzerland
WEB diamonds.pro/ringo
The number of diamonds purchased online is on the rise but consumers who find themselves making purchasing decisions based on photographs and certifications may find it difficult to know what to choose when evaluating purely the visual quality of an image. These considerations have led to the new Ringo tool which, based on specific needs, uses artificial intelligence to support consumers in buying diamonds online. The innovative system was created by The Diamond Pro, a website that offers a wide range of impartial information to help potential diamond buyers make more informed buying decisions. «Ringo puts the consumers' mind at ease when buying diamonds from online retailers by ensuring that the gemstone they choose will actually look just as it claims,» explains Mike Fried, CEO of The Diamond Pro. Here's how it works: the tool asks buyers for their preferences in terms of diamond shape, budget, setting style and material type, then uses an algorithm based on a set of rules developed by The Diamond Pro experts and an artificial intelligence engine to present a variety of optimal proposals, along with an assessment that includes a picture of the diamond, the cost, purity percentage, color and fluorescence ratings. A foolproof and reliable method to avoid unpleasant and costly surprises.
Ocean Diamonds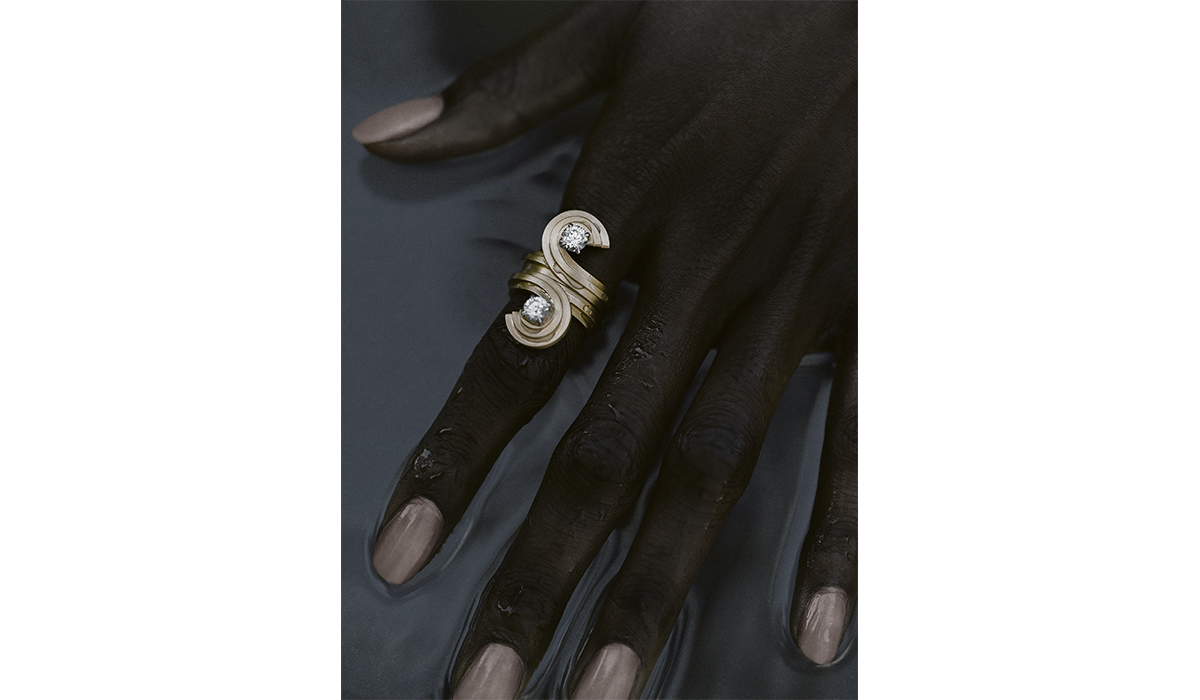 WHO Robert Goodden, founder
WHY A chance to take the ocean with you but also a new method that requires less human intervention and reduces environmental impact
WHERE London
WEB oceandiamonds.com
The story of Ocean Diamonds is as surprising as it is fascinating. It describes how something innovative can be the result of patient and environmentally conscious human labor and reveals an interesting new opportunity for the complex but compelling diamond industry. The company specializes in collecting natural marine diamonds from the oceans of Namibia and South Africa. Unlike traditional diamonds, ocean gems do not require any mining: over billions of years, they have flowed naturally down in mountain rivers to finally settle on the ocean floor. Ocean Diamonds ensures that harvesting is carried out responsibly by working with professional local divers. Comparable to coastal fishing, the boats used are small and sail close to shore and much of the equipment is made by local people. The divers have extensive knowledge of the ocean and know exactly where to find diamonds, thus avoiding any unnecessary disturbance to the seabed, and can bring the diamonds to the surface with minimal trace. The diamonds are always cut and polished locally, keeping the supply chain transparent. Each stone comes with a Certificate of Origin specifying the country and coastal location from which it came. «We are thrilled about this responsible sourcing method that supports the industry and local diving communities in South Africa,» says the brand.
---