---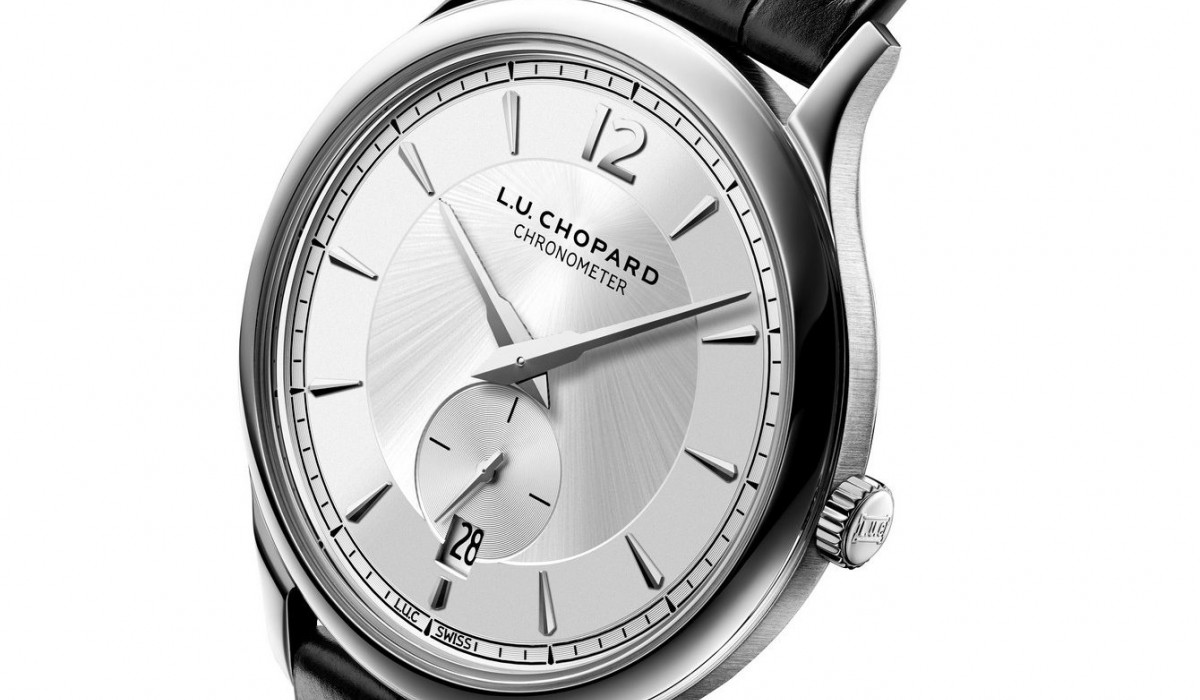 L.U.C XPS 1860 by Chopard: a very sophisticated watch blessed with top-notch finishing.
The stylish and unique
L.U.C XPS 1860
by
Chopard
pays tribute to the first watch in the
L.U.C collection
: the
L.U.C 1860
launched 20 years ago at the creation of
Chopard Manufacture
. This model with its exceptional dial and ultra-thin case is a modern version of a timeless classic, combining subtle beauty and sobriety with the
Chopard Manufacture
movement: the calibre L.U.C 96.03-L. Its sophistication and its accuracy make it a watch for every day life, a must for today's classy man: the modern gentleman
The L.U.C XPS 1860 is a classic. It belongs to the line of ultra-thin Chopard timepieces and features a small seconds dial and a date display at 6 o'clock. The year 1860 refers to the date when Louis-Ulysse Chopard established his watch manufactory. In 1996, following the development of Chopard Manufacture, Chopard introduced its first contemporary L.U.C watch, the L.U.C 1860. Like the latter, the L.U.C XPS 1860 is recognized by its respect for the grand watchmaking traditions and for chronometry or timekeeping precision – two key elements that Chopard Co-President Karl-Friedrich Scheufele was determined to incorporate within the L.U.C collection.
The supremely elegant L.U.C 1860 foreshadowed the ultra-slim trend. With its case featuring enhanced finishing, its modern Dauphine-type hands, its classy hour-markers, the L.U.C. XPS 1860 offers a new take on this famous watch. Like all L.U.C timepieces, it is exclusively dedicated to its owner's service. Epicureans will thus find in the L.U.C XPS 1860 an essential wardrobe item, a watch that becomes crucial through its technical qualities, its inner beauty and its outward style. Its power stems from the breadth of its possibilities. Just as a double-breasted grey flannel jacket can be worn with a matching or deliberately mismatched pair of trousers, so too, the L.U.C XPS 1860 plays several roles with equal panache.
The L.U.C XPS 1860 is a distinctly contemporary watch. It has a 40 mm diameter that makes it truly universal. Its short, ergonomic lugs ensure a perfect fit on even the smallest wrists. With a total thickness of just 7.2 mm, it is very much part of the ultra-thin category. The L.U.C XPS 1860 comes with a stainless steel case. Its appeal is enhanced by its characteristic dial, featuring a central part bearing a complex hand-guilloché motif on the rose gold version and a sunburst satin-brushed pattern on the stainless steel version. Both finishes radiate from the logo at 12 o'clock.
The L.U.C collection watchmaking approach goes far beyond a mere interpretation of a fine classic. Not only is the L.U.C XPS 1860 an ultra-slim and stylish watch, but it is also one made for today's men. Its Calibre 96.01-L, the first movement created by Chopard Manufacture, is automatically wound via a 22-carat gold micro-rotor, a rare horological speciality that is practical as well as ensuring slimness. It is endowed with Twin® technology, ensuring a 65-hour power reserve well beyond the usual standards for ultra-thin watches. Furthermore, the L.U.C XPS 1860s is one of the very rare ultra-thin timepieces to show the date. Like all L.U.C watches with a seconds indication, it is chronometer-certified by the COSC. This sophistication and this certification represents both the full maturity and the complete expertise achieved by Chopard Manufacture.
[gallery columns="2" link="file" size="medium" ids="16222,16223,16224,16225"]
---